Weekend of April 13th-14th
This weekend was centered around one big event – A Precious Child's annual fundraising gala, which this year was themed as a fairy tale ball!
My Friday kicked off with a cool work event – I presented some of my new digital work, but did so at a bar in a low-key, open discussion format. It was a lot of fun, and I got some really positive feedback on one of the tools I developed!
Unfortunately, when I went to leave the event, I realized something problematic – my keys were missing! After a fruitless search, one of my coworkers was kind enough to give me a ride home and back so I could grab my spare set, and after unlocking the car, I discovered that my original keys were in the pocket of my coat, which I had tossed in the backseat rather than wearing in since it was so warm out. Oops! Still not sure how I managed to lock the car when the keys were out of range, but all's well that ends well, I guess.
I arrived home Friday night grateful to have had such a kind coworker (and to have found my keys), but also feeling really grateful for my friends. Shortly after the event, a coworker who was new to Colorado was asking me for tips on making friends. He had moved to Colorado from another country, and moved into an apartment with roommates, thinking that it would be "just like Friends" and that everyone would quickly become besties. As much as I love the TV show Friends, I reassured him that almost no one has that experience, and that making friends as an adult is not easy. While I've definitely had my share of times when I felt friendless and lonely, I'm really lucky that they're few and far between these days – and I think a large part of that is realizing that everyone goes through some periods like that. Social media certainly doesn't help – it's way too easy to hop on Facebook or Instagram and think that everyone is having fun without you (like the title of Mindy Kaling's book, which goes to show what a universal feeling it is).
For me, what's worked to combat those feelings has been opening up and letting friends know that's how I'm feeling – for example, texting them that I'm lonely and wondering what they're up to. 99% of the times I've sent a message like that, my friend has invited me to join whatever it is that they're doing. It's not easy to ask for help, but I think if you can find the courage to do so, you'll be surprised how understanding people are.
Anyway! I ended my night with a few texts to friends saying how grateful I am for their friendship 🙂
Saturday morning, I woke up without an alarm (glorious!) and headed to Chuze Fitness, where I was determined to finally jump back on the Team Training bandwagon. Ever since I quit my Orangetheory membership a few months ago, I've felt a little out of shape. I think Team Training at Chuze is a perfect swap for Orangetheory (and at 25% of the price!), but I've been very guilty of hitting Chuze for other, less-intense, workouts, or skipping the gym altogether in favor of skiing. (While skiing is a great activity, I tend to eat too much tasty junk food apres for it to be an effective weight loss tool.) I was a little nervous to dive right back into Team Training, but the workout was really doable and I loved the run-row! I would definitely do this again.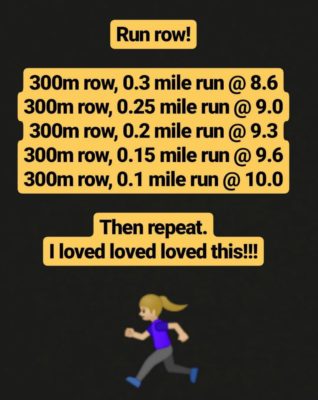 After the gym, I headed home to clean the house (ugh so much cleaning) and prep for the charity gala I was going to that night. You wouldn't think I'd need to start getting ready that early, but once again, I had left hemming my dress till the very last minute. Oops! My friend Karlin had helped me pin it to where we thought the right length was, but after pinning it all the way around, I realized it was way too high (gowns should really touch the floor, not be at the ankle), and it took me several rounds of trial and error before I finally got it pinned where it needed to be. I ended up being a bit further behind schedule than I expected, which was exacerbated by the fact that everyone was calling Ubers at the same time and so there were none available, but finally I hopped in my own car, figuring I'd park it at the event and Uber back to get it in the morning instead.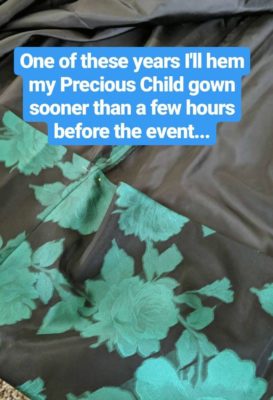 A Precious Child is an amazing charity that does fantastic work – they help ensure that every child has what they need to succeed, from clothes and basic living necessities, to new backpacks and school supplies every fall, to equipment and scholarships so that money doesn't get in the way of kids participating in sports, music, and extracurriculars. A few of my friends serve on their Board, and many of my friends in the neighborhood volunteer with them or give generously, so we joke that their annual fundraising gala is like adult prom for my neighborhood 🙂 This year, the theme was fairytale, and people went all-out with both gowns and crowns. My friends and I were no exception! And I loved the giant dragon set up near the door to the ballroom where dinner was held.
We had a fabulous night bidding on items in the silent auction, bidding on more things during the live auction at dinner (hey, it's all for the kids!), and then dancing the night away to That 80s Band. I was happy that this year I didn't go too crazy on the auctions; at these events, I always end up bidding more than I should, since the money goes to a good cause, but I'm trying to be a little more conscious of my spending lately.
That event was definitely the highlight of my weekend – and then Sunday was extremely low-key in comparison. I got more cleaning done around the house, caught up on emails, packed for the week, and then closed out my weekend by having my friend Heather over for dinner. I made this coconut chickpea curry, which was really easy – just dump everything in the crockpot and let it cook for about six hours. It came out delicious; however, there was a definite typo in the amount of quinoa called for. With only 1/4 cup, this came out like (really delicious) soup. I thought it was odd when I read it, but decided to go with it – next time, though, I'd try 1.25 cups, which I think is probably closer to the author's intent.
Overall, a great weekend, and another fabulous event I've been looking forward to for a while!