Want to stay in bed longer? Here's what I've been loving, laughing at, and getting intrigued by all week long. Now cozy up with your laptop/tablet and enjoy 🙂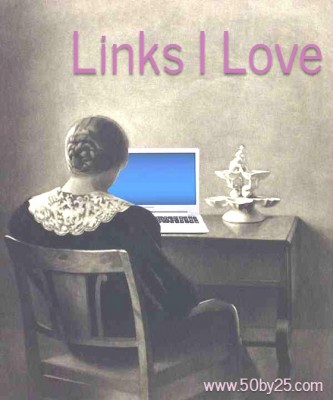 CAREER / BUSINESS
How Girl Meets World Founder Prepares Middle School Girls For Life's Opportunities. (Forbes) This is my sorority sister Francesca… so proud of the work she and another sister Lori did to create this amazing non-profit! I was honored to be invited to lead a session in New York years ago and it was a wonderful experience.
Here's the high-priced advice college applicants buy that doesn't trigger the FBI. (Penelope Trunk)
Always Send a Thank You Note After a Job Interview. (Lifehacker)
Where the Jobs Are. (Wall Street Journal)
Before You Do Your Taxes, Understand the Difference Between a Hobby and a Side Hustle. (Lifehacker)
From Taco Hoarding to Cookie Stampedes, Why Do People Go So Nuts Over Free Food at Work?. (Slate)
PRODUCTIVITY / SOCIAL PSYCHOLOGY
Bad at Taking Risks? 4 Tips to Be Bolder. (Under 30 CEO)
The Latest in Military Strategy: Mindfulness. (New York Times)
How to Adjust Your Google Calendar to Start on Monday. (Lifehacker)
The only metric of success that really matters is the one we ignore. (Quartz)
Why People Wait 10 Days to Do Something That Takes 10 Minutes. (The Atlantic)
The Unpleasant Truth Behind Why We "Can't" Break Bad Habits. (Yes and Yes)
How to Stop Obsessing Over Your Mistakes. (Harvard Business Journal)
HEALTH / FITNESS
Are big tech's digital well-being initiatives actually helping people unplug?. (Well & Good NYC)
Athletes Should Think Like Scientists. (Furthermore from Equinox)
What Mini-Workouts Do You Do During the Day?. (Lifehacker)
Walking As A Workout. (Furthermore from Equinox)
The sure-fire way to make your ab workout more challenging? Adjust the tempo. (Well & Good NYC)
A trainer explains when you should be using intervals versus reps to clock your workouts. (Well & Good NYC)
Psst. Kid. Wanna Teach Some Yoga?. (New York Times)
Exercise vs. Drugs to Treat High Blood Pressure and Reduce Fat. (New York Times)
Choose Dessert First. (Furthermore from Equinox)
Mushrooms May Reduce the Risk of Memory Problems. (New York Times)
Cost-Benefit Analysis: Lemon Water. (Furthermore from Equinox)
TRAVEL
32 Tips for Surviving (and Parenting) Crying Babies on Planes. (New York Times)
How Some Private Jet Operators Try to Cheat the Ultra-Rich. (Bloomberg)
After Reading the Preliminary Report, A Change of Heart on the 737 MAX Grounding. (Cranky Flier)
Why Cathay Pacific Now Wants a Piece of the Low-Cost Market. (Bloomberg)
Delta Air Lines Plans to Reduce Seat Recline in Bet to Make Flyers Happy. (Skift)
Purposely Sleep Like Crap Before a Red-Eye Flight. (Lifehacker) I will keep this in mind for my redeye tomorrow…
United Adopts Dynamic Pricing for Award Seats. (Skift)
United Tests Software to Hold Planes for Late-Connecting Passengers. (Skift)
JetBlue Is Flying to Europe: Breaking Down the Competition. (Skift)
U.S. Citizens Will Soon Need Visas to Visit Most of Europe. (Bloomberg)
Airlines, Hotels and Other Brands Are Tired of Paying Google for Their Own Names. (Bloomberg)
Expedia CEO Rips Hilton's 'Stop Clicking Around' Campaign As Misguided. (Skift)
How Hotel Technology Can Make Guests Feel Special and Appreciated. (Hotel News Now)
Tipping May Be the Norm, but Not for Hotel Housekeepers. (New York Times)
TripAdvisor Launches Cruise Metasearch to Tap Into a New Revenue Stream. (Skift)
What a Breakup of Big Tech Could Mean for Travel. (Skift)
MISCELLANY
How to Read Aloud to Your Kid, According to Audiobook Narrators. (Lifehacker) I read to a local kindergarten class a few times a month, so these were really helpful!
Why Your Oldest Child Is Your Smartest Child. (Lifehacker)
Learn Another Language While Watching Netflix Using This App. (Lifehacker)
Choose an Avocado Based on Its Shape. (Lifehacker)
20 Things You Can Do to Keep Your Car Costs Low. (The Simple Dollar)
Some Hard Questions. (The Simple Dollar)
A Denver Native Created an Artificially Intelligent Dating App. (303 Magazine)
Why right now is the best time to work through your petty grudges. (Well & Good NYC)
---
Like this post? Want more fun articles in real time? Follow me on Twitter or become a Facebook fan to get similar stories all week long.