Recap of March 8-10
I think this was the first weekend I've had in several months that I didn't go up to my Vail house for at least a bit… but there was a lot going on in Superior!
I started Friday with an event that wasn't in Superior, but in a neighboring town. The Brighton Image Summit is a two-day conference that brings together students from all over the state to encourage them to use their voice to impact government and become active community members. I was part of a panel of elected officials who met with students to share how / why I got into government, and hear their ideas about the biggest issues affecting them. It was interesting to hear what they perceived as the biggest problems, and especially helpful to hear how I can better communicate with youth going forward. I loved doing this!
After a busy afternoon of work following the Summit, my weekend kicked off strong – it was once again time for my annual "Party Gras" New Orleans fete! This year, knowing I had a lot more people coming than usual (and a lot less time to get everything ready), I got organized by taking my Thanksgiving Excel and redoing it for my Mardi Gras recipes. Here's what I made for this year's bash:
Unfortunately, while my spread was awesome – I totally neglected to take any pics of it all! I was too busy having fun and running around chatting, since I had so many guests (I think about 40 people came). It's always so much fun to see my friends from all different parts of my life meet up and get to know each other – that's one of my favorite things about hosting parties 🙂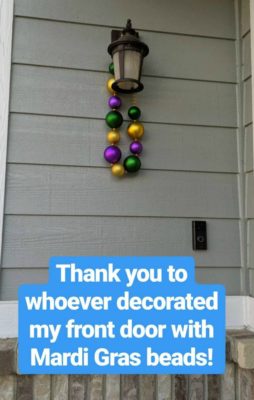 Saturday morning, though, there was a lot to clean up – I spent a while working on that, then headed to the gym to clean up my body after all that delicious food and drink 😉 From there, it was back home to shower, and then I was off to a special Town Hall being hosted at Superior Elementary School – our senator, State House representative, and the Governor were all on hand to share their visions for Colorado and answer questions from the Superior community. (If you're interested, you can read a whole recap of that here).
While I had originally planned to head up to the mountains Saturday after the town hall, the forecast for snow made me worry I'd have trouble getting there and back. Instead, I decided to stay put for a weekend in town, getting things done around the house. To perfectly illustrate that point, I started my free time with a trip to Home Depot to fix a silverware drawer that I had broken from overloading that morning… oops!
The sexist Home Depot guy made me laugh (because what else can you do?) when I asked for help, he responded by asking if I was married, and then told me that I shouldn't worry about being single because someday I'd have a husband who would do all the fixing for me as long as I cooked for him. So, we're living in the 50s again, huh? I especially had the last laugh when it turned out that this "only men can fix things" guy sold me a part that would not, in fact, fix my drawer. So maybe he'll need to start learning to cook? 😉
After unsuccessfully trying to repair my drawer, and then a bit of time catching up on work / email, I headed out to Golden for a happy hour date. We went to Golden Moon, an awesome little speakeasy just behind Main Street, where I enjoyed a delicious concoction (which unfortunately is no longer on the website, since their menu seems to change frequently – not a bad thing!). I definitely want to come back here again sometime!
I got a solid night's sleep, then headed out to Bodypump at Chuze Fitness on Sunday morning – which is starting to become my new Sunday morning routine, when I'm not in the mountains. While I often meet my friend Heather for Bodypump followed by coffee, this week we also invited our friend Kelly to join us. It was great to do the class and follow it up with an extra long coffee at Starbucks after!
I headed home for a quick shower, plus a visit from a neighbor who had offered to help me fix my broken drawer. He ended up not being able to fix it, but took a bunch of measurements and said he'd custom-design the part I needed and bring it back the following week. I am constantly impressed by how smart, talented, and generous my neighbors are – I seriously live in the best town ever!
Speaking of which – after Jim left, several of my neighborhood girlfriends came over, to help me make a final decision on a gown for the Precious Child Fairytale Ball we're going to in a few weeks. We've been shopping for a few weeks, but I had ordered some dresses online – and a crinoline from Amazon to make them all extra poufy. The crinoline was hysterical, and I have to admit I totally loved feeling like a storybook princess… but my friends pointed out that I couldn't fit through doorways with it, and that if I wore it, I couldn't bring a date because it would swallow up two seats 🙂
Instead, I went with a dress I had bought online on a whim and wasn't really sure would work. But I felt drawn to it, and threw it into my cart as a "just in case" backup… and I loved it! I paired it with a glittery feather belt I picked up at White House Black Market (actually, Poshmark after seeing it at White House Black Market but knowing there was no way I'd pay $120 for a belt) a few months ago, and I am really excited for the event.
With my dress set, my friends and I headed off to the mall to see if we could find something new for Leslie to wear. After a few different stores (and a whole try-on parade of about 12 different dresses at Nordstrom), we found the perfect one. Our table is going to be the best dressed one at the ball… I can't wait!
I closed out my weekend with some catch up on emails, blogging, and prep for the Board Meeting Monday night. Being a Trustee is a lot more work than was explained to me before I had the job (or maybe I am just making it more work for myself, since I blog about every Board meeting?), but I'm really enjoying the opportunity to stand up for what I believe are the best interests of my town. I knew that on Monday I'd likely be the dissenting vote on a few things, which I was nervous about, but with the research I had done, I also felt confident in my opinions. Fingers crossed to see how it would go!