This weekend started out with a splash: I threw my (belated) birthday party, and went with a Hawaiian tiki theme this year! Why tiki, you ask? Well, I love Asian food, and I also love tropical drinks… so this theme let me combine both 🙂
My party was set for Friday night at 6pm, and I had a busy day of meetings (including one that ran till 4:30pm downtown), so one of my menu priorities was things that could be prepped in advance. I ended up trying out two new-to-me crockpot recipes: Averie Cooks' slow-cooker Hawaiian chicken, and Daring Gourmet's slow-cooker fried rice. Many of my friends have told me how "brave" they think I am for making recipes I haven't yet tested for parties, but I find that as long as I use recipes that have good reviews / positive comments, there isn't an issue. And that was the case here – both crock pots were pretty much picked clean by the end of the party, and several people were asking me for the recipes! As far as the prep went, too, I was able to get both dishes completely assembled and into the crockpots within fifteen minutes – not bad. I loved both of these recipes and would definitely make them again.
After I got back from my meetings, I had 90 minutes to get the rest ready. I made Saveur's Hawaiian-style sesame cabbage salad, leaving the noodles and dressing off until just before serving – and that was a huge hit as well, plus simple to pull together. And then I cheated a little bit, grabbing a few bags of Trader Joe's chicken and veggie gyoza to steam over a pot for the easiest side ever.
For snacks, I put out a few bags of chips along with regular salsa and pineapple salsa, and for drinks, I mixed up a batch of Alli's Rum Punch and put it in a drink dispenser for easy serving. I also mixed some lemonade, and let people know they could mix it with blue curacao and coconut rum for a "Blue Hawaii" if they felt so inclined.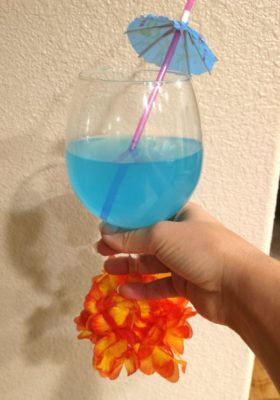 Oh, and the dessert! I am obsessed with Domestic Rebel's birthday cake lush dessert, which has been a hit every time I've made it. To make it a little more tropical, I subbed chocolate birthday cake oreos for the golden birthday cake oreos, and then used coconut milk as the base for the pudding – and then added a little bit of coconut extract as well to intensify the flavor. Again, this dish was picked clean – it may not be the healthiest, but it is incredibly delicious.
I ended up having about 30 friends and neighbors at my party, and while I didn't do the greatest job of talking to everyone (sorry!), it made me feel so special that everyone had made the time to come celebrate with me 🙂
The next morning, I had a bunch of cleanup to do – I had loaded the dishwasher the night before, but neglected to hit start. Whoops! After that was done, I felt good about hitting the trails, and headed for my current favorite, Fowler Trailhead.
I was feeling pretty sluggish after all the food and drinks Friday night (and not enough sleep!), so I started out walking up the fire road rather than trying to run. About a quarter mile in, a big buck lumbered onto the trail, paused and looked at me for a moment, then continued on to the other side of the meadow. I thought that was awesome, and snapped a quick pic of him over there. But then another quarter mile later, he reappeared – coming back out onto the trail, and then heading up it in the same direction I was going. While I hadn't been motivated before, I now decided to use him as my "pace buddy", and did my best to keep up. After a quarter mile, we came to the fork in the trail, and I swear he stood there looking at the sign for a few seconds before choosing to go right – the same direction as me. I followed him up the trail for another quarter mile, and then he finally turned to head off trail. (Bad trail etiquette, my friend!) Getting to run with this beautiful creature totally made my morning, and got me so excited to live in a place where I can have wild animals as my trail buddies 🙂
I continued to run/walk the rest of the way up to the Continental Divide Overlook, but in a much better mood than before, when I had been kind of down on myself for being slow. Trail running / hiking truly is more about the journey than the destination / pace, and while I've enjoyed getting faster at running over the last year or so, I really appreciate that I don't get too hung up on the numbers and can still enjoy an easy excursion on the trails.
After I finished my run/hike, I headed home for a quick shower before some campaign prep – one of our current Trustees was coming over to give me a lot of advice. I definitely needed it! We spent three hours talking about my platform, campaign strategy, and recent issues, and it was incredibly helpful to have someone to bounce ideas off of. As I've gotten more and more immersed in the campaign, I've been so pleasantly surprised by how supportive everyone is, and this afternoon was a great example of that.
I hadn't anticipated getting so much of the Trustee's time, so afterward, I had to skedaddle to get ready for my friend Sarah's barbecue. Sarah and her husband Brian recently built a fancy new deck (with a built in refrigerator, grill, and hot tub!), and this party was the unveiling of all the amenities. It didn't disappoint! We had a fabulous night sipping drinks (I skipped the alcohol and stuck to seltzer), barbecuing some delectable chicken, and dancing the night away, as the girls tried to teach me how to "floss" – which is apparently not a new move, but I had certainly never heard of / seen it before. Damn it, I guess at 33 I'm old now!
Sunday morning, I again felt the need to try to burn off some of the indulgences from the night before, so even though I didn't feel like it, I dragged myself out for a run. I was planning to just suck it up and do 3 miles before it got too hot (it was already 76 degrees at 6am!), but as I ran through my neighborhood, I found myself adding more and more loops. I bumped into a neighbor walking his dog one mile in, and stopped to chat with him for a little while, then bumped into another Trustee candidate at mile 7, with whom I had already been emailing about meeting up. It made me so happy to be able to run through the neighborhood and see so many people I knew, and I ended up running until I had completed a full 13.1 miles – more than four times what I had set out to do! Although I hadn't been going at a fast pace, I was really proud of myself for running a whole half marathon on a whim – I guess my body will never entirely give up distance running 🙂
I had a meeting Sunday afternoon to get more details about a road race I'll be running / promoting this fall (stay tuned for more details), and then spent a few more hours focused on my political race – meeting with some neighbors to discuss the highly controversial "Town 15" plot of land and what ought to be done with it. I have to say, when I first decided to run for Trustee, I was terrified about the campaign process, but more and more, I've been loving the opportunity to meet new people, engage with neighbors, and get new perspectives. Although campaigning is taking up a lot of my free time, I'm loving every bit of it and find myself relishing the challenge!
I closed Sunday night out with a date downtown at Recess – a bar I hadn't before been to, though it's right next to two of my favorite places in the Highlands (Bamboo and Postino's). It started pouring while I was there, but fortunately, we were sitting inside, and the rain died off just in time to leave. Not a bad way to spend a peaceful Sunday evening! And I didn't have to feel too guilty about not seeing more friends, since I was working in town this week.
Lately I haven't been packing my weekends full of activities, and I've been intentionally trying to leave time open to catch up on work, campaigning, and chores. While I used to love having a jam-packed schedule, I'm finding the extra downtime to actually be quite welcome – and I'm going to try to incorporate more of it going forward. In particular, I love going out for a run and having buffer built in to go much longer if I choose! I do worry that I'm losing a bit of my fitness by allowing myself to run whatever I feel like instead of sticking to a stricter regimen (or running more on the treadmill, where my pace is set rather than all over the place). But I really love the flexibility of going out to run and then just seeing which way my path takes me, no matter what my watch says. I just need to start carrying water in case it's an unexpectedly long journey 🙂