This was one of the best weekends I've had in a long time – I feel like things are finally looking up and the cloud that's been raining bad luck on me for the first quarter is starting to lift! I'm still not really doing well on the sleep front, but I'm having fun – and that mental break is good enough for me.
Friday was an unusual work day for me – it was the day of our fourth annual Denver Advisory trip to Winter Park resort! This is one of my favorite office traditions, where everyone is invited to catch a bus from Denver to Winter Park and then spend the day skiing/snowboarding and networking on the mountain, before happy hour on the bus on the way home. I am always thrilled with the close connections I make on the trip, and this year was no exception. There is just something really intimate about sitting on a chairlift with someone, where no one else can hear you, and getting to discuss everything from career goals to relationships and life plans.
This year, we were extra lucky. Although Colorado has had a lackluster amount of snow this year, a big storm rolled in on Thursday and it snowed through mid-morning Friday… meaning a ton of fresh powder for us to ski! Winter Park got nearly 10″, and it showed – I was actually having trouble skiing first thing in the morning because the powder was so heavy and I kept getting stuck. #FirstWorldProblems
After a long break for lunch in the beautiful Sunspot lodge, we headed out to bright Colorado sunshine in the afternoon – and in my opinion, the perfect amount of powder. It was just enough to keep my skis from scraping, but no longer heavy enough to get me stuck. I decided to head with a few coworkers over to Tweedle Dum, a liftline mogul run that was rated as single black diamond. My first time down was a bit slow, but I made it – and we decided to keep doing it again and again. By the end of a few runs, I felt like I was finally catching the rhythm of the bumps and learning how to ski moguls! I meant to take a lesson this year, but the season got away from me and I hadn't done that yet; now, I think just forcing myself to repeat the harder runs is all I need to get better. Ski trip success!
After a tired bus ride back, I headed home from Dinosaur Lots and then immediately got ready to go out. I had plans to go to one of my favorite restaurants in Denver, Bamboo Sushi, to win a bet that it's the best sushi in Denver 🙂 We opted for the omakase ("I'll leave it up to you" / chef selection), and thoroughly enjoyed all the dishes. However, we said we were up for both cooked and raw dishes, and I discovered that it's really the raw dishes where Bamboo steals the show. (Cooked dishes were great; just not as wow-inducing like the sushi/sashimi.) If you're ever in Denver and get the opportunity to go, don't miss the kimono roll (house crab and cucumber, topped with wild Alaskan coho salmon, pickled apple, fried sage, and lime zest), which is incredibly unique and refreshing.
I tried to sleep late on Saturday to help catch up my body, but it didn't work – despite going to bed at 1am, I was up at 6am and wide awake (though exhausted). Although at one point I felt like I had a routine where it worked, the weekly West Coast to East Coast time change is really starting to get to me. I've been doing it for over a year now, and don't expect it to let up soon, so I know I need to figure out some kind of solution…
But in the meantime, I used that Saturday morning time to relax with a book and some tea – which was a great way to start the day. Next up was an activity I was pretty pumped out: volunteering at Freedom Service Dogs of America, where I've signed up to foster dogs on weekends! I have to volunteer for eight hours at the shelter before being allowed to take dogs home with me, so I'm really eager to quickly fulfill that requirement. Unfortunately, due to a slew of mishaps (wrong address on the volunteer signup sheet and not a lot of work to do that day), I drove all the way down to Centennial only to not be able to volunteer at all. Bummer!
I made lemons out of lemonade though – and it ended up changing the course of my weekend. My friend Sarah lives in Littleton, so I had already told her I'd give her a call after volunteering to meet up. Luckily, she and her husband were able to meet up early, and we ended up hanging out for nearly three hours at Torchy's Tacos before finally wrapping things up! We had a great time catching up, and Sarah also talked me into going skiing with her on Sunday at Keystone.
Before another day of skiing, I had a fun night ahead. Nope, not St. Patrick's Day celebrations (though we did wear green and get in the St. Paddy's spirit); a group of my girlfriends and I were meeting up for dinner / drinks as a "bachelorette party #2" for my friend Elizabeth, who is getting married next month. Although we had already gone to Vegas for her official bachelorette party, some of our friends weren't able to make the trip, and they requested a second event in Denver. As luck would have it, we planned the Arvada St. Paddy's event and then they weren't able to make that either, which was a bummer, but we still had a great time out 🙂
We started the night at Schoolhouse Kitchen, a really kitschy and adorable bar/restaurant I love. The chairs are a mix of schoolbus seats and those plastic stackable elementary school chairs; the tables have the periodic table painted on them; the lamps are globes; and the drinks are served in beakers. So cute and fun! I ordered a grilled romaine salad for dinner, and at the waitress' insistence, went with a small rather than a large. I was doubtful, as I was pretty hungry, but check out what came out!
After dinner, we had another round of drinks in the bar area, and then headed over to the Arvada Tavern for live music. Unfortunately, at this point in the night, my lack of sleep caught up to me and I was yawning like crazy… so I called it an early night. Skiing in the morning!
I headed out at 5am to meet Sarah at Dinosaur Lots, where we were lucky to find prime parking for her car while we jumped in mine to make the trek to the mountains. Driving on I-70 is always hit or miss with traffic, and this time, it seemed we had left early enough to avoid all of it. Yay! We arrived at the Keystone parking lot at 6:50am and took a front row spot. The lifts don't open until 8:30am, but that just meant extra time for us to catch up on more chatter over breakfast in the base village.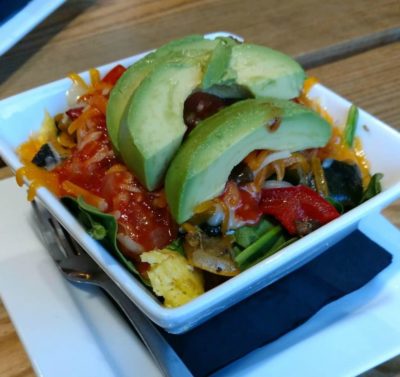 The snow was pretty crappy on Sunday (isn't it always at Keystone?), but we still managed to ski 18,950 vertical feet by 11:30am – a pretty good accomplishment! Moreover, we had lots of time on the lifts to chit chat and enjoy the stunning views. Skiing is the best 🙂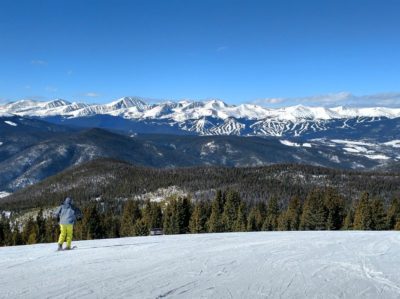 Sarah and I had some really good conversation on the lifts about what we look for in friendships, the challenge of finding really career-focused people in Colorado, and the upside of that: how Colorado living can help strike a much healthier balance between life and work. When I lived in New York, it seemed like the majority of people were incredibly driven and prioritized their career above all else. In Colorado, most people are more "work to live" rather than "live to work" – and that can have its pros and cons. Given that my natural tendency trends a bit more to the workaholic side, I think it's a blessing that I'm living in a place that encourages balance rather than fosters my nose to the grindstone tendencies.
I love my job – the clients I work for, the interesting problems I get to solve, and the challenge and variety of my projects. However, it's no secret I've been a bit burned out lately running two projects at once, and weekends like this remind me that finding balance is so critical to me living my best life. I was able to get a lot of work done on Sunday and start my work week in a good place, but also take a bit of time for myself too… which was exactly what I needed.
Now how to solve the pesky problem of regulating a sleep schedule across time zones…? That's still a work in progress.