As I wrote on Saturday, this weekend I missed sleeping in my own little bed… but I got to spend the weekend skiing in Vail!
Saturday was Pink Vail, the world's biggest ski day to raise money for cancer. Since Pink Vail is held so late in the season, many years it's less about the skiing and more about the fundraising / party. But this year, we got a big storm on Friday night that gave us ten inches of fresh powder at Vail on Saturday morning. Ten inches!!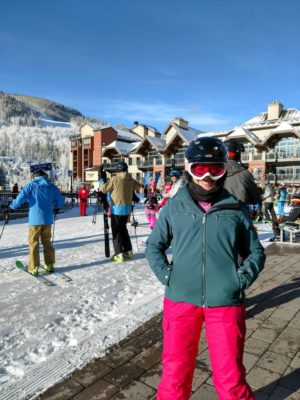 I started the morning with breakfast at West Vail Cafe, a cute little spot right off the highway an exit past Vail Village. The restaurant was a real gem – adorable decor that was clearly from back when Vail was more of a local's spot, and the absolute best pancakes I have ever had in my life. I am a sucker for the unique flavors that Snooze offers on their menu, but the banana pancakes I got at West Vail Cafe were cooked to perfection: thick and pillow-y on the inside, but as crispy as if they'd been deep fried on the outside. I couldn't get over how good they were, and at a reasonable price – I'll have to always make time to stop here for breakfast before skiing in the future!
After taking a few lift rides up / across the mountain, I met up with my friends Sarah and Kelli at mid-Vail, and we headed down an easy run to check out the powder. It was incredible! We hadn't quite made first tracks, but there were still tons of untouched caches of snow to ski through, and like my experience at Winter Park last weekend, the snow was so fresh that at times it was difficult to ski through it.
When we finished the first run, I got brave and decided to try a black diamond mogul run next to the blue intermediate run we had all been doing. No one else wanted to join me, so I was a tiny bit nervous that perhaps I was biting off more than I could chew, especially when I turned onto the run and found myself completely alone, with no other skiers in sight. But that also meant I got to make first tracks through wide swathes of untouched snow, which was pretty awesome!
The moguls took me a long time to conquer, and at the steepest points, I was definitely gliding back and forth rather than taking a sharp line down, but where the moguls were less steep, I was able to ski them reasonably proficiently. I'm getting better! Arriving back at the lifts, my quads were toast – and I decided that was probably the only big mogul run I needed to do for the day. But with snow this soft, I was really glad I had challenged myself to practice my mogul skills.
Next, we headed to the Sun Up bowl on the back side of the mountain. Although this wasn't technically a mogul run, the deep powder had been carved into big soft bumps of fresh snow, and it took a ton of leg strength to get down. The views were stunning as we made our way to the lifts at the bottom, but I had to stop for a few breaks along the way to catch a breath. This was a workout!
After a few runs down, my legs were too tired, and I wanted to get back to the groomers. We headed over to Blue Sky Basin, which I had heard was still a bowl but was groomed. Unfortunately, after spending half an hour heading over there on some cat tracks, we found the lift lines absolutely packed – it seems like everyone else had the same idea! So rather than skiing that side, we headed back to the front of the mountain for a few groomers there, before calling it a day around noon.
Before we left the mountain, we skied down to Golden Eagle Village, where the Pink Vail festival was based. The snow was pretty slushy in some parts and icy / skied off in others, so I knew we were doing the right thing to call it a day, but I was still disappointed to be done. However, I didn't miss the opportunity to create a sign / take a picture to commemorate my friend Theodora's mom, Carol, who lost her battle with cancer last summer. The photos haven't yet been uploaded from the event (frustrating!), but I was still glad I made the time to take one.
It was such a treat to head back to the Vail Marriott rather than heading back home – I'm not used to that after a ski day! I was able to get into some comfy clothes rather than stay in my ski gear, get some work done, and then head back over to Golden Eagle Village for Pink Vail with my friends. It was a big party by the time I got back, and my friends had snagged a prime table in front of the bandshell. I grabbed a glass of rosé from a vendor and then settled in to enjoy the music and celebrate how much money had been raised for the Shaw Cancer Center.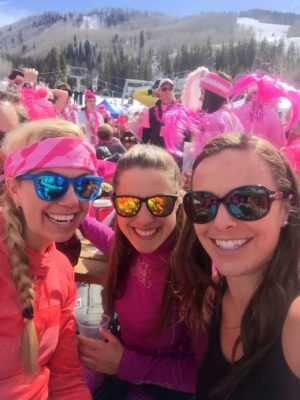 One of my favorite things about the event was the banners that hung everywhere from past events, covered with names of loved ones who had been struck by cancer. It was of course sobering to see just how many people cancer has reached, but it felt good to honor the many cancer victims I've known by writing their names on this year's banner. I like that their names will be at Vail every year from now on, and part of the celebration as we raise money each year to someday beat this horrible disease.
After the concert, we went over to Lionshead Village for apres on the deck at Garfinkle's. Garfinkle's is known for their "shot wheel", so even though I don't think I've had a shot in years (#Old), my friends and I decided to spin the wheel and take whatever came up. We ended up "winning" some kind of cranberry-vodka concotion, which wasn't bad at all.
After apres (ha, funny to double up the same word like that), we headed back to the Vail Marriott, and Kelli, Sarah, Sarah's husband Brian, and I all got to enjoy some hot tub time. This is probably my favorite part of getting to stay in the mountains rather than go home – relaxing with a drink and soaking my muscles in a hot tub! We still had one more day of skiing on Sunday, so after knocking out some more work, I called it an early night and got to bed by 9pm. So much sleep!
But all that sleep meant I woke up well-rested and ready to go, which was fantastic. After catching up on some work, we started the morning by fueling up at The Little Diner, a tiny kitschy local place that was fairly unassuming upon first glance. Supposedly the wait times get long, but we got there at 7:30am and had no problem grabbing seats at the counter. The menu seemed like pretty basic diner food, but when the food came, it turned out to be fantastic – now I understood why it was written up so many places! I got the biscuits and gravy with sunny side up eggs, and the gravy was fantastic – I'd definitely get that again. Two for two on Vail breakfasts this weekend!
With all that food in my stomach, it was time to hit the slopes again – only a few minutes after first chair. There wasn't any new snow, but I got to make first tracks on the groomed trails, which was pretty awesome, and the lines were non-existent until about 10am. At that point, the lines got longer but the snow was still pretty hard-packed, especially on any trails that weren't freshly groomed and had bumps carved into the snow from the day before. The snow started to soften around 11am, but after descending lower on the mountain and finding slush down there, my legs got worn out from the effort and I called it a day around 11:30am. Still – 16,000 feet in three hours wasn't bad!
The rest of my Sunday after heading back home was pretty low-key: a little bit of cleaning and packing for the week, and a lot more work. This wasn't a great weekend for disconnecting from work, and truthfully, this week has also been pretty stressful on that front. I really need a break, and I know I need a vacation (my PTO balance has been maxed out for several years… oops), but there isn't really much point in my taking a weekday off when so far I haven't even been able to have a work-free weekend day in more than a month. I'm hoping that this will be the weekend I can make that happen, by taking Easter Sunday completely off? Fingers crossed…