This week has been full of bad news – first all the pipes burst in my townhouse in upstate New York, causing major flooding, and then I got word that my grandmother passed away 🙁 So forgive me for not yet writing up my New Year's resolutions – hopefully I'll get to that next week.
In the meantime, I wanted to share about a new scale that can help you stay on track with your healthy eating goals for 2018. The EatSmart Precision CalPal Scale not only shows your weight on an easy to read blue LCD screen, but also estimates the calories you can eat per day to lose weight (or maintain your current weight). I reviewed the EatSmart Precision Choice scale last year, and this is a nice upgrade to see estimated calories as well as estimated BMI on the screen.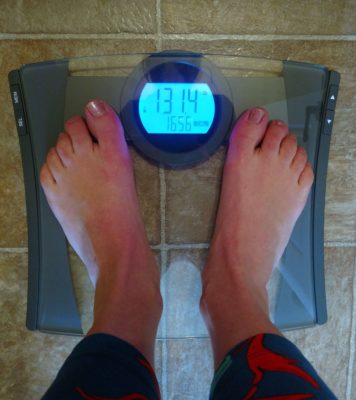 When you set up the scale, you input a few factors about yourself – your age, your gender, your height, etc. These are used to help in the estimations. For households with multiple family members, the CalPal scale automatically identifies who you are based on proximity to previous weights, which is a neat feature rather than fiddling with settings on the scale to figure out who's who.
Giveaway
EatSmart wants to give one lucky 50by25 reader a Precision CalPal Scale! This giveaway is open to anyone in the US. To enter, leave a comment telling me what your new year's resolution is, and log that comment in the Rafflecopter widget below (if you're reading this in Feedly/Bloglovin'/email, you'll need to click through to enter). The contest will run through next Saturday January 20th at 11:59pm MT, at which time a winner will be chosen by random drawing and contacted by email.
Disclosure: EatSmart sent me this scale to review. All thoughts and opinions expressed in this post are my own.