Although traveling for work every week is by far my least favorite part of my job, there is an awesome perk that comes along with it. If there's a weekend that you don't want to go home, you can fly anywhere else as long as the ticket price is less than the cost of flying you home. Since flights from Colorado to Florida are expensive, and flights from Florida to Europe are cheap, this meant I could do a weekend in Madrid basically for free! (And with how delayed my flights home usually are and the fact that I have to connect, I joked with my team that it's faster for me to fly to Europe, too.)
I was super lucky and able to get an upgrade to business class, so after enjoying dinner and a glass of wine after takeoff, I promptly went to sleep. Unfortunately, even though I had the fancy lie-flat seat, I didn't sleep very well, and kept waking up every so often. By the time we landed in Madrid around 11am local time, I knew I was going to need coffee to get me through the rest of the day!
Madrid Barajas Airport is connected to the city center via both the Metro and Renfe train, so for just a few euros, I was able to catch a train that took me exactly to the stop I needed for my hotel. I stayed at the AC Hotel Recoletos, a small boutique that was just off the Paseo del Prado and so walking distance from just about everything I wanted to do. (Most importantly, it was less than a mile from the start of the half marathon I'd be running on Sunday.) I was able to get an early check in there, so after dropping off all my stuff and then showering, I felt like a new person – and was ready to hit Madrid.
I had originally planned to go to Vi Cool for their gourmet tapas weekday special – one cold plate, one hot plate, a main dish, and a dessert, all for just 14 euros. Great deal! But the hotel gave me a cheese platter at check in, which I totally devoured, so I wasn't all that hungry. Instead, I headed straight to the Real Jardin Botanico, where I was looking forward to seeing all the fall blooms. When I went to the pumpkin festival at Chatfield a few weeks ago, I didn't end up going into the gardens – so I figured maybe I'd count this for my fall bucket list item of "check out the fall blooms at the Denver Botanic Gardens." Different country, but same idea, right?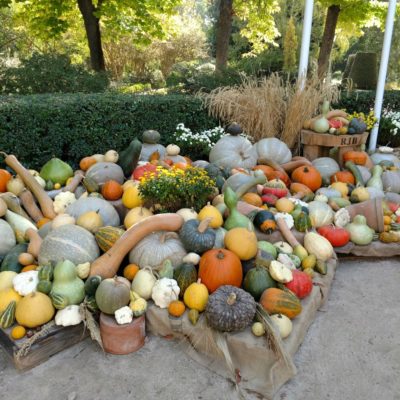 While the display of gourds at the main gates was promising, the rest of the gardens weren't quite as exciting as I hoped – most things were already dormant, and there wasn't a ton to see.
Although there wasn't much in bloom outside of the showcase garden up front, I did enjoy walking around and seeing how beautifully organized everything was – I love neat, clean lines in a garden, and the Real Jardin Botanico reminded me of an English garden in that respect.
The Real Jardin Botanico also had a few greenhouses that were pretty neat, with placards in both Spanish and English that explained three different habits: desert, sub-tropical, and tropical. I was surprised to learn that Spain's climate is similar to the sub-tropical climate in Florida – but from then on, I did notice palm trees all over the place. (And I remembered them from my trip to Sevilla, too.) Interesting!
The gardens didn't take as long to explore as I expected, so I had a few hours of extra time on my hands. I decided to head for the Mercado de San Miguel, which I had originally planned to explore on Sunday. It didn't disappoint! As soon as I walked in, I saw about 10 different things I wanted to try… starting with the bruschetta.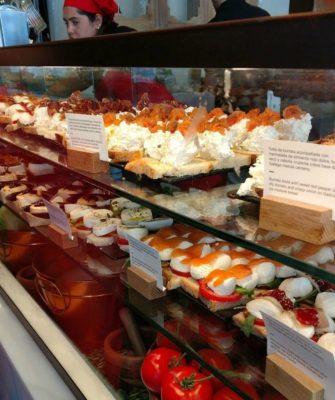 Although there were plenty of sweets at the Mercado de San Miguel, I headed off on another expedition – to get a cup of hot chocolate at the Chocolatería San Ginés, just a few minutes' walk away. I'm not a huge churro fan so I opted to get the cocoa plain rather than with a plate of churros for dipping, but I still thought the hot chocolate was great without churros – it was so thick it was almost like eating a pudding!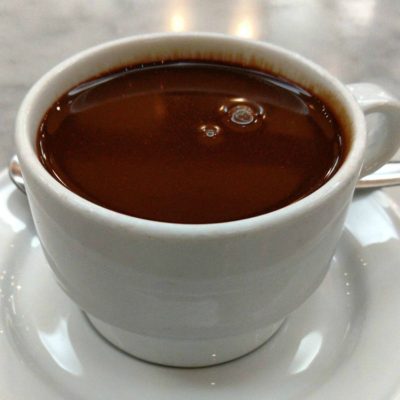 After all that food, I decided to tear myself away from the Mercado de San Miguel and all its treasures, and headed back toward Paseo del Prado. I still had about an hour before I planned to hit the free night at the Museo del Prado, so I stopped at a café to read a book and sip a glass of wine. I got a lot of reading done this trip, which was fantastic! (Stay tuned for my October book reviews later this week.)
Once I saw that it was 6pm, I settled the bill and headed across the street to the museum… only to uncover a loooooong line of people that wound all around the block. Uh oh – was it a mistake to go for the free night instead of just paying up? In my opinion, no – it only took about twenty minutes to get in, and I was perfectly content to read my Kindle while I was in line. And I really liked not having any pressure to "get my money's worth" once I was in the museum – I could stay as long as I liked or go home early. I ended up wandering the museum for about an hour. I really enjoyed reading the placards (in both Spanish and English) to learn more about each artist / work, and found that I came away with a new favorite artist – Vicente Lopez, who had exquisite attention to detail when it came to the textures and embellishments on clothing. I loved his portraits of various royal ladies, like this one of Maria Cristina de Borbon!
After leaving the museum around 7:30pm, I headed back to my hotel to await dinner. One thing I hadn't realized before this trip (or maybe I learned in Sevilla and forgot?) was that the Spanish eat dinner extremely late: an 8pm or 9pm dinner is considered early, and 11pm isn't at all abnormal. Although my jet lagged body didn't quite know what time it was, I was dying to eat earlier than 9pm and just get to bed! I ended up getting to my 9pm dinner reservation a few minutes early and just hoping they would let me eat sooner 🙂
Most of my itinerary was based on various restaurants / foods I wanted to try (hi, do you know me?) , and Friday's dinner was no exception. From Eater's list of the best new restaurants in Madrid, I had found Pink Monkey, an Asian fusion place that sounded fantastic. It did not disappoint!
After the delicious meal and a glass of wine, I planning to go to bed as soon as I got back to the hotel. But when I got tucked into bed, I was surprisingly awake (thanks, jet lag), and ended up staying up till midnight reading – oops. Luckily, I didn't have any alarm to set for Saturday morning, so I could sleep as late as my body would allow. Ah, vacation… what a treat!
I ended up waking up at 11:45am – the latest I can remember sleeping in years and years. Whoops! Fortunately, most of my plans for Saturday morning were things I had already ended up doing Friday (like the Mercado de San Miguel). So, I ventured out for lunch, not really knowing what I was looking for.
On my way out of the hotel, I heard music and cheering coming from the Paseo del Prado – so I headed in that direction to see what was up. The street was closed, and I found a lot of people walking down the street wearing flags wrapped around them like cloaks. (Google later told me it was the Madrid city flag.) It seemed happy and festive, so I headed in the direction of the music, which turned out to be at the Plaza del Cortez a few blocks up.
I then turned onto a side street to start looking for lunch, and found a lot more people with the Madrid flags – but they were at some sort of rally, with one guy shouting into a bullhorn while the crowd cheered and sang. Meanwhile, policemen ringed the perimeter. Uh oh – was this something to do with the Catalonia crisis? I didn't stick around to find out, and kept going just in case.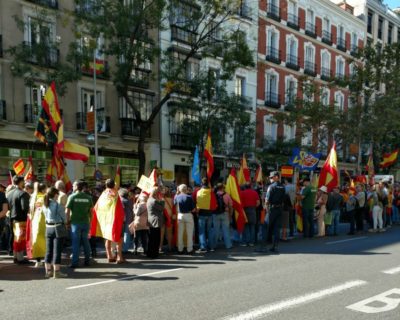 Using Yelp to try to figure out where to go, I hit on a restaurant I had seen in my Eater research but initially written off. StreetXO (it's a Chinese play on words – you pronounce it "Streetshow") is a new casual restaurant by David Munoz, whose first restaurant DiverXO became the first in Madrid to earn three Michelin stars. StreetXO doesn't take reservations, and I had originally decided not to go because I heard the wait to get in for dinner was never less than an hour, and often several hours. But now it was lunchtime (and early lunch for Madrid), so maybe I'd have better luck? I decided to check it out.
Well, the wait was about an hour… but oh my gosh, it was so worth it. The restaurant décor was really trendy and cool, and I was lucky enough to be seated at the bar, where I could watch the dozens of chefs scurrying around painstakingly perfecting each dish just two feet away.
After being seated, they assigned me a waitress who was fluent in English, so that she could better explain each dish and make recommendations. And her recommendations were fantastic!
I started with a Korean beef and shitake mushroom lasagna, which came with a cardamom goat milk bechamel. My reaction? Why is all cream sauce not made with cardamom?! This was incredible, both from a creativity perspective and how filling it was – and the elegant plating was exquisite.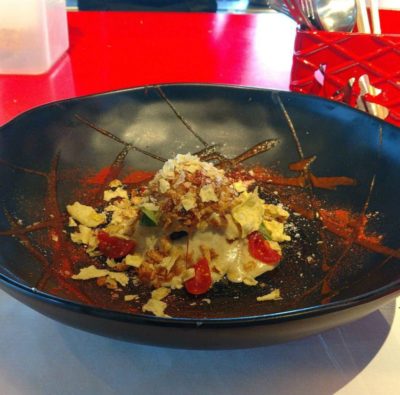 I knew that StreetXO was known for their cocktails, so I asked the server for a recommendation. She listed off a bunch of adjectives to get a better sense of my taste in cocktails, and I picked "smoky" and "exotic." What she brought was exactly that – and it came with accompaniments. She explained to me that you were supposed to suck the head of the prawn, then take a sip of the cocktail, then eat the body of the shrimp. Complicated – but delicious!
My next dish was the Pekinese dumplings with crunchy pig ears and strawberry sauce. It was an unusual combination, but pretty good – I've learned from Sushi Zushi in Dallas that strawberry sauce goes surprisingly well with Asian food.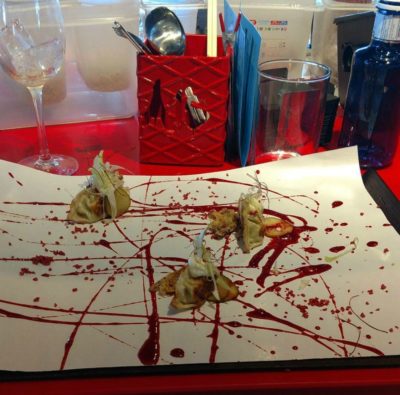 Finally, after watching a ton of these being made, I decided to splurge on one more dish that looked pretty cool: a steamed bao bun "club sandwich" filled with ricotta cheese and topped with a fried quail egg.
Overall, the meal was a lot more expensive than the 10 euro menu del dia I had originally been thinking I'd find… but it was worth every penny. The flavors were all just so unique and so delicious, and I feel like I got a culinary education getting to watch the chefs at work on the other side of the bar. If you are ever in Madrid, I would highly recommend saving up to go here – it's fabulous!
After that unexpectedly long lunch, I immediately sought out the Metro to go to the expo, which was being held at the Feria de Madrid. Not knowing how big the race was, and also knowing that they had tons of events (e.g., speakers, a Zumba class, etc) I assumed that the entire stadium would be the expo. Nope! There was a big electronic gaming convention going on, and I had to ask at the info desk to find the race expo, which was in a side building.
The race expo was small, but serviceable – very easy for me to get my bib as well as a very heavy swag bag. When I dumped it out on my bed back at the hotel, I discovered that I had gotten a full-size energy drink, a microwavable pasta dinner with sauce, and a full-size box of vegetable broth – so that accounted for the weight.) I didn't see any gels for sale, which was a bummer because I had forgotten to pack some, but the course description indicated there would be gels at the 15K aid station, so I figured that would be okay.
My one gripe with the expo was that it was all the way out at the Feria de Madrid. It took about 30 minutes to get there from downtown Madrid (and cost about 5 euros each way on the Metro), so it was kind of a pain to trek out there for no real reason. As far as I could tell from the website, though, there was no day-of bib pick up, so I sucked it up… not the end of the world!
When I got back to town, I hung out at the hotel for a little while, researching where to go for dinner since I learned that the place I had planned on going didn't open until 9pm. I didn't want to wait that late! My hotel had recommended Flavia, an Italian restaurant a block away, and reviews online looked good. I'm always skeptical of hotel-recommended spots, since they're usually for a kickback rather than because they're actually good! But when I walked over, I saw that they didn't open until 8:30pm – pass.
I stumbled upon Bar Tomate on Yelp, which had great reviews, and they seemed to be open all day. Unfortunately, when I got there, I learned that while they were indeed open, they serve a very limited menu until 8:30pm, and they were fully booked with reservations starting at 9:00pm. Since I had already walked over there, I enjoyed a glass of wine and some potato croquettes (really amazing!) from the limited menu.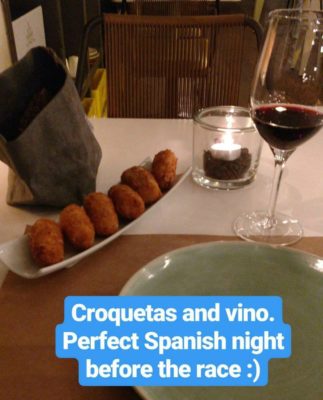 I then had the choice of doing a quick dinner there or heading back to Flavia – and I chose Flavia for the variety. It didn't disappoint! I ordered the prosciutto and mushroom pizza, which had a really excellent wood-fired crust, and of course had another glass of wine to go with that 😉 I didn't want to drink too much the night before the race, but I figured two glasses of wine over a few hours might be exactly what I needed to help me go to sleep, since I had gotten a whopping 10.5 hours the night before.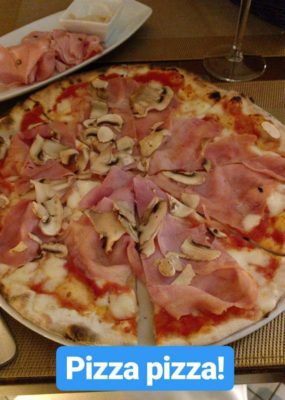 Well, the wine did the trick – because even after some reading in bed, I was able to go to sleep at 11pm as planned. As a bonus, the hotel had sent a memo to all guests that Spain would be ending daylight savings time that night – so not only would I be getting closer to on sync with the US in time for my trip home, but I'd also have an extra hour to sleep the night before the race! Exactly what I needed.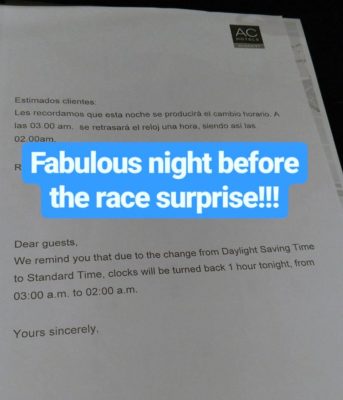 After the race on Sunday, I headed back to the hotel for a shower – but I walked the 2.2 miles from the finish line to my hotel. It was a gorgeous day and it was nice to have the walk as a cooldown from the race! And after showering, it was time to go out and indulge on some well-deserved Madrilenan treats 🙂
I had been so impressed with the Mercado de San Miguel on Friday that I headed back there first – but I found myself craving something sweet rather than savory. But though they had every kind of pastry known to man, the one that I wanted was actually pretty tiny – a caramel macaron. I knew I should be refueling with more than that, but that was what I really wanted, so I told myself I'd eat more after.
Next, I made a beeline for El Rastro flea market, which is a Madrid tradition. It's open only on Sundays, and takes over seemingly half the city with vendors selling all kinds of wares. I didn't get there until 2pm and the market closed at 3pm, so I only caught a bit of it as a lot of vendors packed up early. But it was still enough for me to get the general idea, and there wasn't really anything I wanted to buy anyway.
From there, I started heading toward the Museo Reina Sofia, which I thought had free admission on Sundays. But on my way there, I looked up restaurant reviews because I was now starving… and found a really great tapas place in Lavapies, the hipster neighborhood. Taberna El Sur came highly recommended as an unassuming spot with cheap but delicious food, and it definitely lived up to that. I dove into a glass of sangria and several small plates.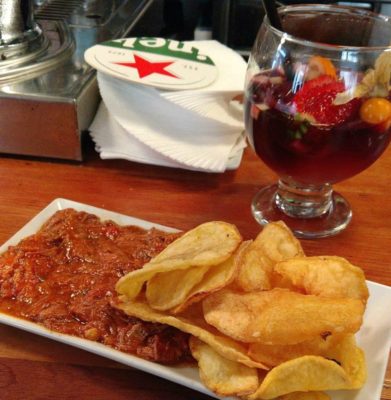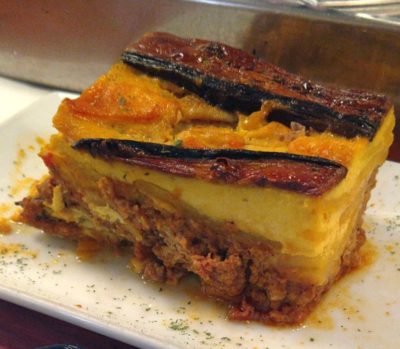 After that fabulous lunch (and a little tipsy from the sangria), I headed toward Reina Sofia… only to find out that my source had been wrong, and it wasn't free on Sundays. I wasn't really feeling like going into a museum on such a beautiful day anyway, so I skipped it in favor of heading to El Retiro (Madrid's version of Central Park… though I know that's backwards of me to say since theirs is much older) to sit on a bench, read, and people watch. I was really happy with that decision!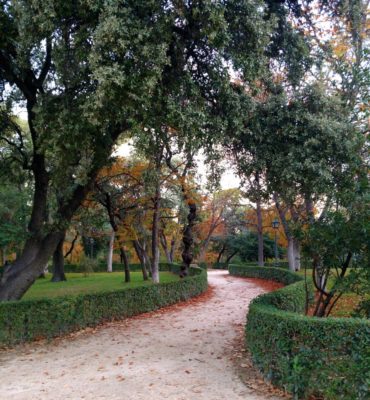 Finally, I headed out for my last night in Madrid. Time to celebrate! I started my night at Salmon Guru, a cocktail bar I had found on Eater's list of best new restaurants in Madrid. I was thoroughly impressed by the awesome "Steam Drunk" cocktail I tried, which was served in a tiny Chinese teacup with a ton of herbs for me to macerate in; the teacup was resting in a bowl of ice, and the rest of the drink was in a large teapot on the side for me to refill on my own. I took a photo but just realized now I forgot to save it from Instagram Stories – darn it! Fortunately, I did at least find the description online so I can try to recreate the delicious flavor: tequila blanco, pisco, Pimm's #1, orange juice, and rhubarb bitters. There was definitely some egg white in there too to make it foamy – I loved it!
From Salmon Guru, I headed to a bar a few doors down: La Venencia, a historic gem that was frequented by Ernest Hemingway in the 1930s. It was incredibly rustic and simple, with just a wooden bar you could sidle up to and order from a handwritten menu on the wall. And the prices couldn't be beat: 1.80-2.20 euros for any glass of sherry, free tapas with your drink, and some extra food items for 1 euro each if you wanted to upgrade. I intended to just pop in for a little bit, but ended up staying for two drinks because the atmosphere was so cool.
Finally, I ended my night at Celso Y Manolo, an upscale tapas bar that came highly recommended on Yelp. I could see why! The décor was elegant and the food was delicious – I really enjoyed the rabas de tres cosas (fried mixed seafood) and the crème catalana desert that closed out my night. I had definitely gone to more upscale places than I intended (I was originally planning to just go to Entre Caceres y Badajoz, known for their hearty free tapas), but the quality was worth paying for the food, especially for my last night in Madrid.
And yesterday morning? I woke up early and was able to go for a short easy run around El Retiro before showering and heading to the airport! The perfect cap to a really amazing weekend.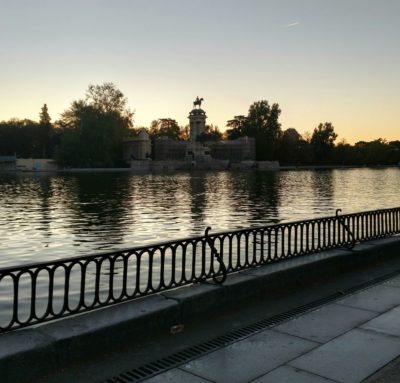 In all – this was one of my favorite vacations of all time, and I'm so glad that I went! To be totally honest, I was not really looking forward to the trip because I was bummed to be away from home. I know that sounds weird, but being away from home four days a week just makes me really cherish my time home on weekends, and I hate to give that up. However, even as ahead of time I'm not super psyched, I have to remind myself that once I go, I'll be so glad I did. And Madrid? Totally worth it!