Since I travel four days a week, I have to make the absolute most of my limited time at home. As a result, there is nothing I hate more than being home without any plans. So, I usually start planning my weekend on Monday or Tuesday, and if I don't have a full roster of activities by Wednesday, I start getting a little anxious. This week was one of those times when I didn't have a lot planned, and I thought it was going to be a lonely / bad weekend. However, it turned out to be one of my best yet!
Friday I was pretty slammed at work trying to get a proposal done in time for Monday, but I called a hard stop at 5:30pm and then put in a few hours Saturday and Sunday instead. Not a bad trade! I was then able to relax and have a fabulous Friday night checking out the happy hour at The Med in Boulder with my friend Laura.
I've heard great things about the Med, but never before been – and it didn't disappoint! Great happy hour prices on wine and tapas (try the hummus, which came with some really delicious spiced grilled bread). Laura and I also shared a vegetarian paella with goat cheese that was fantastic – I'd definitely recommend that too. Meanwhile, Laura was out of town most weekends during the summer, and I'm always out of town during the week, so this was our first time catching up in seemingly forever. We got into all kinds of life gossip, and it was a blast 🙂
Now, some backstory before I tell you about Saturday morning. When I first moved to Colorado, multiple people told me I needed to buy several bikes – a road, a mountain, and a hybrid – and that I needed to spend at least $1000 on each one or they'd be worthless. Oh, Colorado gear snobbery! I listened to that advice from multiple people… and then I went to Walmart and got a basic mountain bike for $60. I figured if I actually ended up using it a lot, then I'd upgrade to something nice. Well, it's been three years and Saturday was the first time I've ridden it – so I think that was money well saved!
Amanda and I made plans to meet at Waterton Canyon to go "mountain biking". I was a little nervous about my abilities (or lack thereof), but she assured me it was pretty easy. So I got excited for some leisurely pedaling and catching up! Luckily, Amanda was totally right – the Waterton Canyon trail turned out to basically be a wide dirt road that wound through the canyon with just the subtlest of inclines. It was easy, it was peaceful, and it was beautiful!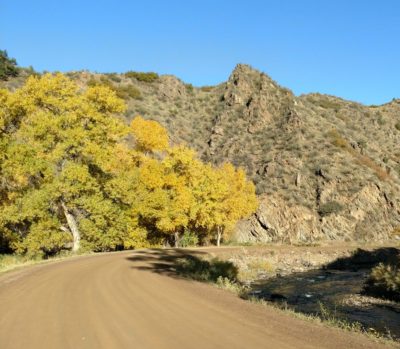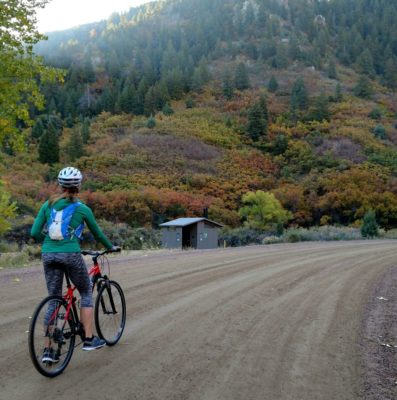 Although it was my first time biking in years, Amanda had been biking out here before. But Waterton Canyon still had something new for her: we saw one bighorn sheep toward the beginning of our ride, and then a whole herd of them on our way back!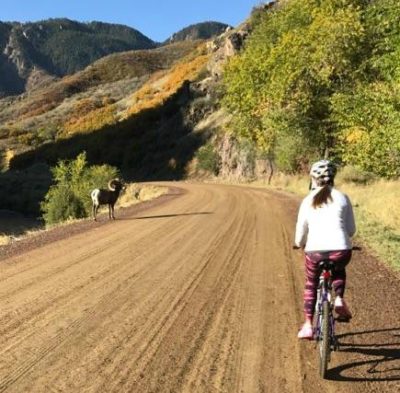 While I had a nice time, biking at anything more than a leisurely pace is definitely not my jam, and I don't think I'd want to try anything technical either. So I think it's safe to say I won't be upgrading my $60 mountain bike anytime soon! 🙂
Anyway! After biking, we headed just down the road to Chatfield State Park – where the Denver Botanical Gardens was hosting a pumpkin festival and corn maze! Amanda and I were joined by her husband David and our friend Sarah.
We browsed around the pumpkin patch for a little while, then headed over to explore the 7 acre corn maze. None of us had done a corn maze before, and we were really curious to see what it would be like!
We totally missed the fact that there were maps at the beginning (printed copies and also a poster you could photograph with your phone), so we just kind of wandered around. But then we found the first photo station, and we got really excited! We made it a goal to find all four that were in the maze, and got pretty into the hunt. There were a few bridges that took you up over the cornfield so that you could generally see where you needed to go – not enough to actually plan your route, but at least you could get in the general vicinity. After a lot of wandering around (I clocked over 10,000 steps for the day by the time we were done!), we finally found station #4 and declared victory.
After finishing the corn maze, we all headed our separate ways – but I wasn't done with pumpkin festival-ing yet. I headed home for a quick shower and light lunch, then went with my friends Kristin and Amanda (a different Amanda) to my town's annual Oktoberfest.
Although the HOA puts on Oktoberfest every year, I haven't been able to make it the last two years, so I was pretty pumped. Unfortunately, the winds had gotten really crazy since morning – and so the three of us didn't last very long! We grabbed a beer, some pumpkins to take home, and then hightailed it back to my house to drink and catch up inside away from the gusts. Such a bummer that the weather wasn't great and that turnout was low as a result, but I will definitely be putting this on the calendar next year.
When Kristin and Amanda headed home, I headed out too – up to Frisco to meet some friends for a night in the mountains! I had put "go camping in the mountains" on my fall bucket list, but I think this trip might have to replace that, because it was already cold! Temps were in the low 30s when I got to Frisco, and I had worn light fall clothes rather than something winter-y. Good thing we were mostly staying inside! We spent the night enjoying a big pot of homemade chili, some bourbon gingers, and a rousing game of Cards Against Humanity… followed by a soak in the hot tub. Maybe that's a little more winter-y than fall, but it was perfection!
After all that activity Saturday, Sunday was a lot more peaceful. Is there anything quite as nice as sipping coffee while staring out a picture window at the mountains?! Over the last few weeks, I've been working with a realtor to help me find a condo to buy in Breckenridge, and this pretty much sealed the deal that I want to pull the trigger. The plan would be to rent it as much as possible on AirBNB, but be able to use it myself any weekends I can't rent – a nice little perk for an investment property! Now I just need my townhouse in New York to sell so I can make that happen.
The drive home from Frisco was similarly relaxing. I normally listen to podcasts when I drive, in an attempt to always be cramming as much information into my head as possible. But something about driving through the mountains always makes me switch to music, where I sing along and daydream the whole way home. (Current favorite artist: Ed Sheeran.) Pretty sure I was smiling like crazy too – it had been a good weekend.
And when I say "it had been", unfortunately, that was it. I had gotten a call from work on Saturday morning asking me to cut the weekend short, so I had to rush home from the mountains to pack and get to the airport by 2pm. It was going to be a busy week of travel ahead, but I was looking forward to it after a great weekend.
So much for me worrying about not having weekend plans! As it turned out, I didn't have nearly enough time for everyone I wanted to see and everything I wanted to do. But there's always next weekend…