Last night, I went to Denver's Oktoberfest, and had an absolute blast! But between indulging there and knowing I'll be eating/drinking well at a wedding tonight, I thought it would be a good idea to go for either a hike or a long run today. I woke up and decided: long run it is.
Last week, I got out on the trails with my friend Sarah and the Denver Running Club, and ran 7 miles – my longest run since February 2015! Today, I wanted to try to add one mile to that, and do 8 miles. But when I got to the Coalton Trailhead, I found that if I took the Meadowlark Trail to the Mayhoffer Single Tree trail, those would end at 4.2 miles – so I decided to do that as an out and back and get to 8.4 miles. And while I was doing that, I really might as well go another 0.3 further on the out, to make it an even 9 miles. And then 9 miles is so close to double digits that I really ought to just go one more half mile so that I'd end at a nice round 10 miles. And that's how my 8 mile planned run turned into a fabulous 10 mile long run! 🙂
The trails I was on weren't at all technical, which was nice after my fall last week, but they were still hilly. I didn't worry about pace at all, and was taking it at a nice easy jog that I figured was around a 9:30/10 minute per mile pace… but when my Garmin beeped at me each mile, I discovered my pace was actually a lot faster. I was doing the flat/downhill miles around a 7:30/7:45 pace, and the uphill miles around an 8:30/8:40 pace. I ended up not having a single mile slower than 8:50, even the big 1.5 mile uphill that happened late in the game at mile 8! I cannot believe how much my speed has improved to where I can do a hilly long run at a pace I used to dream about hitting for a 3-5 mile run. Thanks, Orangetheory!
When I got home from my run, I decided to make waffles as a post-run treat. I was really craving pumpkin spice everything thanks to the chill in the air, so I decided to add a few spices to make my waffles a little fall-like 🙂 I also threw some cinnamon into my coffee grounds before brewing a pot – it's a great way to add flavor to your coffee without having a weird layer of spices on top as you're drinking!
Krusteaz recently came out with a protein pancake mix that contains 13g of protein per serving. And even better, in keeping with Krusteaz's commitment to simplified and wholesome ingredients, the new protein pancake is free of partially hydrogenated oils, high fructose corn syrup, artificial colors, flavors and preservatives. I've tried various ways over the years to get some protein into my pancakes so I don't crash after such a carb-y breakfast (my favorite way is here, with egg whites and cottage cheese), and I'm thrilled that Krusteaz has made it easier for me to refuel and repair my muscles after a long run.
The back of the box offers a few options for how to use the mix to get even more protein in. While the mix itself has 13g of protein per serving, you can choose to mix it with milk to bump up the protein to 15g per serving, or with milk and an egg to take it up to 18g per serving. I chose that last option, and felt really good about these waffles as a recovery meal!
To make the waffles, I mixed 1 cup of mix with 1 egg, 2/3 cup of 2% milk, 1/2 tsp cinnamon, 1/4 tsp ginger, and a dash of nutmeg. I didn't spray my waffle iron with anything, but the waffles still came out pretty easily – so that was nice to not have to add any extra oil. But I made up for that when I ate my fall-flavored waffles topped with Trader Joe's Pumpkin Spice Cookie Butter – yum!!! 🙂
Giveaway!
Krusteaz wants to give one lucky reader a prize package like the one I received – with a tote bag, blender bottle, silicone spatula, and of course, several boxes of Krusteaz Protein Pancake Mixes!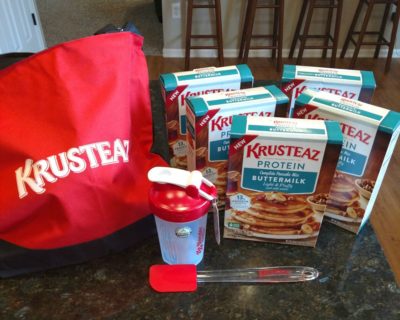 This giveaway is open to anyone in the US. To enter, leave a comment telling me your favorite flavors for waffles / pancakes, and log that comment in the Rafflecopter widget below (if you're reading this in Feedly/Bloglovin'/email, you'll need to click through to enter). The contest will run through next Saturday September 30th at 11:59pm MT, at which time a winner will be chosen by random drawing and contacted by email.
Disclosure: Krusteaz sent me a prize pack like the one the winner of this giveaway will receive. All thoughts and opinions expressed in this post are my own.