My current project is in Florida. The client is great; the work is really interesting; and the location is unbeatable.
The commute, though, is where I pay the price for all that. Palm Beach is a fairly seasonal airport that does a lot of traffic in the winter, and when I was here in February, the flight times weren't too bad. But now that seasonal service has ended, my best bet to get here is to take an 8am two-leg flight that doesn't have me landing until 4pm. I can certainly work in flight, but a whole day spent up in the air and unreachable for calls definitely isn't ideal! Today I had an important meeting, so I gave up my Sunday to fly out instead.
I was able to take later flights (left Denver at 2pm) so that I could at least spend the morning at home. I tried to make the most of it: started my day with a hike, then did a bunch of errands around the house and caught up with a few friends on the phone.
I figured I'd catch up on email on the first leg of my flight (check), and then sleep on the second leg. That way even though I landed at 12:30am, I'd still already have a few hours of sleep under my belt and be able to get to the office by 8am. Unfortunately, the best laid plans…
My first flight was delayed about 40 minutes. Fortunately, I had a 90 minute layover in Newark, so that didn't hurt anything; just shortened my time sitting around. But when I arrived in Newark, the next leg of my flight was also delayed 45 minutes due to a late inbound aircraft. And then after we boarded and got all set to go, the pilots discovered a maintenance problem that required us to get off the plane and wait two hours for a fix. United tried to swap out the aircraft, but the new plane required a tow from a far-away hangar and they determined that it would take longer to get the new plane / cater it / etc than just to fix the old plane. Translation: we finally left Newark at 11:30pm and landed in Palm Beach at 2am. And I didn't sleep a wink in flight.
By the time I got my rental car, checked into the hotel, and got to bed, it was after 3am. Not exactly the ideal start to my work week! I skipped my planned Orangetheory workout this morning, determined to get as much sleep as I possibly could. I told myself that I'd go for a treadmill run after work instead, though in the back of my mind I worried that wouldn't happen. I never know what time I'll be able to leave the office, and I'm usually too exhausted after work to be motivated enough to work out.
Luckily, I got out at a totally reasonable hour, and after a bit more work at the hotel, I headed down to the treadmill as planned, hoping to do three miles around a 7:30 pace. And then… boom.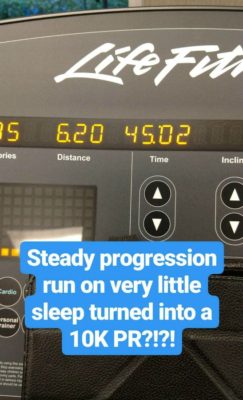 Bolder Boulder, here I come!!