Want to stay in bed longer? Here's what I've been loving, laughing at, and getting intrigued by all week long. Now cozy up with your laptop/tablet and enjoy 🙂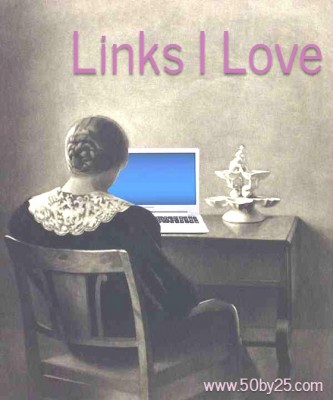 CAREER
How to Act Like a Boss (When You Literally Just Became the Boss). (Glamour Magazine)
Boss Thinks Female Employee Might Be Ready To Handle Job She's Been Doing For Past 2 Years. This sucks but is very true (and not limited to women). (The Onion)
How to Ditch Imposter Syndrome and Apply for That Job. (The Every Girl)
10 career hacks for every ambitious woman. (The America Genius)
Moving Beyond Bias in the Workplace. (Clayman Institute for Gender Research)
How This CMO Deals With Aggressive People at Work. (Fortune Magazine)
Five Hints You Could Be an Underperformer… Even When No One Says Anything. (Laura Stack)
Starting Up a Business, With Little Ones Close. (New York Times)
The Ambition-Marriage Trade-Off Too Many Single Women Face. (Harvard Business Journal)
PRODUCTIVITY/SOCIAL PSYCHOLOGY
The case for being grumpy at work. (Quartz)
Let's All Stop Apologizing for the Delayed Response in Our Emails. (Science of Us)
Here's Why You Can't Focus in Your Open Plan Office. (Thrive Global)
4 Easy Motivation Hacks That Work. (My Fitness Pal)
5 Ways Dropping the Ball Can Actually Benefit You. (Greatist)
Time Blocking: A Busy Person's Guide to Getting It Done. (Inspiralized)
10 Simple Time Management Tactics for Your Day. (Time Management Ninja)
Computer Science Reveals 4 Secrets That Will Make You Happy. (Barking Up the Wrong Tree)
I was shocked at how much this one lifestyle change boosted my confidence. (Well & Good NYC)
'Better' Probably Takes Less Time Than You Think. (Yes and Yes)
How to Avoid Being Duped by Sham Science. (Outside Magazine)
HEALTH/FITNESS
This could be the easiest way to reduce your stress levels. (Well & Good NYC)
When Gluten Is The Villain, Could A Common Virus Be The Trigger?. (NPR)
Too Clean for Our Children's Good? (New York Times)
Is A Placebo A Sham If You Know It's A Fake And It Still Works? (NPR)
Does Your Health Determine Your Success? (My Fitness Pal)
The Cost of Not Taking Your Medicine. (New York Times)
Feed a Cold, Don't Starve It. (The Atlantic)
The Plus Factor: Why the wellness-obsessed are caffeinating with nitro coffee. (Well & Good NYC)
5 Smarter Snacking Strategies for Weight Loss. (My Fitness Pal)
Is It Harder to Resist Temptation at Certain Times of Day? (Van Winkle's)
How turmeric can help you get brilliant white teeth (really). (Well & Good NYC)
12 Confusing Things You Hear in Fitness Classes and What They Actually Mean. (Greatist)
5 Expert Tips to Stay Active on Vacation So You Don't Blow All Your Hard Work. (Greatist)
TRAVEL
Vegas Bets on Wellness Offerings for Tourists. (Skift)
All you need to know about plane spotters. (Airport World)
Boeing Has High Hopes for Profits After Delivering Its First 737 Max. (Skift)
Travel Tech CEO Series: Amadeus Is Evolving Despite Airline Distribution Pressures. (Skift)
American Airlines revamps frequent-flier upgrade formula to favor top customers. (Dallas Morning News) You can also read my take on this change here.
Delta targets (some) passengers with data driven initiative. (Tnooz)
Who owns the space between reclining airline seats?. (Economist)
Here's how likely you were to get bumped from a flight in 2017. (Dallas Morning News)
Do Social Media Nightmares Really Mean the Airlines Are Out of Control? This is a must-read – I almost wrote a very similar post on Thursday. (Dallas Observer)
Canada's New Passenger Bill of Rights Bans Removal in Cases of Overbooking. (Skift)
The Myth of Flyer's Rights. (Lifehacker)
Airlines Warn Wider Laptop Ban Could Cost Passengers $1 Billion. (Skift)
Australia May Also Ban Laptops in Aircraft Cabins. (Skift)
Passenger reportedly tried to breach cockpit on American Airlines flight. (Dallas Morning News)
The terrifying untold story of QF72: What happens when 'psycho' automation leaves pilots powerless?. (Stuff)
A Pioneering Pilot, a Broadway Show and a Life-Changing Bond. I really want to go see this show! (New York Times)
The Dutch King Has Been Masquerading as a Secret Commercial Airline Pilot for 21 Years. (Thrillist)
Startup Tentrr Brings Sharing Economy to Private Campsites. (Skift)
Mobile tech can help car rental brands compete with app-based disruptors. (Tnooz)
5 Cycling Tours for Foodies. (Furthermore from Equinox)
MISCELLANY
How to Peel Hard-Boiled Eggs Without Picking Them to Death. (Greatist)
11 Cooking Tips Pro Chefs Swear (and You Should Too). (Greatist)
A Visual Guide to the 12 Most Popular Pasta Shapes and What to Make With Them. (Greatist)
Why You Didn't See It Coming. (Nautilus)
Anand Giridharadas: 7 signs you are clueless about income inequality. (Fortune Magazine)
Immigrants Do Not Increase Crime, Research Shows. (Scientific American)
'Chemophobia' is irrational, harmful – and hard to break. (Aeon Magazine)
How to Lie to Yourself and Others With Statistics. (Lifehacker)
Why J Crew's Vision of Preppy America Failed. (New Yorker)
The Simple Secret to Sustained Financial and Professional Success. (The Simple Dollar)
5 Sneaky Ways To Make Your Blog Posts More Readable + Awesome. (Yes and Yes)
An unusual snail named Jeremy finally found a mate. Now he is stuck in a love triangle. Adorable! (Washington Post)
And finally, for a laugh: Amazon Echo Silver. My mom is coming to visit this week and I'm expecting many moments like this with my (unfortunately regular) Amazon Echo. (YouTube)
---
Like this post? Want more fun articles in real time? Follow me on Twitter or become a Facebook fan to get similar stories all week long.