This post was sponsored by Nature Made® as a part of an Ambassador Program for Influence Central.
Today was a bit of crazy day! I've had terrible insomnia the last two nights, and only got 3-5 hours of sleep each night… which meant I woke up feeling pretty terrible. I kind of wanted to just hibernate and do nothing, but I'm hosting a fall house party tonight so I needed to get up and going. Plus, with my October ClassPass challenge, I knew that I had to get to a noon jazz dance class I had signed up for downtown.
In between the dance class, shopping for groceries for the party, and cleaning the house, I stopped at Walmart for a quick errand. Walmart is my go-to stop for most health/beauty products, since their everyday prices are comparable to other store's sale prices. Makes it nice to not have to stock up when there's a sale, and instead be able to pay that low price anytime! Today, I was there to pick up Nature Made® digestive probiotics.
Nature Made® is the #1 Pharmacist Recommended brand for many key dietary supplement categories*. They make a lot of different vitamins, minerals, and supplements to help support health goals, and I've trusted them in the past for B-complex vitamins when I had a cold. Nature Made® vitamins and supplements are an easy, convenient way to help your body get the nutritional support it needs every day, whether it be to support bone health, immune health or energy metabolism (helping convert food into energy).†
In this case, my stomach has been kind of off lately – probably in part because my out-of-whack sleep schedule has completely thrown off my eating schedule. On Friday, I had a protein bar for breakfast, tacos for lunch with a colleague, and then some hummus/pita chips at my book club in the late afternoon, which filled me up to where I didn't want dinner. Today, I had another protein bar for breakfast – which, I should note, is not the norm for me unless I'm traveling and can't cook. I then skipped lunch because I haven't been hungry, but I'm guessing I'll end up too busy hosting and chit chatting tonight to really eat a full meal for dinner. I'm making Pinch of Yum's chicken bacon pumpkin pasta bake for the party, though, and I'm hoping I can get at least a few bites in! I definitely need to try to get back to a more regular sleeping schedule soon, and hopefully a better diet as well.
With such a weird eating schedule (and not really the healthiest choices made by me), I'm hoping that supplements will help my stomach to calm down. Nature Made® Probiotics: Nature Made® Advanced Dual Action Probiotic has been clinically studied and provides dual support to both your small and large intestine for comprehensive coverage to help support digestive balance and healthy gut flora.† The product comes in capsules, so it's easy to take on the go, and I'm pleased that the ingredient list is simple: basically just the probiotics themselves, plus some plant starches to help bind it all together. The product does include magnesium stearate, which I understand can be controversial, but after doing some research myself I'm satisfied that it's not harmful in small doses. This is a pretty simple product as far as supplements go!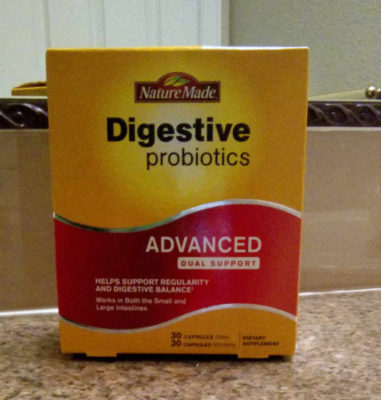 Thanks to Nature Made® for sponsoring this post and helping me work toward my health goals, even when I'm not at my best. If you'd like to learn more, join the Nature Made®Healthy Habit Builder program where you can get motivation and tips around your specific health goals. You can also visit the Nature Made® Retailer Hub to enter their sweepstakes for one of 60 Walmart gift cards for $50 each.
*Based on the 2016 U.S. News & World Report – Pharmacy Times Survey.
†These statements have not been evaluated by the Food and Drug Administration. These products are not intended to diagnose, cure, treat or prevent any disease.
Note: Nature Made provided me with compensation for this post. However, all opinions expressed in this review are honestly my own 🙂