This post is coming to you from 30,000 feet, flying somewhere over Oklahoma on my way home. I mention this context because I haven't been home in two weeks, and I'm so eager to see my friends and make the most of my time. I had forgotten just how stressful it is on me and my relationships when I'm away from home most of the week, and that was exacerbated when I didn't go home last weekend at all. (Not that I would trade my weekend in Sonoma for anything!)
This morning, I read a really interesting article about how Having Too Many Friends Can Be Hazardous To Your Health.  Of course, the headline is a bit sensationalist, but it definitely worked on me, as I worriedly clicked through to see what I was doing wrong. Fortunately, when I read the content, I found the headline was clickbait… but there were some interesting points as well.
For example, the following quote:
"People who attempt to maintain more close relationships than their individual constitution supports can suffer what sociologists call "role strain." "Role strain," Gillespie explains, is "frustration over multiple social obligations (i.e., demands on your time and energy) [and] an inability to meet the expectations of your social role (e.g., as a friend)."

…Multiple therapists say that their clients frequently feel worn too thin by the number of relationships in their lives. And that can have a real impact on mental health. New York City–​based psychotherapist Liz Morrison, LCSW, says that when a person "has too many relationships, symptoms of depression and anxiety can begin to develop."
I could definitely relate to some social events feeling like obligations. I have to admit, sometimes catching up with friends feels like an item on my to-do list instead of something that I can't wait for. Occasionally I'll offer to host a dinner party at my house and then when the day comes, I feel frustrated that I locked myself into that when all I want is some peace and quiet and to be by myself! This weekend I'm feeling particularly burnt out, so I'm trying to make flexible plans with my friends rather than committing to hosting something myself. However, I'm really conflicted about even that decision.
The most important thing I've come to realize over the last few months is that even when I feel stressed that my friends are coming over soon and I'm tired/have a million things to do, the second my friends actually get to my house, I'm so happy they came, and we have the best time. Despite all of the above points, I wouldn't trade my friends for anything, and I'm really glad to be going home to them tonight. That's definitely a sign of healthy friendships!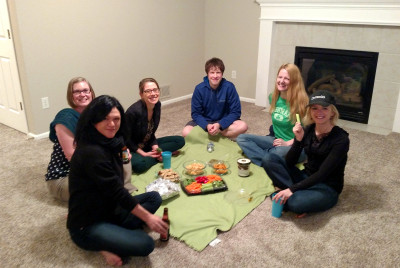 But as much as I'm eager to get back to Colorado, coming home is hard isn't all that easy either. It's impossible to make plans with everyone I want to see; plus, I have to balance social time with the little errands and things I need to do for myself/my house: take my car into the shop, get a haircut, meet with my gardener to get the sprinklers turned off for the year, etc. Dividing my time between two places can sometimes feel like burning the candle at both ends. When I'm at work I tell myself that I can take a break and breathe when I'm home; when I'm at home, I tell myself that I can take a break and breathe when I'm back at work. And it certainly doesn't help that I'm trying to make a long distance relationship work, so I'm going to Arizona every other weekend besides.
The Marie Claire article stresses the point that there isn't a magic number of close friends that is healthy – it's different for everyone. I'm an extrovert, and I am pretty sure that my magic number of friends is higher than most. I really love making friends, and despite all my travels lately, I feel like I haven't been meeting anyone new – which makes me way more anxious than any "obligations" friendship puts on me. I love meeting new people, getting to know them, and hearing their stories! I really enjoyed going to Meetup groups and Gociety adventures when I first moved to Colorado – I love that possibility that comes from meeting new people and finding new friends. It's been a while since I've done either of those activities, and I miss it.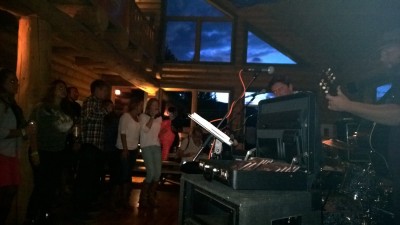 However, I think the other part of what I miss about those groups is the ease of scheduling. Coordination is really tough with a group, and sometimes I feel like my friends and I are living the New Yorker's Let's Get Drinks in real life! (Isn't everyone these days?) There are a few of my best friends in Colorado that I haven't seen since my birthday – most of which is my fault for not being around. But the task of scheduling just seems so daunting at times, and I wonder if that's the real culprit behind the stress of having "too many" friends.
My old solution to managing the scheduling task was sending out an email to a ton of friends, telling them a concrete plan that I was doing no matter what, and inviting them to join. It had the huge advantage of making coordination easy – either people could come or they couldn't, and if they couldn't, they'd join next time. (And it mostly eliminated the exhausting back and forth of suggesting new days/times/activities – hooray!) However, I used to be in town more and have the time to send out multiple events per week… but now I'm lucky if I send out one invite every two weeks. So maybe it's time for me to stop thinking about the efficiency of the scheduling mechanism and start thinking about what I can do to actually make more time for my friends – whether it's efficient or not.
…to be continued.