This summer, for my 30th birthday, Adam gifted me the most amazing present ever: reservations at an AirBNB. Specifically, our accommodations were in a loft of a tasting room at a small batch vineyard in Sonoma County! We've both been looking forward to the trip for months, and while frequently those kind of expectations can lead to a letdown, this trip didn't disappoint. It was so amazing!
We flew into San Francisco on Thursday night, and when we didn't like the atmosphere of the restaurant where I had made reservations, we used Yelp to find a really cute Italian place just a block away – the (apparently legendary?) Tommaso's. I had been trying to find a date night-type restaurant with a romantic feel, which Tommaso's definitely was not. We sat at a shared table in the middle of the small restaurant, but we found that the fairly loud chatter of all the other patrons actually made it intimate after all – we couldn't hear the conversation of the women next to us, and I don't think they could hear us either. Adam and I both loved our meals (lasagna for him, seafood pasta for me), and it was the perfect way to kick off our little mini vacation.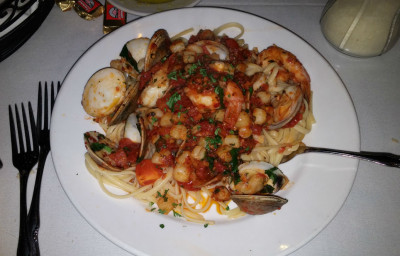 On Friday morning, we got up fairly early (time change to Pacific for me!) and headed out to Sonoma County mid day. Although we had been planning to head straight to our AirBNB, we passed Kendall-Jackson's tasting room on the way up and decided spontaneously to make that our first stop. Why not?!
Obviously, it was beautiful: Tuscan-inspired decor and gorgeously-tended gardens. Inside was just as nice, though, and I found myself loving the two-story tasting room and trying to figure out if I could emulate the curved walnut staircase and pretty yellow walls in my own living room. As for the sampling, we loved our server, Kristina, who chatted with us amiably and also gave us some tips on where else to go.
After checking in to our AirBNB, we then headed on a drive through the hills to get to our next winery. Gustafson had come highly recommended for its views, but it took us about 30 minutes past the main Dry Creek Road vineyards to get there, and we both wondered if it was going to be worth the hike. However, it ended up being worth it in more ways than one.
First, I tried a fabulous riesling that I ended up buying to take home. I was only planning to buy a few bottles total across all the places we visited, so my decision to purchase was definitely saying something about the quality. The nose was amazingly floral and sweet, and the initial mouthfeel had a lot of honey to it… but it was actually a deceptively dry riesling. I am really excited to have it again when I get home!
But second, while taking pictures in the picnic area, we got to chatting with a guy who said he was from Dallas. Turns out, his wife is an SVP at my client! I had been preparing a briefing for her later this month on my project, but instead, we sat on a bench and talked about some key points over a glass of white wine. Can all business meetings be like this?!
My client and her friends were on their third day of wine tasting, so we asked for some recommendations on the best places to go. As a result, it was pointed out to me that some vineyards/wineries are those that you visit for the wine, and others are those that you go to for the experience. We later learned just how true that was, and throughout the rest of the trip, Adam and I tried to balance those two characteristics as we moved from one place to the next. Not very surprisingly, most places tended to be stronger on one than the other!
With that mindset, we finished the afternoon at Ferrari-Carano, which definitely scored high on the views.
Adam and I were really impressed by the elegant architecture! They had definitely gone all-out to make it an opulent setting in which to sip wine.
In contrast to the beautiful grounds, though, the tasting wasn't anything too special. However, here we learned a great tip for Sonoma. The tastings are generally $10-15 per person, but they're waived with the purchase of any wines. Therefore, buying a $30 bottle is actually only a few dollars more than what you would have spent otherwise on just the tasting alone! Of course, some of the tasting rooms have bottle or dollar minimums in order to waive the fee (one place required a two bottle minimum, and their least expensive wines were $35-40). Unless otherwise stated, though, it seemed like if we bought even one bottle, they didn't charge either of us for the tasting. So buying a bottle or two is definitely a nice way to inexpensively extend your tasting a little longer after you get home.
Finally, we headed into downtown Healdsburg for dinner at Chalkboard, a small plates/tapas restaurant. Adam had a heck of a time trying to get a reservation, and they finally said they would "squeeze us in" at 5:45pm.. but we arrived to find that the restaurant was barely a quarter full at that time. Of course, we ended up thrilled with eating early, since it meant we got to go to bed at 8:30pm (30something bliss!), but it was frustrating that they were so misleading about their reservations.
However, the food more than made up for that – it was outstanding! We started with some grilled calamari that was pretty good, and some crispy fingerling potatoes that came with an amazing sauce. But the meal just kept getting better and better – I fell in love with the smoked eggplant parmesan, whose sauce was incredibly creamy and yet sophisticated thanks to the smoke. We also loved the "cocoa trifoglio", a pasta dish with a surprisingly sweet sauce (fois gras butter and hazelnut!) plus ample amounts of duck confit mixed in.
But the piece de resistance was the "candy bar" dessert, which had the thickest, most delicious caramel center I've ever tried. Although we had both eaten plenty, Adam's and my spoons definitely clashed a bit trying to get the last few bites of this 🙂 I was so happy with the restaurant Adam had picked – his research really paid off!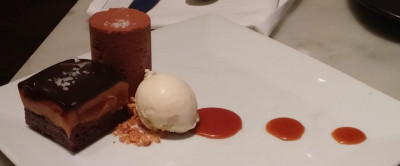 And then, it was quickly back to the AirBNB and then off to bed. Day 2's vineyard were waiting!
Click here to continue reading about Day 2 of our trip.