This weekend, I once again headed out to the mountains. (Funny how I don't feel the need to travel much more than a few hours' road trip now that I'm living in what I think is the best state in the country!) I had recently heard about a cool organization, Gociety, and they were having their first ever "mountain gathering" in Breckenridge.
Gociety is a website that's kind of like Meetup.com, which I've already written about loving for both finding friends and new fun adventures. Like Meetup, Gociety users can post events that are then open for sign up. Unlike Meetup, though, you don't have to join any specific groups to see the activities – they are pretty much all outdoorsy and active, since their goal is to connect users with others who want to do things outside. All you have to do is sign up on Gociety.com and then you have access to a big long "discovery feed" of activities. Since Gociety is currently active in Colorado, Utah, and Washington (state), you can filter the feed by state, but otherwise, it's just a beautiful grid of tons of fun, outdoorsy things to do.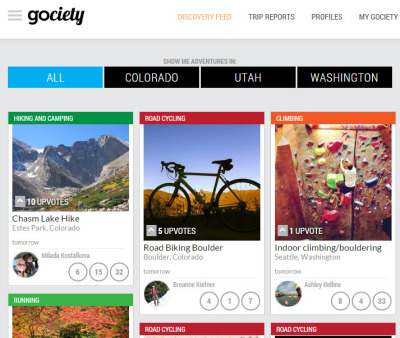 I honestly didn't know much about what I was getting myself into when I headed out to Breckenridge. The description for the weekend as a whole was a little bit vague:
We're capping off summer with a Mountain Gathering! It's a shindig, it's a party, it's a get together of awesome people from across Colorado. Come celebrate the end of summer with us in Breckenridge: meet your fellow Gociety members, drink beer, jam out to live bluegrass, and have an awesome night!
An itinerary followed, but it just included breakfast, happy hour, dinner, live music – and then a big chunk of time from 9:00am-5:00pm blocked off for "Gociety Adventures (Guided & Free/Gociety Groups)". However, in the couple days leading up to the weekend, I started seeing more activities pop up on the discovery feed for Breckenridge, and it became more clear to me what was going to happen. Basically, tons of Gociety members were heading out to Breck, and the organization was sponsoring some of those "extra" activities (you already had me at free breakfast and free beer/bluegrass). But most of the outdoor activities were just going to be user-planned, and it was more of a chance for the many Gociety users to all converge on one location and then do their thing. Cool!
I signed up for a hiking trip to summit Mount Quandary (one of the Colorado 14ers) on Sunday morning, but didn't have a whole lot else planned, since I didn't have any experience with the mountain biking or rock climbing that comprised most of the other daytime outdoor activities. As it turns out, everyone at Gociety was incredibly friendly and I probably could have just gone to one of those activity and been helped/taught by other people, but I didn't want to be that novice that ruined things for everyone else. (Unfortunately, I was that novice on Quandary… but that's a story I'll save for another post.)
The Mountain Gathering took place at the Bivvi, a hostel just outside the fancy town of Breckenridge. Yup, you read that right – a hostel! I didn't even know that hostels existed in the U.S., since my only experiences with them in the past have been abroad. I was really intrigued to see what the Bivvi would be like, since the pictures on the website looked gorgeous, and it had been described to me as "not your typical hostel."
Well, not your typical hostel was right. The Bivvi was absolutely gorgeous – gleaming wood floors and beams for a classic Colorado lodge feel, with a simple beer/wine bar in one corner of the great room, a huge fireplace and seating area in the middle, and a kitchen in the other corner, where Chef Nancy whipped up delicious homestyle breakfasts every morning (included with your room rate).
Sliding glass doors opened up to a deck with a firepit and huge hot tub (overlooking mountain views), and the airy two-story room also had an upstairs loft that served as kind of a study/den: a desk, couches, a TV, and a whole shelf of (current) books and DVDs made it a great place to hang out if you were tired or if the weather wasn't so good. I ended up hanging out there for a bit on Saturday afternoon in order to get some work done, and it was so relaxing! (PS: there is free Wi-Fi for all guests, and it worked like a charm. None of that crappy log-into-the-portal nonsense that a lot of big hotel chains make you do, so it's easy to use even on mobile devices/tablets.)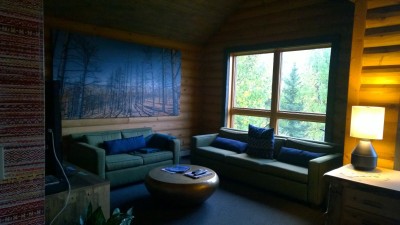 What about the rooms, though? From my hostel days as a student studying abroad, I remembered only ever going into my room if I had to – they were basically just a crash pad for other adventures. The Bivvi's six bedroom bunk room wasn't huge, but it was (like the rest of the place) sparkling clean, and I didn't mind hanging out in there at all.
The sink was in the main room, so you could still wash up if someone else was using the shower or toilet, and there were cute little lanterns hung in each bunk so that you could read without disturbing your roommates. (They also had a jar of earplugs on the sink, which I took advantage of on Saturday night when I went to bed at 11pm while the rest of the Gociety was still partying. Worked like a charm!) The room even had a little balcony with gorgeous mountain views, and I stepped out for a quick photo when I first arrived.
My only complaint about the rooms was that I wish there were more outlets closer to the bunks. Bunks are assigned by the staff (presumably in order of check in?) and only a few bunks had outlets next to them. I settled for plugging my phone into the wall by the air conditioner, but it would have been a nice amenity to have a plug right by my bed. My biggest concern going into the shared setup was that I would have sketchy roommates and that my stuff would get stolen (so I packed light). At most hostels, they warn you not to leave anything in your room that you want to still be there when you get back! However, at least for the Gociety gathering, everyone seemed totally normal and I ended up getting along great with my roommates – they were definitely people I could trust. I didn't worry at all about leaving things in my room, and it was no problem to plug things in on the other side of the room.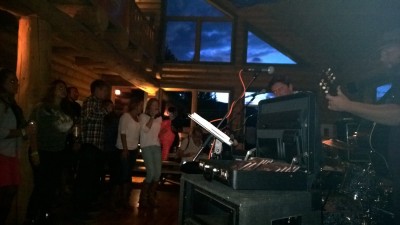 Overall, I was so thrilled with both my time at the Mountain Gathering and my stay at the Bivvi. For only $30/night in a bunk, you can bet that I'm going to be driving out to Breck and staying there a lot of Friday nights rather than getting up in the wee hours to drive out to the mountains for a hike! The Bivvi is also only an easy five minute walk to Breckenridge Brewery on the south side of town, so I think there may be a few future occasions where it makes sense to stay an extra night in order to have a few brews and then get a great night's sleep before heading back to Boulder 🙂 Bonus: the staff is super nice and really cool, so even if you go solo and all the other guests are out doing whatever, you'll have a great time talking to Dan, Sam, or Worthy at the bar. It's kind of like staying in a spare bunk at your friend's house! I honestly was just so impressed with my stay at the Bivvi, and I can't wait to use it as a future hub for mountain activities.
And as for those mountain activities? Well, more to come tomorrow on my 14er summit Saturday morning – unfortunately, that part isn't positive. But I can't say enough great things about the Gociety and the awesome people I met there this weekend. Everyone was so friendly, so welcoming,  so smart/interesting, and just so fun – it's clear that I'll be heading out on more expeditions with this group in the future!