On Saturday morning, Adam dragged me out for a 3 mile run before breakfast. And when I say he dragged me out, I do mean that – I was whining and complaining the whole drive over to the park (yes, we drove to start our run) and probably most of the first mile as well.
But as much as I hadn't wanted to go for a run in the sticky Arizona heat (it's 106°F!), when I finished I was sooo happy. That was fun! And then I spent the rest of the afternoon trying to convince Adam that instead of going hiking on Sunday morning, we should go running again. All.The.Running.All.The.Time.
I realized that I have a similar attitude about a lot of different activities. Last year when I first moved to Colorado, I shied away from hiking for a really long time. I wasn't sure where to go, or what supplies I needed, and any guides online that offered to help seemed to be incredibly overwhelming. (Do I really need the 10 Essentials at all times? Actually, I don't for a short populated hike that's close to home – like any of the hikes I do in Boulder.) And yet, once my friend Mike actually took me out and I saw what hiking was all about, I loved it and wanted to go all the time. And I do – hiking has become a really fun pre-work workout.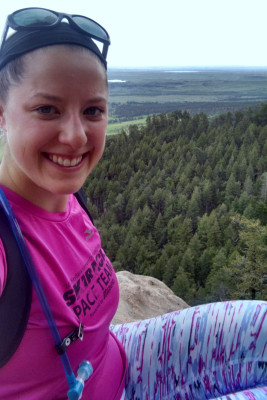 Last week, when Adam and his son were visiting, I finally took the time to head to my Town Hall and get a resident's ID card that would allow all of us to go to the pool. The pool is just a five minute walk from my house, but I had never yet been since I moved in. Turns out, it is really nice – there is a slide and an umbrella fountain for the little ones, plus a dedicated lap lane for the adults. Why am I not in that lap lane more often?! Swimming is the perfect summer workout and with the pool so close, I have no excuse not to be heading over there several times a week.
Similarly, a few weeks ago when Adam and I went camping, the preparation required seemed like such a daunting task. However, once we were actually there, I loved it, and now I want to try my hand at camping more often. (I don't know when, since this summer is already frustratingly booked up with a million other things, but I do want to go at least a few more times before Labor Day.)
I need to remember that just because I haven't done an activity before doesn't mean there's any reason to be scared of it, or any reason to avoid doing it. The first time doing something is the hardest, since I don't know what I'm doing, but I need to learn to get over that and just do it anyway! Contrary to the belief that the first time is the best time because it's brand new to you, I think the first time is the worst time because I have no idea what I'm doing or what to expect… and I generally enjoy the second, third, and hundredth times much more when I get to feel like an old pro.
I am definitely a creature of habit who tends to get into the same routines and do them over and over. There's not anything really wrong with that, since I don't think it's a bad thing for me to know what I like and then do it as much as possible! But continuing to follow my standard safe routines prevents me from enjoying all the new fun adventures out there – and in Colorado, especially, there are definitely a lot of adventures to be had.
This week's adventure? Perhaps a solo 14er to feel strong and powerful going into my 30th year 😉