On a semi-related note to my post yesterday about trying new things…
When Adam and I went camping in Arizona, I spent the weekend wearing a new-to-me brand. Soybu is a clothing brand that I first heard about at the Blend Retreat, where they gave us an awesome pair of compression leggings as part of our swag bag. So nice! I loved how snugly they fit and how great they make my legs look, without being too tight to be unattractive or uncomfortable.
Looking into the brand after the retreat, I learned they were a Denver-based company. Hooray for local businesses! And their founding story is awesome: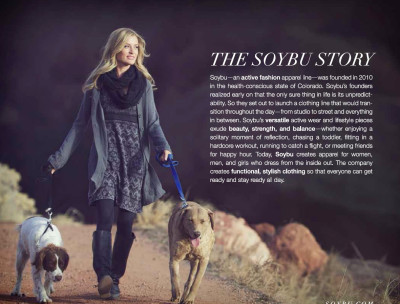 The Soybu brand rep reached out to me after Blend and was sweet enough to send me some pieces from their new Orchid Pond collection. It is gorgeous!
After trying out this outfit, I am hooked. They are slightly less expensive than Athleta/Lululemon/etc, but have the same high quality and stylish look. I love the bright colors of the Allegro Capri, and how the material is thick and stretchy without making me hot. I've worn these capris plenty for hiking, and I love the fun color they add to my outfits! I definitely don't blend into the woods when I'm wearing these 🙂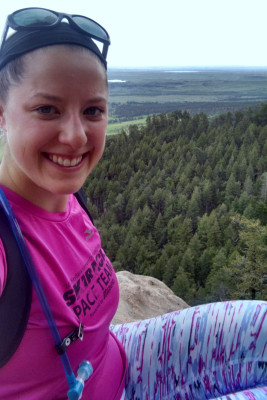 While I was camping, I also wore my Soybu Peace Jacket a lot. It's a very stretchy, spandex-y material that's not too hot but still keeps me warm – while being a pretty flattering shape. The sleeves are fairly long and come with the thumbholes that cold-weather runners (and hikers) love so much. And, the back has a really neat sunburst pattern sewn into it with different colored fabric – which is actually inspired by the Chinese peace symbol and makes up the Soybu logo. Soybu says they chose it because they want you to be at peace with your body, comfortable, confident, and free from judgment.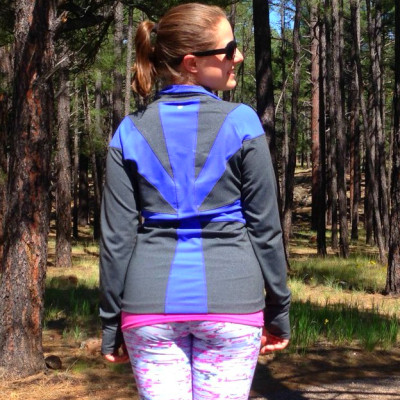 I've basically been wearing all three pieces of my new Soybu outfit ever since I got them, and I'm pleased to report that after multiple washings, they all still look like new. No pilling, no fading, and most importantly, no loss of stretchiness/shape – which tends to be a problem with athletic clothes. Plus, it's all fairly affordable (especially with the frequent sales they run on their website). I think I may have discovered my new favorite fitness brand!
Giveaway!
Soybu is offering one 50by25 reader a pair of the Allegro Capris of their very own – you choose the color and size. To enter, leave a comment telling me which print you like best for the Allegro capri, and log that in the Rafflecopter widget below (if you're reading this in Feedly/Bloglovin'/email, you'll need to click through to enter). The contest will run through Monday July 13th at 12am MT, at which time a winner will be chosen by random drawing and contacted by email; the winner will have one week to claim their prize.
Thank you so much to Soybu for the chance to try their amazing products!
Note: Soybu provided me with the jacket, tank top, and capris that I wrote about in this post. Otherwise, I received no compensation for this post, and all opinions expressed in this review are my own.