Sorry it's been so quiet on the blog this week! On Saturday morning, I cheated on the mountains of my home state by flying to Utah to ski in Park City. Well, to teach me a lesson about loyalty to Colorado, we had a major snowstorm all weekend in Colorado that apparently led to one of the best ski weekends of the year… but in Park City, the slopes were icy and with basically no fresh powder at all. Since I had booked the trip weeks ago, I couldn't change my plans, so I just made the best of it by telling myself that the ice was a good opportunity to test my abilities and get better at skiing in less than ideal conditions. I was pretty proud of how I did, considering!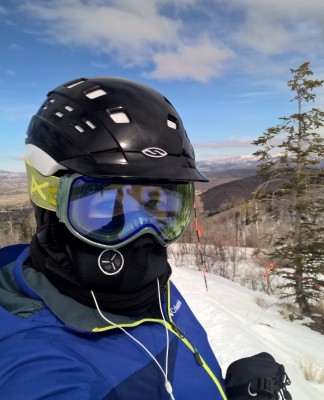 After two days of skiing, I headed out of the mountains and back into Salt Lake City on Sunday night for a networking dinner to kick off the training I've been in all this week. The last few days have been incredibly busy, but also really rewarding and inspirational. Now that I'm headed back to "real life" (i.e., client work) tomorrow, I'm trying to figure out how best to sustain the momentum and ensure that I'm translating the lessons I learned into my daily work. I have always had a case of imposter syndrome about my job, but over the last few months, that's been subsiding a bit and I'm becoming more confident in my abilities – and this week's training made me feel really good about where I am and also my potential career trajectory.
This week's training was really unique in that it was a different audience than what I'm used to. Usually, logistics dictate that we end up doing training across levels and across lines of service (e.g., consulting, tax, audit), but only for one geographic market. In this case, though, it was for all the people at my exact level (i.e., those promoted to manager this year) across our entire U.S. consulting practice. It was really wonderful to have the opportunity to network with my peers across the country, and share our challenges and solutions. I particularly loved a session where were videotaped sharing our individual value propositions, and then viewed them as a group to offer constructive criticism – so helpful! At this level, we're all reasonably specialized in one particular industry or type of work, so a lot of the conversations revolved around collaboration and how we could help each other help our clients by providing expertise in various areas. Because we're each experts in completely different things, there was little to no sense of competition, and instead, just pure collaboration – so awesome!
Even beyond the networking, though, the energy of the big group helped me to generate a lot of ideas over the last few days: clients/work to target, intellectual capital to research and produce, and just a lot of general to-dos for things that will help me to do great work and progress my career. I captured all of these ideas on an old-fashioned notepad during the event, which I took home with me to action later. However, I also know from previous training courses that it's easy for me to get excited when I'm in the training "bubble" and away from it all; it can be hard to stay quite as passionate and motivated once I get back into the day-to-day hubbub.
So I started doing some research into momentum and how to sustain it, and I turned up some interesting research and tips. Just this week, 99U did an article on using quick wins to get yourself going first thing in the morning; meanwhile, Eric Barker continually reiterates the importance of small wins to bolster a positive attitude. While of course I've heard that advice before, I need to make a conscious effort to actually use that quick win tactic in working toward big picture goals. So I thought about each of my ideas and broke them down into smaller tasks that are specific and action-oriented – they aren't necessarily going to get me all the way to my goals, but they're going to get me started so that I can build the momentum to continue.
However, there are a lot of little tasks stemming from my big picture goals. Just because a big goal can be broken down into a lot of little tasks doesn't mean that I should try to do all the little things at once! Momentum can take some time to build, and I think one mistake I've made in the past with trying to apply theoretical training to real work is trying to do too much at once – so this time, I want to slow down. While I made sure to immediately write down all my ideas from last few days, so that I wouldn't forget them, I'm trying a different approach in terms of putting them into action.
There have been many times I've made similar to-do lists of projects and goals that I'm really excited about at the time… but then that paper sits around for so long that it gets lost or destroyed. Even if I transfer it to my electronic to-do list, when time passes and my motivation fades, the items languish and get so stale that I finally just take them off the list instead of doing them. So to keep things fresh and keep myself from getting overwhelmed, I started by listing just the first few steps of each idea instead of listing every step that's necessary to get from A to Z (including the ones that I won't get to for a long time). I don't need to have the full solution figured out now; I just need to establish the habit of thinking about my big picture goals and finding ways to progress toward them on a regular basis.
And speaking of doing them on a regular basis: while quick wins are important, instead of putting all those little action items on my to-do list for tomorrow, I'm parsing them out over my various time frames of to-do lists so I'll be doing just a few things each week. Not only should that help prevent burnout from taking on too much too soon (and getting too busy to do any of it), but it should also help me get into a regular pattern of working on these areas – and reminding myself of how great it feels to work on big picture goals instead of getting caught up in the day-to-day fire drills of client service.
In fact, one great way to sustain momentum is making sure that whatever goal you have in mind has a specific day and time when you'll work toward achieving it. Back in 2011 when I went to a retreat in California, we spent a lot of the week discussing a daily or weekly "ritual" for something we wanted to take back into our daily life once training completed. I ended up sustaining my chosen ritual, of always shutting my computer down at 5pm on Fridays, for several months after the training class. It was an easy win for me because it was so simple – I only had to think about it at one day and time. However, reminding myself that I had to shut my laptop down at 5pm Fridays helped me to focus and GSD earlier in the day (and really, all week long), so that I could then enjoy a work-free Friday night (and maybe get up early on Saturday to work if I was really swamped). It became easy to do because I didn't have to think about when to do it; that was just built into the goal. So now, with my big picture goals coming out of this training, I'm adding a recurring 30 minute appointment to my work calendar for me to spend time focusing on big picture goals and getting out of the weeds. You can't complete what you don't schedule, right?
And so even though this training is now "complete" and I'm on my way home, I want to make sure I take the initiative to periodically step back from the day-to-day and think about what I can be doing better to hone my skills, build my relationships, and strengthen my personal brand and value proposition. Sometimes, a bubble-like environment of training is just the ticket to help you step back and look at the big picture (which is something I am not always great at doing on my own). But even though this particular training was a once-in-a-career training program for new managers, I think it's possible for me to channel some of the ideas and energy on my own. It doesn't take an expensive training program to navel gaze and reflect; there are plenty of free resources online (like TED talks!) that can help me get inspired and focused on my own. And while it's nice to be assigned an excellent and highly qualified coach, sometimes all I need is a peer or mentor to bounce my ideas off and to give me a little bit of direction that I can take and run with.
Hooray for the year of continuous learning! I am really excited about the career opportunities that lie ahead of me, and I'm looking forward to engaging so they come to fruition.