This post is coming to you from the plane back to Denver from Phoenix, where I spent an epic weekend visiting Adam. It was honestly one of the best weekends ever, and the only downsides were that I didn't get enough sleep and also had to get up at 4am in order to catch my flight home 🙁 But I didn't want to go!
On the mad dash to the airport this morning (Adam and I both agreed it was like old times when we always had the Monday morning consulting commute-by-air), there wasn't really time to stop for coffee or breakfast. Instead, I grabbed one of the Clif Mojo bars that I had picked up a few weeks ago from Walmart's gluten-free section.
A power bar was the perfect way for me to eat something yummy but completely compact and portable, and I like that the Clif Mojos have simple ingredients and no fake sugar. All of the Clif Mojo bars are 70% organic and the Dark Chocolate Almond Sea Salt flavor that I had this morning packed a bunch of healthy fat, filling fiber, and 5 grams of protein into one 200 calorie bar. I keep a full stash of bars in my laptop bag for just such occasions as this plane ride, where you can't get a full meal but need something to keep you from getting hangry. Paired with a simple coffee with milk, it definitely gave me energy made me feel better so I could focus on work during the flight. Thanks, Walmart, for making it easy for those who are gluten-free to have an on-the-go solution to hungry moments!
Whether I'm single or in a relationship, I have always really loved Valentine's Day. Yes, you should be telling your loved ones (romantic and friends/family) that you love them every day of the year, but I think it's nice to have a reminder to do so as well – and also a nice chance to treat yourself to the things you love to do. This year, I decided to head down to Arizona, where I'd get to hang out with one of my best friends, attend a beer festival, and run a marathon. So basically – all of my favorite things in life! And I think this was my best Valentine's Day yet…
…but in addition to all the amazing stuff I had planned, the weekend ended up getting kind of overtaken by something big that happened on Friday afternoon. I walked out of my last meeting of the day and glanced at my phone to discover a missed call, a voicemail, and a text from my realtor. The text was short and sweet and told me all I needed to know: "Castle Peak fell out of contract." OMG!
Castle Peak was the dream house that I wrote last week about losing in a bidding war on Sunday. I spent the past week convincing myself that I didn't really want it and that there would be others just like it. (And in truth, that last part is probably at least partially true – I'm looking at homes all built by the same builder in one specific subdivision, so there aren't that many models to choose from, although each one does have some unique characteristics in terms of location, views, finishes, extras, etc.) However, it honestly took a lot of convincing to get myself to believe that it had fallen through for a reason, like everyone told me. There were multiple times where I was just really bummed about losing it, like when I would be at the gym and a furniture commercial would come on TV and I would think "oh, that style of dining set will be perfect!"… and then realize that I was inadvertently picking out furniture for a house that wasn't going to be mine.
But now maybe it would be? It was pretty much a no-brainer that I was going to resubmit my offer, but my realtor told me that the sellers were also inviting offers from some other people who were part of last Sunday's bidding war. I signed the paperwork from my phone while on my way to dinner, and my realtor set the offer expiration at 10am Saturday morning. I was hoping to hear back from the sellers on Friday night, and probably drove my friends a little nuts at dinner with how often I kept picking up my phone to check for missed calls or texts from my realtor. (Fortunately, they just recently bought a house here in Colorado too, so they know how insane the market can be!) After a short night's sleep and early trip to the airport, I still hadn't heard anything when I landed in Phoenix at 7am Saturday. So now just a few more hours still to wait till I'd know my fate…
Adam picked me up at the airport and did a great job distracting me for those final crucial hours – and then while we were in the car on the way to brunch, my realtor's face flashed on my phone screen with a call. Here was the news! I knew the second I heard her ever-so-slightly excited voice that we had won; the only caveat was that they were going to invoke the escalation clause we had put into my contract and go with the highest price I was willing to pay. (In order to invoke that, they had to send me a copy of the other offer they had gotten, which was even higher than mine. I got so lucky!) So, unfortunately for Adam, the rest of my visit was peppered with tons of "yeah yeah your stuff but OMG I CAN'T BELIEVE I AM GOING TO BE A HOMEOWNER!" I am still in a little bit of shock that this is happening.
And thus began the weekend of "everything happens for a reason." I am now actually really glad that I lost the house on the first go-around, because pushing back the closing by a week means that I'll be able to be there in person rather than trying to sign stuff ahead of time and close from afar. I already had my main inspection this afternoon, and am working on getting in specialists for a few things before my deadline for objections. This is happening, and happening fast, but it is really awesome and wonderful and I am so excited!
Okay, but enough blathering about the house – you'll hear plenty more about that in the next few weeks. I also want to do a quick recap of my weekend in Arizona, which was almost equally amazing and also not entirely focused on the house the whole time. Adam and I went to a delicious brunch on Saturday, moments after I got the news about the house; by the time we finished eating, the paperwork was done and I was officially under contract. Meanwhile, the two of us were busy competing to see who had the better breakfast – and while I will admit that his bananas foster French toast was delicious (I totally stole a bite), the salmon eggs benedict on jalapeno cheddar biscuit that I ordered was exactly the kind of savory, hearty meal I needed for what was coming next. Strong Beer Fest, here we come!!!
But first – a run to Target so we could get the supplies for some epic pretzel necklaces. I went with just pretzels and gummy Lifesavers on mine, but Adam made an all-out version that included a box of Goldfish, some taped-on Tootsie Roll pops, and a bottle of hand sanitizer. However, I won on the hat department: while Adam wore a totally boring leopard-print pimp hat, I had a pretty awesome pink Delirium Tremens elephant hat. In short, we looked like complete idiots, and it was fantastic.
Decked out to the hilt, we slathered on some sunscreen, called a cab, and soon made it to the Steele Indian School Park where the festival was taking place. It was a gorgeous day, and the venue was just perfect for hanging out and having a fabulous time!
I was very worried before the festival because it was supposed to be all strong beers (i.e., 7% ABV or greater). Beer festivals can be dangerous enough, because you want to taste so many delicious beers and only have a limited time in which to do so. But a festival of strong beers only??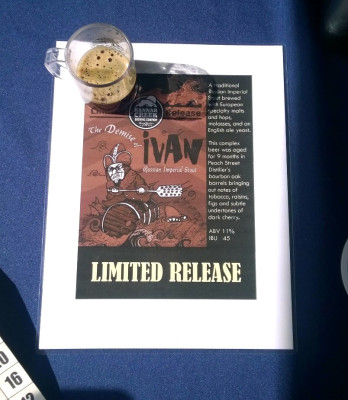 Fortunately for our livers, a lot of the brewers had brought normal-ABV beer in addition to the high-alcohol beers. However, strong or not, all the beer meant that I didn't get a great night's sleep before my marathon on Sunday… more on that to come. After the race, Adam and I spent the rest of the Sunday brunching, lounging around watching HGTV (my gosh, I haven't watched it before, but am now obsessed), and then checking out some really cute restaurants in his town. I loved it, and can't wait to go back and visit again soon! I'm so excited that we live close enough (and the O&D pair has really cheap flights) that we can hopefully do this kind of weekend visit often.
All in all, this was truly an amazing weekend full of all of my favorite things… so basically, the best Valentine's Day ever. Whether you're single, married, or somewhere in between, I hope your weekend was full of love too!
Disclaimer: I am participating in a post series with Walmart and Clif Bar to highlight their new gluten-free offerings. However, I have been a longtime consumer of Clif Bars, and already had a whole stash of them in my bag even before I partnered up with Walmart and Clif Bars – so all the opinions I expressed are definitely authentic!