This shop has been compensated by Collective Bias, Inc. and its advertiser. All opinions are mine alone. #DropShopAndOil #CollectiveBias
I had slightly mixed feelings about the house I put the offer in for on Saturday. At first, I thought the asking price was too high and I wasn't even going to make an offer; however, the more I thought about it, the more I really liked it. I ended up going back for a second viewing (I know, unheard of to have time for two viewings, but it went on the market Wednesday and they were taking offers all the way till Saturday at 4pm!), I fell in love with the mountain views I hadn't been able to see before due to bad weather. It's basically my dream house in design, comes with a huge unfurnished basement for me to do whatever I want with (my best friend in NYC is already working on me to put in a stone-lined "wine cave"), and also is only 1/2 mile from a really cool hiking trailhead and generally has great running trails all around. Unfortunately, my bummer news to close out the weekend is that after a bidding war on Sunday that had me on pins and needles all day, I lost out and am not under contract to become a homeowner 🙁
However, being so close to going under contract made me think seriously about the responsibility of being a homeowner – and also, other responsibilities that I have been neglecting a bit lately. For example, my car.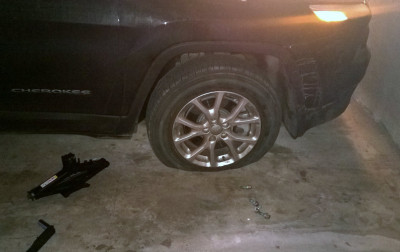 I bought my Jeep last summer and have honestly not done much to take care of it. I took it for one oil change and tune up around the time I hit 4500 miles (in October), but now that it's nearing 8000, it was almost time to take it in again. Colorado is definitely an active state, and I need to be able to get out to the mountains without having to worry about my car not taking me where I want to go! So I was psyched when I received an opportunity to partner with Pennzoil and Walmart to try out Walmart's Automotive Care Center.
I didn't know that Walmart even had an automotive care center, since the only time before I've ventured into the car section of the store was to buy an ice scraper and snowbrush to keep in my car. But it turns out, you can drive your car right up to the garage and then have them service it while you shop. I loved the convenience of being able to get two errands knocked out in one shot, since normally I hate having to block out time to go to the auto shop and not get anything else done.
I chose Pennzoil's Conventional Motor Oil, which was described as "a traditional oil base, fortified with Active Cleaning Agents™ to continuously prevent dirt and contaminants from creating performance-robbing deposits." Pennzoil is supposed to allow you to drive an extra 550 miles per year compared to a dirty engine. Since one of the primary attributes I used to choose my car was gasoline mileage per gallon, this kind of preventative maintenance to keep that high is right up my alley! While all Pennzoil products help clean out sludge lesser oils leave behind, you can also choose the High Mileage Vehicle or Platinum (synthetic motor oil) for a slightly higher price. However, the Conventional Motor Oil change was just $30, which I think is great value in order to keep my car running properly.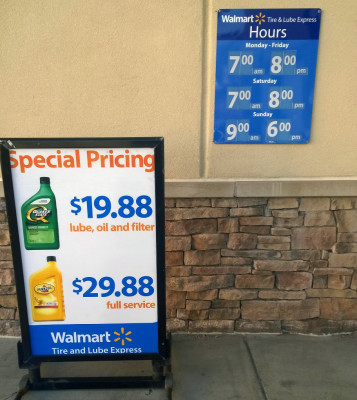 The $30 included a host of other basic maintenance services: oil filter replaced, all my fluids checked, tire pressure checked, air filter checked, wipers and headlights checked, battery checked, and carpet vacuumed. That's a lot less expensive than the cost of maintenance at my Jeep dealership! Plus, being able to just walk in without an appointment and have it done in less than 30 minutes (while I was shopping anyway) was incredibly convenient – I'd definitely go this route again.
As for the house? Well, I'm back to square one with scouring the MLS; plus, my awesome realtor has put together a "highly qualified buyer wants a home" postcard that we blanket mailed to my desired neighborhood yesterday – so maybe that will turn up some leads. On the bright side, my lease on my apartment isn't up until June, so aside from some annoying loud new neighbors who have been driving me crazy lately, I'm in no rush!