The following post is sponsored by FitFluential LLC on behalf of Mizuno.
I know I already wrote about this earlier in the week, but my goodness, fall in Colorado is just amazing. This morning, my running group and I ditched the paved Big Dry Creek Trail and instead headed up to Betasso Preserve (just north of Boulder) for some real trail running. I was getting nervous on the drive there, since I had to wind up and around some steep roads to get to the trailhead, but the trail itself ended up being fairly gentle: lots of little ups and downs, but no really big hills, and nothing technical. We covered 4.8 miles in about 55 minutes, which is a pretty decent pace, and enjoyed some great conversation along the way.
One of our conversations on the trail run was about Scott Jurek, the famed ultrarunner and author of Eat and Run: My Unlikely Journey to Ultramarathon Greatness. I really loved that book and totally admire Scott Jurek, so I was really excited that while picking up some goodies at the Boulder Farmers' Market… I ran into Scott right ahead of me in line buying some veggies! I didn't say anything, but definitely stared at him a bit longer than was appropriate, trying to figure out if it was indeed him. How cool is it that I get to live in this amazing runners' paradise?!
Speaking of which, after my errands, I came home and ran another 3.4 miles in the nature preserve near my apartment, for a total of 8.2 miles for the day. If you don't count the fact that I split it up with an hour's break between the two, that my longest run since June! I wrote this week about trying to start upping my mileage and being more regular about my running, and so far, so good. I even did an extra three miles after my 6am bootcamp on Tuesday! I'm really psyched to be getting back into a running routine, and my Road Runner Sports group is a big part of that.
Another part of it? Getting to try out some new shoes, when Mizuno generously offered to let me "test run" their new Mizuno Wave Rider 18s.
The Mizuno Wave Rider is a shoe for neutral runners, though it's become quite a favorite since it is fairly supportive for a neutral shoe. Mizuno's wave technology adopts the inspirational influence of the Japanese concept of Hado, the intrinsic vibrational life force energy that promotes powerful transformations. The result is what Mizuno calls a "harmonious feel," providing "just enough" support for your run. The Wave Rider is known for their responsiveness, which comes from the lightweight midsole that lets you feel the ground as you run. I'm usually a stability shoe girl, but have had good luck with the Wave Runners in the past for shorter runs, since they're more supportive than their light weight (7.8 ounces) would indicate.
However, it should be noted that the Wave Rider 18 is about half an ounce heavier than the Wave Rider 17 that I tried last year, due to a new thicker outsole and 3D upper (that looks pretty snazzy). This new outsole also has a reconfigured "flex groove" system, which is supposed to add durability and shock absorption. Other changes to the Wave Rider 18s from the 17 include a refined toe-spring and upgraded premium sock liner.
Unfortunately, for me, the Wave Rider 18s seemed to fit a lot tighter than the previous incarnation. The first time I wore them, I tried to just slip them onto my feet without adjusting the lacing – and ended up having to don thinner socks in order to get them on. Even still my feet actually got a little bit numb after wearing them only 30 minutes! However, after trying them in a half size larger and finding that to be too big, I tried again – this time loosening the laces significantly and then tightening them with my foot already in the shoe. Much better!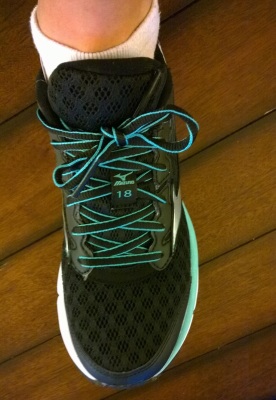 Overall, the fit ended up being just a bit more snug than the Wave Rider 17s, but in a good way – I felt like they hugged my foot nicely (once properly tied) and therefore made me feel more nimble and spry. That contributed to Mizuno's goal for the shoes of having them be incredibly responsive, and as a result, I think I'd actually feel comfortable taking them on an easy/non-technical trail run like the two I did this morning. The Wave Rider 18 does provide "just enough" support for a short run, and the main reason I feel like they'd be nice for easy trails is that they feel very responsive and lightweight – kind of like the Mizuno Wave Kazan trail runners that I am obsessed with, but even lighter and a bit lower-rise on the ankle. (I'd still use the Wave Kazans for more technical trail runs though, since they protect the feet better and provide more stability in case of rocky terrain.)
Thanks to Mizuno for letting me try these out before they were released to the general public! But the really great news is that if you'd like a pair yourself, they are now available on Mizuno.com and at your favorite running store, with a pretty standard suggested retail price of $119. Happy running!
Disclaimer: Mizuno provided me with shoes and compensation for an honest review, but I was not pressured to write a positive review and all opinions expressed in today's post are mine alone.