I participated in an Influencer Activation on behalf of Millennial Central for Evolution Fresh. I received coupons for Evolution Fresh juices to facilitate my review as well as a promotional item to thank me for my participation.
When I'm traveling, it can be really hard to eat healthy – especially when I'm on the go. Sometimes meetings run long and I have to really rush to the airport to catch my flight home. (I think my closest call was when I arrived at LGA 14 minutes before my flight took off… and I still managed to get on! Hooray for TSA Pre-Check.) Unfortunately, airport concessions leave a lot to be desired in terms of healthy options. Sure, if you have time to sit down, you can usually customize a sandwich or salad to be fairly decent… but who has time for that? The grab-and-go options can be very limited, and it's especially hard to find anything with fresh fruits and veggies rather than just pure meat/cheese/carbs. So when Starbucks stores (yes, including some airport kiosks) started carrying Evolution Fresh juices, I was really thrilled.
My Flywheel instructor Mark was the one who turned me on to Evolution Fresh – and since he's a master trainer for Jillian Michaels, he knows what's healthy! Evolution Fresh peels and presses raw fruits and vegetables, then uses High Pressure Processing (HPP) followed by cold water immersion to help protect flavors and nutrients. (If you're a raw foodist, it should be noted that HPP means the final juice product is not raw.) Although Starbucks carries a limited selection, Evolution Fresh makes 26 different flavors. I haven't gotten to try them all yet, but my favorite so far is the Organic Sweet Greens and Ginger (unfortunately, this seems to be a grocery-only variety; at Starbucks, I typically go for the regular Sweet Greens). I love ginger; whenever I go for sushi I usually ask for extra and put the pieces right on the sushi instead of just letting them flavor the soy sauce! The Sweet Greens and Ginger has more of a kick than a regular green juice, but still has some sweetness to it, and I like that contrast. Plus, at only 100 calories per bottle for this particular flavor, I can have it as a snack without it breaking the caloric bank. In general, I don't drink a lot of juice/soda because I feel like they are full of sugar and empty calories, but this actually is a fairly satiating snack, and I feel great about how many vitamins and nutrients I'm getting from it. If you'd like to try green juice but are a little skittish or don't like ginger, you can check out this cool guide that Evolution Fresh put together for some of their other green juice flavors. They have some really cool blends!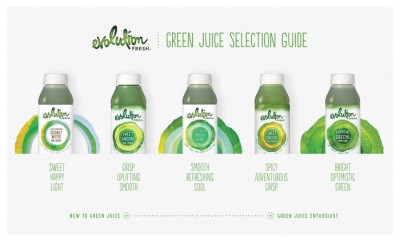 And, if you're in the mood for something a bit more fun than healthy, check out this ginger lime margarita recipe made from Evolution Fresh Ginger Limeade! I love using healthier alternatives to margarita mix, and this is a really terrific option. As noted above, I am also pretty obsessed with ginger, so I love getting to mix that in there 🙂 When I was visiting my mom recently, I made a variant on the margarita using tequila, the Evolution Fresh Ginger Limeade, and some Orange Vanilla Polar Seltzer, which worked as a great, super healthy substitute for triple sec.) It was perfect for sipping on the porch for a lazy afternoon discussion. I also think this would be really good made with the Organic Spicy Lemonade, which has only a third the calories and sugar of the limeade. You can find some other tips for making healthy cocktails in this DailyBurn article.
Evolution Fresh is available at Whole Foods, Starbucks, and a few other retailers. (Though those were the two I shopped at.) I will admit that it's pricier than "regular" juice – I found it priced between $3 and $6 per bottle, which serves one person (despite technically being two servings). However, regular juice doesn't satisfy me as a snack the way these juices do, so I think it's worth that bit of upsell. And when you compare to other cold-pressed juices, I found Evolution Fresh to be right on par or even a little bit less expensive. For me, the big sell on Evolution Fresh is just how easy it is to find. Almost no matter where I travel (at least domestically), there is bound to be a Whole Foods or a Starbucks where I can find the product! I know that juicing is very trendy these days, but when I'm on the road and without access to a kitchen, this convenience factor is key. I could even see packing it on a long hike for that inevitable moment where I am sick of trail mix/protein bars and just want something fresh… it's certainly easier than putting a salad in my pack 🙂
Learn more and connect with Evolution Fresh: Facebook | Twitter | Instagram | Pinterest
Note: Evolution Fresh provided me with coupons for free product as well as a promotional item to thank me for my participation. However, I had been drinking Evolution Fresh long before they reached out, and all opinions expressed in this review are my own.