I wrote this review while participating in a campaign for Mom Central Consulting on behalf of Genworth. I attended a live event and received a promotional item to thank me for participating.
I already wrote about how my mom and I got to see each other on Thursday/Friday, which was fantastic. But part of what we did on Friday was most atypical for us. We both had the opportunity to attend a live event sponsored by Genworth Financial. Genworth is currently embarking on a national "Let's Talk" tour, encouraging millenials to speak with their parents about various aspects of long term care. It is really frightening to think of your parents no longer being around, but it is an inevitability that we all need to face.
Rob Lowe, from Parks and Rec and Brothers and Sisters, is currently serving as the spokesperson for Genworth – and he did a fantastic job reminding everyone that long-term care if something you need to talk about early. Rob is the father of two young boys, and he was very frank about the fact that it's never easy to talk about death – but it's something that we need to do in order to be prepared. "As a father of two, I know there's a definite need to have these sometimes awkward family conversations and more importantly, having them now versus later."
I write a lot about health and fitness, and with all the emphasis on how important it is, it's easy to believe that if we take preventative care and live a healthy lifestyle now, we won't need to worry at all about it when we're older. Unfortunately, 70% of those who live past age 65 will need some form of long-term care at some point. And long-term care is expensive! Services at an adult day health care center cost more than $16,000 a year, and a private room in a nursing home can cost $87,000 per year! I've been doing a pretty good job (or so I thought) saving for retirement, but those rates will have me blow through my savings in just a few years. At the event, Genworth introduced me to the concept of long-term care insurance, and now that's something I'm seriously looking into for my own care.
But even beyond the financial costs, an important question to ask is: how do you want to age? Do you want to be in a group home, where you can enjoy communal amenities and events, or would you prefer to stay in your own home and keep to your old routine as much as possible? I was surprised to learn that while I think an assisted living facility sounds awesome (I plan to start honing my Bingo skills now so I can dominate when I'm 80), my mom feels strongly that she would like to grow old in her own home and be able to tend her garden daily. It's important to have the conversation with your loved ones so that you are all aware of each other's preferences and can respect their wishes even when they can't convey them personally.
75% of seniors said they're comfortable talking about aging, but less than 20% of their children had actually engaged in a dialogue with them. 43% of both groups said they were waiting for the other side to bring it up first. Yikes! It's clear that this is a conversation we are all missing. Last year, the New York Times wrote a great editorial on the topic that included a checklist. I found that one easy and not uncomfortable way to get the conversation rolling with my mom was just to send her the article and ask her if she could start to put together answers to its questions. Somehow, it felt better to me to present it as "The Times said I should ask you this" instead of "I am worried about you aging." Ugh, my mom is my best friend, and I just don't even want to think about anything ever happening to her, though I know I will eventually have to do so 🙁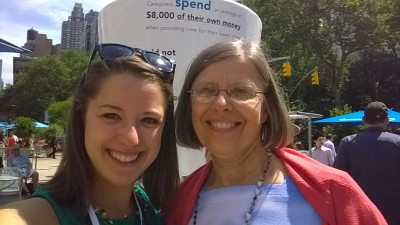 Here are Genworth's top tips for having the conversation with your own parents/children:
Talk in person. Carve out time to have this conversation with your loved one face-to-face. (Of course, this isn't always possible if like me you live thousands of miles away, but if you can do it on an in-person visit, so much the better!)
Be open. Tell them you would like to talk about these issues and ask if they'd mind.
Make it about them. Keep the conversation focused on their lives and their wishes. (Since I am pretty strong-willed in my beliefs, this was a tricky one for me, but I want to give my mom the life she wants, even if I don't want the same for myself.)
Have a sense of humor. Relax, smile and be reassuring. Humor is a great icebreaker!
Listen, really listen. Be open and respectful of their opinions, even if their responses are not what you want to hear.
Enjoy the journey. While you have purpose, allow the conversation flow. It's all about connecting.
You can follow the #LetsTalk Tour as it travels to Chicago, IL (7/9-7/13), Los Angeles, CA (8/30-9/1), San Francisco, CA (9/6-9/7), and Dallas, TX (10/2-10/5).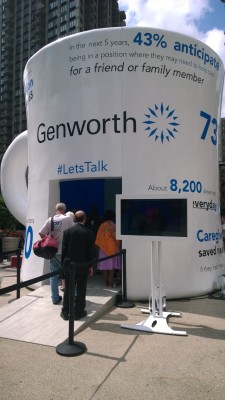 The #LetsTalk event is a great way to speak directly with Genworth representatives, get facts and other educational materials surrounding the Long Term Care topic. Whether you have the chance to attend in your area or not, I'd definitely encourage you to get educated on the topic and start having these conversations. They are less difficult than you think!