The following post is sponsored by FitFluential LLC on behalf of New York Road Runners (NYRR).
While the overall theme of my blog has been marathons and goal setting, it feels like forever since I've run a marathon. It seems like every January, I kind of run into this a little bit – the holidays and cold weather make the races fewer and farther between, and I always look at March as when "spring marathon season" starts back up in earnest. I try hard to plan for the racing hiatus and squeeze in at least one or two marathons between December and February… but this year that just hasn't happened.
I ran the NYRR 60K at the end of November, and then have had three marathons since then not work out. The Dallas Marathon was canceled; I got violently ill the night before Whine Not a Marathon; and last week, my flights got screwed up and I couldn't get to Dusseldorf in time for the Staffelmarathon Pulheim. It sounds crazy to complain about not having run a marathon in 2.5 months, but that's actually a lot for me. And, as you all know, I don't really train – I instead try to do marathons frequently enough to always be ready for the next one. Unfortunately, right now I don't think that's the case at all. Outside of actual marathons, I can't even remember the last time I went for a run (treadmill or outside) that wasn't part of a Tread/Barry's Bootcamp class. Life has been hectic lately, but that's really no excuse. I've made time to hit the gym and go to classes; I just haven't been making the time to go out and run.
I'm supposed to be headed back to Europe in two weeks, but my destination keeps changing. It was originally Belgium for the Louis Persoons Memorial Marathon; then it became Italy for the Maratona San Valentino; and now I'm tentatively planning to stay in France but head down to the seashore for the Rock N Roll Nice 10 Miles du Carnaval. (See what I did there, dropping down from full marathons to just a ten miler?) In truth, though, I haven't been that excited about any of those races – and I think it might be a bit longer before I get back to marathoning. I'm going through a bit of a tough time right now, and the demands of marathon training (because I will definitely have to train at this point) are probably not something I want to add to my plate.
Earlier this week, though, my friend Blake sent me a list of top ten marathons worth traveling for – and I opened the list eagerly to see what Forbes had selected and hopefully get inspired. A lot of international marathons were represented, including the Marathon de la Baie du Mont St. Michel, which I almost booked a few years ago and has been high on my list ever since. But there was one marathon that I thought was really sorely missing from this list: the New York City Marathon.
I know I've moved out of New York City in favor of (literally) greener pastures, but the NYC Marathon still remains my favorite marathon of all time. The course is pretty easy (no really significant hills; just a few rollers/bridges), the field is world-class, and the crowds are amazing. While the Boston Marathon may be special because you have to achieve a qualifying time (or get in through charity/sponsors) to participate, I think NYC Marathon blows Boston out of the water in terms of the overall experience. It was definitely no coincidence that I chose the New York City Marathon for my milestone 100th marathon!
I've now run the New York City Marathon three times, and every single one of those times has been among my top most magical races I've ever done. In both 2009 (when I ran it for the first time) and 2013 (when I ran it as my 100th marathon), I remember finishing and being incredibly sore in quite an unexpected place: my face. I spent the entire race smiling like crazy! The crowds along the NYC Marathon route are like no other crowds, and the 2013 New York City Marathon was honestly one of the best days of my life, from start…
…to finish.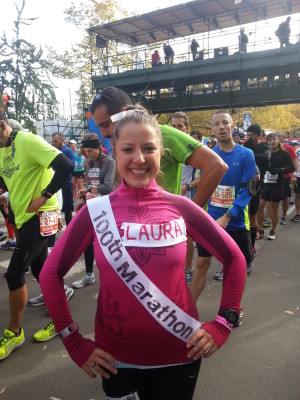 (If you want to read my full recap in three parts, click here. Warning: I teared up reading through it again just now. That's how much of a magical impression the New York City Marathon has made on me.)
One of the only things that isn't so great about the New York City Marathon is how difficult it can be to get entry. Like Boston, there are qualifying times that can be used – but they are much faster than Boston times, and are really aimed more at attracting elite runners. If you're local to the New York City area, it's possible to earn an entry by doing the "9+1" program, where you run any 9 NYRR races during the year and volunteer at 1 additional race, and are then guaranteed entry to the following year's New York City Marathon. But for the rest of us who don't live locally (yes, that's me now), your only hope is the lottery… which has a lot of applicants. (I'm one of them for 2014!)
But for the next month, we're in luck. Outside of the normal lottery, the NYRR is hosting six weekly sweepstakes drawings from February 3 to March 10, and choosing ten lucky runners in each one who will win guaranteed (non-complimentary) entry to the 2014 New York City Marathon! You can visit www.tcsnycmarathon.org to apply, and you will then also be in the regular lottery drawing this spring as well.
Reliving the New York City Marathon excitement through writing this post (and re-reading my old race recaps) has really helped me remember why I got into marathon running in the first place – and that's definitely the first step to getting back to it! But with everything going on lately, I know I'm probably going to need more of a pick-me-up than just the fleeting time it took me to write this blog post. Luckily, there's an NYRR and FitFluential Twitter chat coming up this Thursday, February 6 at 9pm ET that may do the trick: Coach John Honerkamp will be leading a Q&A session about marathon training, using the hashtag #TCSNYCMarathonApply. If you're stuck in a running rut like I am, I hope you'll consider joining and getting pumped for this year's NYC Marathon.
Disclaimer: FitFluential invited me to help promote the 2014 TCS NYC Marathon and provided compensation for this post, but the NYC Marathon has long been my favorite big marathon, and I accepted only because I welcomed any chance to spread the word about this amazing race – all opinions expressed in today's post are mine alone. I have not received any form of guaranteed entry to the 2014 TCS NYC Marathon, and am excited for the extra chances to get in via lottery just like the rest of you 🙂