At some point late this spring, I started realizing that my 100th marathon was coming up. I still can't believe that I'm this close to running 100 marathons! I knew that I wanted my 100th marathon to be extra special… but that meant a lot of pressure to choose just the right race.
There are a lot of marathons that I like just fine – and I had already signed up for one this fall that I really like, the Wineglass Marathon, to run it with my friend Theodora. I thought about making Wineglass my 100th marathon, since it's where I hold my current PR and it's also fairly close to where I went to school in upstate New York. Maybe a Finger Lakes wine tour would be a good post-race celebration?
I put off choosing a 100th marathon for a while, and was definitely guilty of "letting the perfect be the enemy of the good." All spring I kind of told myself "yeah, I'll get to figuring it out at some point," but when July came and I realized I was only seven marathons away (that's only about half a racing season in crazy 50by25 land!), I knew I needed to pick one or I was going to end up "accidentally" running my 100th and not having it be special at all.
The ironic thing was, I think all along I knew which race I wanted to be my 100th marathon. It's my favorite marathon, I have dozens of friends running it, and its location is quite special to me. Unfortunately, this marathon is nearly impossible to get into without advance planning, and I just didn't see a way to make it happen anymore – it seemed like that ship had sailed. But at the encouragement of  my friends, I decided to try something I honestly didn't think would work: I emailed the race organizers. I figured they must get hundreds of emails a day with one story or another, but it couldn't hurt to ask. And now – I'm in!!!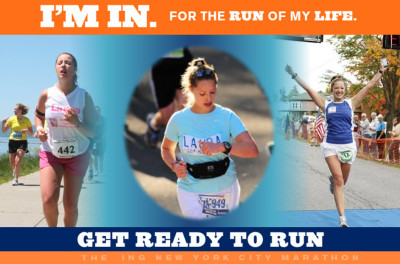 I was literally jumping up and down with excitement when I got the news that I was accepted to run the 2013 ING New York City Marathon. After running all over the country (and in several other countries too!), I cannot wait to run my 100th marathon in my hometown. I get to run with dozens of my good friends plus thousands of fellow runners who are just friends waiting to happen. I get to run the same race as my friend Adam, who started blogging with me back in 2008 and whom I talk to online almost daily, but who I haven't yet met in person. I get to run a course I know quite well, having run it once in 2009 and again in 2010 as a pacer for tennis pro Justin Gimelstob (we beat Roddick!). I get to run the final miles of the race coming down the east side of Central Park, like I've done so many times before when it's not marathon day, and I get to think about the other amazing runs I've had along that same stretch of pavement – my first ever half marathon, my longest ever ultramarathon, and the training run that kicked off my friendship with Theodora. Since it's not far to travel, I know that all along the route I'll have dozens of my non-runner friends and family cheering me on – and some amazing friends from far away have already told me they'll be there with bells on. And of course, after the race, I can throw a huge celebration of how lucky I am to have such amazingly supportive friends and family who've helped me through this hundred marathon journey. (If any readers are in town, I would love it if you'd join me for this party! More details to come…)
So with that announcement made – click on over to my newly updated upcoming races page and check out my fall schedule 🙂 I am so very excited about the months ahead!
PS – If you'd like a chance to run too, Foot Locker and ASICS have joined forces to create the #CelebrateRunning sweepstakes that gives four lucky winners Golden Ticket entries into this year's ING NYC Marathon! Enter to win here, but hurry – the contest ends Sunday night!