The last week has been a very strange one for me. I traded in my office in Dallas for a courtroom in NYC (jury duty!) followed by conference calls and videochats from my living room. I was selected for Grand Jury and therefore had to defer for a few months, since Grand Jury requires three hours of service every day for four weeks, and that won't work for my current client, where I need to be on site to prepare for a huge launch early next year. But since I didn't know all the ins and outs of Grand Jury and how it was different from regular jury duty, I planned to work from home all week rather than buy a plane ticket to Dallas that I'd likely have to change based on what happened with my jury duty selection.
Anyway! All that is to say that I've been away from Texas for over a week, and I miss it quite a bit. And honestly, one of the things I miss most is the exercise classes I take there. I had a lot of trouble getting the motivation to work out last week – when I'm working from home, it's really easy to sleep late and think that I can work out anytime (workout DVD instead of a lunch break? Sure, no shower needed when I'm just standing at my kitchen counter to work!). Unfortunately, in practice, that means that I skipped a lot of workouts last week because I didn't actually plan a specific time to do them, and I'm really disappointed in myself for that.
This week, though, one of the workouts I'm most psyched to get back to is Flywheel – and their brand new counterpart, Flybarre. It was almost exactly a year ago that I first tried Flywheel (see my review here), and since then, I've gotten to know the instructors and staff pretty well. (It probably helps that they're awesomely active on Twitter and Flywheel gets me so high on endorphins that I'm constantly tweeting post-class about how much I loved it!) Although my original review of Flywheel was completely unsolicited, when they were getting ready to open Flybarre (September 23), their marketing coordinator asked me if we could partner together to promote the new classes – meaning, I'd get some free classes in exchange for writing a review. Just to be clear, in accordance with my review policy, I told them that I'd be happy to review Flybarre but that it was going to be my honest opinion, not necessarily a glowing rave review. Fortunately (and as I had guessed would be the case), I loved it!
I've tried several different barre classes before – the VBarre method at a few different studios in both NYC and Dallas (loved it), Pure Barre in NYC (hated it; unclear instructions and I stuck out like a sore thumb by not being a size 0 and not wearing head to toe Lululemon), The Barre at Crowbar Cardio in Dallas (really liked it but the class times rarely work for me), Physique 57 in NYC and online (not purely barre, but still similar; review here), and most recently, barre classes at BodyBar Dallas (loved the studio but preferred their Reformer Jump to their Barre class). In general, I love that barre classes take me back to the years I spent taking ballet classes as a kid (for 14 years, plus some on-and-off classes in college). While I do believe in lifting heavy weights / light reps for maximum efficiency in building muscle, I get a great burn from the light weights / high rep approach that barre classes use (it just takes an hour – albeit a fun one – instead of 30 minutes like with the Rachel Cosgrove method). I just think barre classes are fun – they give me a good workout, but they also get me so excited to go to them. On that front, Flybarre didn't disappoint!
The Flybarre studio is beautiful – it's brand new, and I like shiny things 🙂 There are mirrors all around, and each station is set with a mat, two resistance bands (instructors are very clear on which is the heavy and which is the lighter one, and which one you should be using at all times), a ball (not weighted; this is for form/support), and a mat (thicker and squishier than your standard yoga mat). One detail that I thought was really special compared to other barre studios was that the barre was placed at just slightly different heights on each wall – so taller people could use the barre on one wall while shorter people headed to another, and everyone would have the barre at a height that worked for them. I loved this idea! When I took ballet classes, the studios always just had two barres about 10 inches apart, and having two always got in the way. Plus, that really only worked for little kids vs adults (because the difference was so vast); at Flybarre, there's only about a two inch difference from one wall to another, so it's much more subtle and appropriate for adult heights.
Just like their Flywheel classes, the instructors are incredibly dynamic. The preview classes I attended at the end of September were pretty crowded (they're slightly less full now that everyone has to pay instead of taking advantage of Flywheel's incredibly generous offer of free classes their entire first week), but the instructors still personally introduced themselves when you arrived, did their best to learn everyone's name – and even if they didn't remember your name, gave plenty of individual corrections and encouragement. I think the whole Flywheel corporation does an amazing job hiring for personality/fit (very much the service mentality touted in Danny Meyer's amazing book, Setting the Table), and as a result, I'm eager for them to branch out into even more sports classes than they already offer. (PS – Hey Flywheel, if you ever want to start a running class / marathon training program, you've got your first employee right here!)
The classes I took seemed to have enough structure that you knew you were going to get a full body workout (targeting arms, abs, glutes, and legs), but left enough leeway for each instructor to choose their favorite songs/moves that would burn out the specific muscle targets for that segment. For example, in my first FlyBarre class, instructor Kara (Liotta, visiting from NYC!) killed our glutes with some leg lift repetitions while we laid on the floor (note that I said "killed our glutes"; just because you're lying down doesn't mean it's easy). Meanwhile, in my second class, instructor Mandy (Mack, whom I already knew as a great Flywheel instructor) targeted the glutes with some standing legwork at the barre – which basically left my legs threatening to crumble beneath me. About the only part of class that seemed to be the same was the "Dynamic Arms" – a dance-y sequence about a third of the way through – designed to get your heart rate pumping while also covering some light arm work and leg work. I really liked this variety – it means I can go to a lot of classes and never get bored, but I also know what I'm in for as far as which muscles are targeted, so I can plan the rest of my workouts accordingly. (In comparison, I've recently been discovering that BodyBar isn't quite as predictable – sometimes my arms will be super sore after a class, and sometimes it's my legs – so I never know until after a class what kind of workout I can plan for the next day.)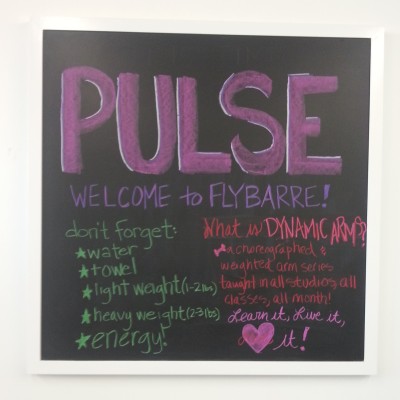 However, there is one big downside (for me): Flybarre is taught only at the Plano studio, not in Highland Park. I had been to the Plano studio several times before when Flywheel was doing their passport promo (take a class with every instructor over the course of a month and get a prize), and I really love it. While the "stadium" (where you ride for Flywheel) is comparable to the one in Highland Park, the rest of the space is much bigger – and best of all, there are four showers instead of just three (makes getting ready for work much less stressful when I can be reasonably sure I won't have to wait). Unfortunately, the Plano studio is about 20 miles from where I stay in downtown Dallas, and going to work from there takes about 45 minutes in heavy traffic vs 15 minutes cruising down Cedar Springs. When I stay in Texas for a weekend, it's easy to hit up the Plano studio, but otherwise, traffic on the Tollway makes it really difficult to get there/back. However, after how much I loved Flybarre, I think it's a trek I'll find a way to make at least once a week!
One really important thing to note: while Flywheel and Flybarre are taught in the same location (and at some point soon this is going to give me the ability to try a "double header" of Flywheel followed by Flybarre – I can't wait!) and also are priced the same, the classes are purchased separately and aren't interchangeable. So if you buy a ten pack of classes, you have to specify when you purchase whether those are Flybarre classes or Flywheel classes. Flywheel Texas has also always offered an unlimited option, and they are now expanding that to offer an unlimited Flybarre option, as well as a "super plus" membership which gives you unlimited access to both. (Honestly, at $280/month, that's out of my personal budget – although I do think a workout regimen that consisted of just Flywheel and Flybarre would get you in great shape since it would target both cardio and lifting for every muscle group.)
So now that you've read through all of my thoughts, don't you want to give it a try yourself? Flybarre has offered to give one lucky reader a five pack of classes (regular price: $117.50), and I'm so excited to be able to offer this free to one of you. To enter to win, leave a comment telling me if you've taken a barre class before, and if so, which is your favorite studio. (Then make sure to use the Rafflecopter widget below to get credit for your comment.) You can also earn extra entries by following me on Twitter and Facebook, by following FlywheelTexas on Twitter and Facebook, and finally by tweeting about the giveaway (up to once a day).
Contest will run through Monday October 21 at 11:59pm ET, at which time a winner will be chosen by random drawing. The winner will be announced on this page (if you leave your email or Twitter handle in your comment, I'm also happy to notify you that way), and you will have one week to email me in order to claim their prize.
Disclaimer: Flybarre provided me with free classes in exchange for a post/giveaway, but I received no other compensation for this post, nor was I pressured to write a positive review. All opinions expressed in today's  post and on social media are mine alone. And if you see me continuing to tweet about how much I love Flywheel/Flybarre, that's because I really DO love it, and not because of any continuing affiliation!