I am so, so, SO happy right now!!
I have been very nervous about my plan to have NYC Marathon be my 100th marathon. At the time that I signed up, I still had to run 7 marathons before I could tackle New York as my 100th. That was a lot of pressure! So many things can go wrong in a marathon – you can get sick/injured, or the race could get canceled for something totally beyond your control (heat, thunderstorms, tornadoes, national parks being closed). I had a weekend off from marathoning in mid-October, and had filled in my calendar with various local (to either NYC or Dallas) marathons that I could do if something went wrong with a marathon before that. But this weekend, I had long ago booked a guest speaking engagement at the Niagara Falls Marathon – and was planning to run the marathon too.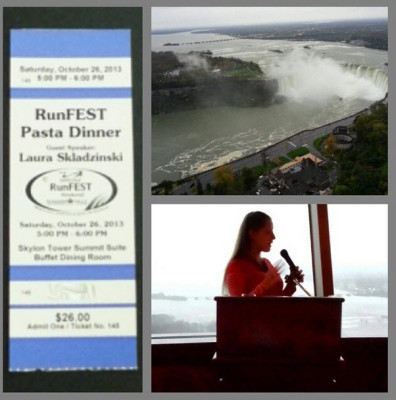 I considered fulfilling my speaking duties but skipping the marathon, and just doing another marathon sooner so I could have this weekend as a totally safe rest weekend. But I love the Niagara Falls Marathon – it's really well-organized, the people are so friendly, and it's one of the only marathons in the world where you get to start in one country and run to finish in another, right at the top of Niagara Falls. So I planned to run Niagara Falls as my 99th marathon, and in a worst case scenario where I couldn't finish Niagara for whatever reason, I could do the Abilene Marathon in Texas next Saturday so it would be done in time for the NYC Marathon. But running two marathons in a weekend wouldn't be ideal, since I'd rather be rested and able to go fast in New York.
Thankfully, I am now able to pull Abilene off my calendar. (No offense to Abilene!) Despite some initial snafus with getting to the Niagara Falls expo and learning that my registration was missing – which was a big deal in a race where registration closes a week beforehand because teams of Canadian and American customs officials need to vet all the runners – I was able to secure a bib and successfully complete the marathon. Very successfully, actually – it was my second fastest marathon this season, and I actually felt pretty relaxed and strong throughout! (Full race report to come tomorrow.)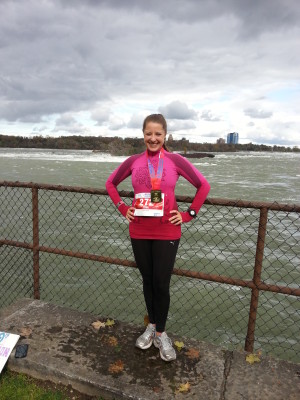 And now I get to rest up for a week and join the feverish NYCM excitement that's sweeping the running community. No more races lie between me and the start at Staten Island, and I cannot wait for the huge party that each mile of the race is going to be! It's still hard for me to believe that I've now gone from being unable to run a mile to soon becoming one of the youngest members of the 100 Marathon Club, but I'm so excited to run my hometown marathon that inspired it all when I first saw my boss running it in 2007. I have definitely far exceeded my wildest dreams in running so much, and the experience has completely changed my attitude about what's possible in life. The hard work and stressing is over; the 26.2 mile victory lap is almost here! 🙂
PS – If you're going to be in NYC next Sunday, you're invited to my post-race celebration at one of my favorite beer bars in the city, Rattle N Hum. Full details here; I'd love for anyone and everyone to join the fun!