The Friday/Saturday leading up to the race was fairly uneventful. I worked in Dallas till Friday afternoon, then flew home to NYC on Friday night and pretty much immediately went to bed upon arrival. Saturday morning, I was up early to run errands (by bike!) and pack for the week, then at noon I was off on the Megabus to Albany. Less than 24 hours in NYC! Sometimes I really miss being home.
Saturday night, my mom and I had a yummy carb-loading dinner – JP's spaghetti sauce (which I had made the week before and frozen) atop some really unique sweet potato flour noodles my mom had picked up at the farmer's market. The noodles were really flavorful, and they overpowered the sauce a little bit, but they were so good! I would totally have them plain with just some butter. I called it a night around 9pm, still trying to kick the cold that I'd had for the last week. The forecast for the next day's race was rain, so I was dreading what I thought would be a long wet slog through the mountains. But when I woke up on Sunday morning, the forecast had changed – all the rain had gotten out of the way the night before, and the hours that the race would be going on were dry. Yippee! I started to feel a thousand times better about running.
The drive up was nice and easy (a straight shot up the I-87 Northway), and it was made even easier for me when my mom agreed to drive so that I could just relax. I read my Adirondack Marathon race report from 2010 while we headed up, so I knew the course was still going to be hilly and challenging, but knowing that I wouldn't be cold/wet/shivering made it a lot better. If needed, I could take my time and just enjoy the beauty of the mountains.
We arrived at the packet pickup a little late – it was supposed to run from 7am-8:15am, and I arrived at 8:20am (after mistakenly going to the town hall, where packet pickup had been in 2010, instead of the school gym where it was now held). My mom and I were both a little bit nervous about that timing delay, but when I walked into the gym, there were still several other people just arriving for packet pickup, and none of the volunteers looked like they were going anywhere anytime soon. After getting my bib and a really nice waterproof jacket instead of the standard t-shirt (cool!), we headed over to the Stewart's that was right next to the starting line.
Stewart's is an upstate New York convenience store chain that's kind of like a 7-11 – except way better! They have phenomenal ice cream and coffee, and I make it a point to go there whenever I am upstate. This morning, I mixed half French vanilla coffee and half decaf hazelnut, then put in a good dose of the chemical-but-delicious flavored sweetened creamers they had. Super sweet and nice and hot, which was exactly what I needed to get ready before the race start!
I grabbed a booth to stay put inside while drinking my coffee, and the only one available was right next to the ice cream counter, which provided the perfect vantage point from which to plan my post-race ice cream indulgence. Stewart's usually releases a few special flavors each season, some of which end up becoming permanent options (like the Fireworks vanilla-with-red-and-blue-pop-rocks) and some of which are for that season only (Crumbs Along the Mohawk, I miss you!). This time, they had a flavor that sounded absolutely perfect in both taste and name. "No Regretzel" was vanilla ice cream with caramel and chocolate swirls plus pretzels inside. I decided it was the perfect mantra for how I wanted to run my race!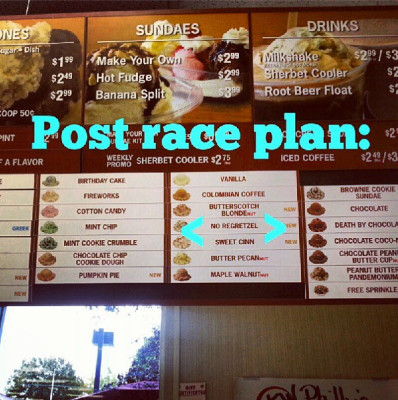 The Stewart's bathroom is outside the store, and I could see a very long line from where I sat – but as we got closer to start time, people started peeling off and heading for the start. I waited until about three minutes before the start to head for the bathroom, and had only three people ahead of me (for two bathrooms) when I did so. I ended up going into the bathroom less than a minute before the start, and then came out to jog over to the race start the second I was done. I had forgotten what a small field this was – it took everyone only about 30 seconds to cross the starting chip mat, and by the time I reached it, spectators had already started to mill back into the road to cross the street, chat, etc. Only about 60 seconds behind the clock, I was the very last starter! I didn't mind, though – it meant that every single person I ran faster than was someone I had passed, which was kind of neat.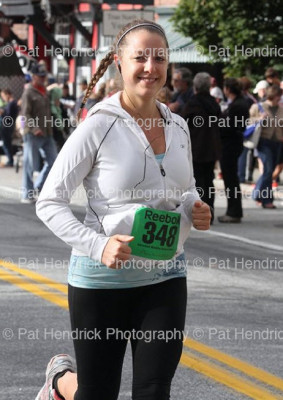 I passed the 5:15, 5:00, 4:45, and 4:30 groups in quick succession, and then passed the 4:15 group to land just behind the 4:00 group by the end of the first mile. It was in mile 2 that I recognized the back of someone in the 4:00 group – it was my 4:30 co-pacer from the Vermont City Marathon, Jen! We've paced Vermont together twice, and it was fun to get to see each other "off the clock" when we were just running to have fun instead of going for a time goal. Jen is training for the Stone Cat 50 Miler at the end of October, so she has a lot of marathons planned as training runs.
While talking to Jen, I then spotted someone else's back who looked familiar – my friend Jeff Bishton is very recognizable since he always wears a cowboy hat and bandanna to do marathons! When I was running the 50 states, I used to see him all the time, but now it's been a year or two since I've spotted him at a race. Jeff was running with a broken wrist after a tumble at last week's Abebe Bikila International Peace Day Marathon in DC, and I was really impressed at his resilience to keep going even with an injury. We too chatted for a few minutes, and then I grew quiet to focus more on the course and my running.
Lately, I have been so happy listening to podcasts while I run. Now that I'm squarely into fall marathon season (I have a marathon scheduled six of the next seven weekends!), I look forward to my "get away from it all" time listening to podcasts that teach me something new while out on the roads/trails. However, I fear that it's made me a little bit more antisocial than I used to be while running. Although I was happy to catch up with Jen and Jeff, I also didn't want to chat too long – I kind of wanted to get back to my podcasts. Once I get into a running rhythm, it's so relaxing to zone out and think of it almost like most people think of TV time. I haven't yet attempted to watch a TV show on my phone while running (outside of a treadmill, I think it'd be incredibly dangerous), but podcasts are the next best thing to engage my brain while my legs just keep doing their thing. Having 23 miles ahead to just zone out and listen seemed liked such a nice, peaceful treat!
And to make it even better, the scenery as we ran through the fall foliage was stunning. We had started the race on Main Street, running from the small town toward farmland – a comfy dirt road with horse farms around us. From there, we quickly hit a paved road through typical North Country woods, and from miles 3-12, we were just going up and down on this leafy back road. So pretty!
While going up and down, I was listening to a Stuff Mom Never Told You podcast, which is usually not fitness-related at all (I had specifically gone for that instead of my usual Jillian Michaels ones). However, the episode I was listening to was actually about fitness fads and trends, and I found myself getting pretty inspired by some of the research they were digging up. Although it certainly wasn't news to me, I was again reminded at the relatively low benefits of long steady distance running on weight loss – and how that increases dramatically when you add intervals. When I'm running a marathon, I know that speeding up to get to the top of the hill can often help me push forward, but I can honestly get pretty lazy about actually doing it – it's so much easier to just get into the groove and stick with it!
Fortunately, hills actually provide great interval training without even having to push the pace – your body naturally has to work harder on the inclines and gets a break on the descents. And there were plenty of those! From miles 3-13, there was not a single stretch of flat road for more than a tenth of a mile; it was all either going up or going down. I vaguely remembered this from when I ran it in 2010, and reading my race report confirmed it, but what I didn't catch from my previous race report was that the hills weren't actually that bad. Most of the worst ones weren't longer than a quarter mile or so, and while it was a net uphill to mile 12 (at which point we got a long glorious downhill to bring us to the halfway point), there were tons of little ups and downs that made it much more tolerable.
Ever since the beginning of the race, I was chanting my mantra of "No Regretzel" – I was determined to push hard and evenly throughout the race so that I wouldn't be crossing the finish line wishing that I hadn't taken it easy on the hills. I was still walking at times, don't get me wrong, but I would always pick a suitable point at which to walk (usually halfway up a large hill), and then before slowing to walk, pick a nearby point at which to start running again – with no excuses. In Montana, I felt like I didn't really have a gameplan for when to take it easy and when to push. Here, if I saw a baby hill coming up, I was motivated to tell myself that I could just push to the top of this hill and chances were I'd get a little descent on the other side to give me a break again (and 99% of the time that was the case). In all, I thought the course was a lot easier than I had made it out to be in my first attempt at it in 2010.
And when I got to mile 13, I knew that (most of) the hard part was over. I cruised downhill past a crowd of townspeople until I was running right on the lake, with no trees to block the view. While I had turned my phone to airplane mode for most of the race so far (because service was incredibly spotty and I didn't want my phone to run out of battery searching for a signal), I turned it back on in this small town – and discovered a text message from my sister-in-law letting me know that she was at the halfway point looking for me. I started keeping my eyes peeled, but instead of my sister-in-law, I saw my mom cheering me on. Huh? I thought she was just going to wait at the start/finish, but it turns out that they let spectators on the buses originally used for relay runners, so she was easily able to get back and forth. She snapped this great picture of me, with my friend Jeff in the foreground.
But then I was off again – and while the course was now fairly flat, it was really windy on the side of the lake. I had hit the halfway point in 2:06, which meant that I was on track for a 4:12 finish if I had even splits (unlikely) or a sub-4:20 if I slowed down in the second half (likely). I still didn't care to set a time goal, but every time I got tired from the wind or a mini hill, I would remind myself of my motto for the race: "no regretzel." It's so silly, but just having that idea in my head helped me so many times to push through when I otherwise would have slowed to a walk. Because I run a lot of marathons, it can be challenging to push hard in every single one, especially when I know that I'm not on track for a personal record or anything. In this case, I had even run the same course before in a pretty swift 4:05, so it would have been really easy to throw my hands up and not push myself at all – kind of like I had done in Bozeman a few weeks ago. But reminding myself that my goal was to finish with "no regretzel" really seemed to resonate with me for some reason. I don't know if it would work for me again in future races (and in fact, I doubt it would, because an ice cream flavor isn't exactly a life-changing reason to push yourself), but for today, "no regretzel" was working to get me through the race.
The next few miles were fairly uneventful, though not because they were ticking by particularly quickly. I kept reminding myself of my "no regretzel" goal quite a bit as the wind picked up and my pace slowed. But what I found was that whenever I actively thought about going faster, it really wasn't that hard to pick up the pace. It seemed that I was slowing more by default than because I ran out of energy, and so I just focused on getting to the next mile – and it kept working well. It was around here that the sky started to darken a bit, and in fact, we started getting a little mistiness/light rain falling. Luckily, it was over almost as quickly as it started, and while I wasn't wearing rain gear, it had been light enough that I didn't even feel like I really got wet.
I was in great spirits and I was going at a much faster clip than I had anticipated when I thought about my recent cold and how I wasn't quite in tip top shape. I thought about my 2010 race report that I had read that morning, and how at this point in the race I was looking for my friend Peter to come meet me – and then I remembered that I was fast approaching the bible camp that would provide a lot of entertainment. Hooray!
I could hear the camp as I approached mile 16 – so many people cheering! But we still had to go 2 miles around a little inlet at the end of the lake before we'd come to the west side where the camp was located. This part of the race was nicely shaded and finally wind-free, though unlike the top part of the lake, still very flat. Hooray! A water station just after mile 16 had some friendly volunteers, though I giggled at their interpretation of Adirondack Marathon's unique "cheer for each runner." I wrote about this in my 2010 report, and I still can't believe it hasn't caught on at other small races since! Basically, the race director provides printed sheets listing each runner's bib number, name, and hometown, and groups of volunteers take the sheets and distribute them one sheet to volunteer. As a runner approaches, the volunteers note the number and whoever has that sheet looks up the person's name and hometown, then personally cheers for them. When volunteers cheered for me like this at mile 7, it was one volunteer calling out "that's Laura from New York!" and all the volunteers cheered some version of "go Laura!" or "You can do it, Laura!" At this station, though, the volunteer who found me on their sheet yelled "Go, Laura!", but the rest stood there silently. I definitely wasn't complaining – it was so cool to have even one person cheering me on by name! – but I thought it was funny 🙂
Anyway, I was now coming into the really big cheering section – the Word of Life camp at mile 18. Just before reaching it, I switched my phone from playing podcasts to playing music, and was rewarded with some of my favorite running songs by Fun. And to welcome me into the camp, there was another group of volunteers (all teen/pre-teen campers) doing the personalized cheering approach, but this time, all the kids cheered my name – and they were just so darn excited! I started grinning like a crazy person right from that first ten feet entering the camp, and my smile didn't stop for several miles.
Part of what made running through Word of Life so fun was the excitement of all the kids who had come out to spectate. At one point, they even formed a cheer tunnel where they all crouched down and then jumped up to mimic a wave when I ran through! But the other part of what made this area so fun was everything there was to see in the camp. First I ran by a series of cabins (most of which had kids on their porches cheering), but then I ran through a cool recreational area where there was everything from playgrounds to a climbing wall to paddocks with kids taking horseback riding lessons. Even the kids on horses gave me a wave and a cheer! While there were probably only about 100 people out in total in this area (compared to the thousands that line 2nd Avenue in the NYC Marathon), I think this one mile stretch through camp is one of my favorite miles of any marathon I've run.
Finally, I came out of the camp and turned onto Route 9 – which would bring me straight up to the race finish. Of course, that finish was still 7 miles away, but the energy from the camp was still with me, and I had great songs in my ears that were totally keeping me going. In fact, it was just after leaving the camp (and spotting some magnificent views of the lake on my right) that I got one of my biggest runners' highs of all time – and actually had some happy tears going. The weather was so stunningly beautiful and perfect and I felt so lucky to be out there getting to run in such an amazing setting! Although there had been a few misty sprinkles of rain back around mile 15, it was now one of those perfect blue-sky-white-puffy-clouds days, and I was having the time of my life. This is why I run marathons, for moments and experiences that stay in my mind long after the race is over.
The final miles of the race weren't easy, and I was so glad that I was in a good mood for them. The hills weren't quite as bad as they were in the first half, but instead of being short and steep, they were long and steady – and over here we now had a lot of wind to contend with. I kept repeating "no regretzel" to myself whenever I got to a particularly tough part of an incline. I had come so far in such a fast time, and I didn't want to kill it now by walking in the later miles!
The wind at this point was getting really bad – I could feel the wind resistance slowing me even more than the hills. I did take some walk breaks, but mostly they were around the water stops, and I made sure that every time I slowed to a walk, I picked a (nearby) point at which to continue running. Sometimes it can be harder if you take walk breaks because then you don't want to start running again! I was also now keeping a close eye on my watch. While I had known even before I started that I wouldn't break the 4:06 time I had nailed when I ran the 2010 race, I was pleasantly surprised to find that I might break 4:15 – which for me is a pretty good effort, especially with it being a hilly course. However, if I wanted to go sub-4:15, I didn't have much time to lose – I needed to keep a 10:00 pace. Could I do it?
It wasn't until mile 24 that I knew for sure that I was going to break 4:15 – but then I got a huge smile on my face when I figured that out. There had been lots of volunteers telling us "this is the last hill of the course," but it was when I recognized the scenery (from our drive from the highway to the start) that I knew there at least weren't any big hills left. Instead, we actually got one really nice long steady downhill coming into mile 25 – and instead of taking it easy on the downhill, I pushed harder so that I could even earn back some extra time. I was almost done!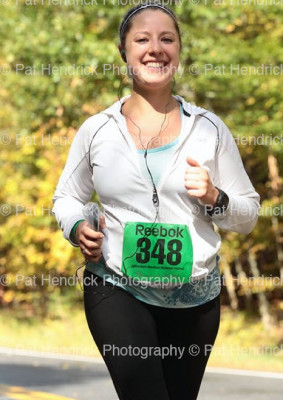 I was grinning ear-to-ear for the last two miles, just like I had been when I got my runners' high near the Word of Life camp, and volunteers kept commenting on how happy I looked. I was indeed happy – it was a beautiful day for running and I had managed to push myself pretty hard the whole way! I was honestly more proud of my performance this year than I was in 2010, since this year I had really done a great job of finishing with "no regretzel." Perhaps I could have gone faster than I did, but when I look back on the course, there isn't one particular time when I slacked off and gave up. I wasn't pushing my hardest every second (but who really can do that in a full marathon?) but there wasn't a single moment where I thought "I could go faster right now" and didn't immediately step it up at that realization. I frequently get lazy when I am running marathons – responding to the "I could go faster right now" thought with "oh well, this is comfortable and I don't care about my time." Even if my finish time was slower than it had been two years ago, I was very proud of the attitude I had throughout and how much I pushed myself. I felt like this was one of my best marathons – which just goes to show that time can be a really poor measure of a race (at least in my book).
As I came into the Village of Schroon Lake where the finish would be, I pushed harder – until the expression on my face was probably more of a grimace than a smile. But while I was working hard, I was loving every second of it – and as I looked at my watch, I realized that I was totally going to hit my 4:15 time goal. I passed the 26 mile mark and turned down the side street, kicking even harder now that I knew the finish line was right in front of me. In fact, I may have even kicked it a little too hard – the side street turned out to be slightly longer than I expected and I didn't know if I could keep up this sprint all the way to the end! But then I heard the race announcer: not just pronouncing my name correctly, but telling everyone that I had broken the record as the youngest woman to run a marathon in all 50 states! (I later found out that he had been chatting with my mom earlier and she told him, which was funny.) With that accomplishment ringing in my ears, I found it deep within me to push harder (after all, it'd be pretty embarrassing to wimp out here!), and I crossed the finish line in the best time possible: 4:13:59. Not only had I broken my 4:15 goal, but since I (and most runners) always round down to the nearest minute for marathon times, that final one second meant that I had actually broken it by two minutes. Yippee!
I unfortunately couldn't stick around the finish line too long, because I needed to hurry down to Saratoga to catch up with my brother and sister-in-law before my brother had to go to work. But I did note that the food offering was plentiful – cookies, crackers, tons of fresh fruit (not just hand fruit but melon, grapes, etc), and drinks. And I got in one more shot with the gorgeous lake before I left!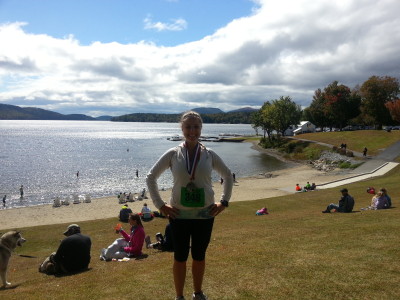 But what about my "No Regretzel" ice cream? Well, I actually decided to forego the Stewart's flavor in favor of my other favorite ice cream place that's only in upstate New York – Martha's Ice Cream. Although it's soft serve, it's full-fat creamy deliciousness, and it is just incredibly decadent and amazing. "No regretzel" about my race, and definitely "no regretzel" about my finish treat either!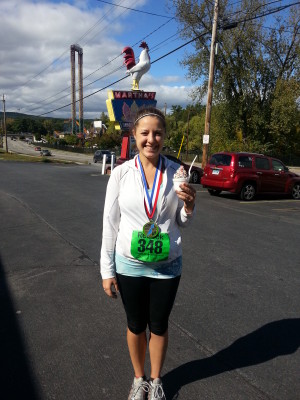 Race stats:
Distance: 26.2 miles
Time: 4:13:59
Pace: 9:41/mile
Overall place: 140/343
Gender place: 40/145
Age group place: 11/29
Personal marathon rank: 39th fastest out of 95 run