After some crazy travel meant that I didn't arrive in New York until late Friday afternoon, I am really glad to be home! And while my physical therapist gave me an electric stimulation machine that is working wonders on my tight muscles, I fear that I'd be taken out by an air marshal/any number of large men if I followed her advice to start strapping the electrodes on to use it while I'm stuck sitting on a plane. Therefore, to try to minimize the flying with my stupid neck injury, I'm going to be working from home this week and then staying ten days in Dallas rather than flying back and forth each weekend. Yippee for time at home!
One of my favorite restaurants to go for breakfast when I'm in New York is Le Pain Quotidien. There are locations all over the city, but there happens to be one pretty close to my apartment, and it's a rare morning that I'm in New York and not texting about potentially starting my day there with my best friend Mat. While my dish of choice is the steel cut oatmeal, the reason isn't the oatmeal (though it's good), but the heaps of deliciously flavored nut butter I pile on top. So not healthy, but so delicious!
So when NuttZo offered to send me some of their seven seed nut butter that was chocolate flavored, I was pretty pumped. A healthier version of what I already often have as my New York breakfast? Sweet. And while Le Pain always makes me feel good about my choices because their food is organic, NuttzZo has an even better feel-good factor: they help others. NuttZo was launched by Danielle LiVolsi when she sought recipes to super-boost her two sons' vitamins and minerals after adopting them from Ukrainian orphanages.  Today, NuttZo donates 1% of gross sales to the non-profit organization, Project Left Behind, that funds programs in orphanages around the world. I love that they give back to the community like that, and I think it's especially impressive that they donate a percentage of sales instead of just profits like many companies.
NuttZo is a 100% organic seven nut and seed butter that is gluten and soy free and contains no added sugars, oils nor preservatives. It comes in three flavors: original, chocolate, and peanut-free. I think it was pretty much a no-brainer that I went with chocolate!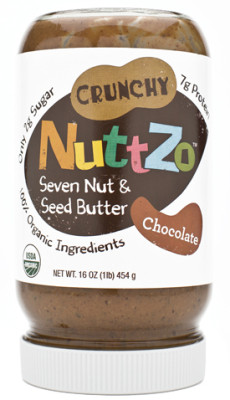 However, after trying it, I actually didn't find the chocolate one to be quite as chocolate-y as a regular chocolate peanut butter (personal fav there: Better N Peanut Butter) or chocolate hazelnut butter (like Nutella – why isn't there a low-cal version of that yet?!). NuttZo definitely had a mild chocolate flavor, and not too sweet – which makes a lot of sense when you compare the 2g sugar per serving in NuttZo to the whopping 21g sugar (that's 5 teaspoons!) in Nutella. Consistency-wise, I found NuttZo to be a lot creamier/meltier than Nutella or other nut butters – I could almost drizzle it onto my oatmeal instead of having to scrape it off the spoon with another utensil. However, the crunchy nuts and seeds still kept it very hearty rather than like a syrup.
While I wasn't being overwhelmed by the chocolate, I was instead intrigued to be able to taste all the different nuts and seeds in it. (Not that I could pick out the nuts used – I'm not that much of a nut butter connoisseur!) According to the promotional materials I received, by using all the different nuts and seeds, you get extra Omega-3 fatty acids, antioxidants, selenium, protein, and other essential vitamins and minerals. On their website, they actually have a pretty neat listing of the various types of nuts/seeds they use as well as the benefits of each. I don't track micronutrients like that – instead focusing on just eating a varied diet so I hopefully get them all – and I like that NuttZo gives you the nutrients from multiple nuts/seeds instead of me just eating all hazelnuts or peanuts all the time.
As far as the nutrition stats go, NuttZo is not a lower-calorie nut butter like Better N Peanut Butter (which normally graces my cupboard). However, the ingredients they feature are 100% organic and the jars are BPA-free plastic, and they provide so many more nutrients. One serving of NuttZo provides 50% of your daily ADA omega 3! Nutrition is all about getting the best bang for your caloric buck, and on that front, NuttZo is really a front-runner.

Unfortunately, as a premium nut butter, NuttZo does come at a premium price – if you buy online, it's $12.99 per jar. It's not an absurd price, at least in New York City – Whole Foods definitely has higher prices on some of their nut butters, and you do get what you pay for. (And speaking of Whole Foods – if you don't want to order online, NuttZo is also available at Whole Foods and some other gourmet retailers as well.) If you're a nut butter lover, $12.99 may not be too expensive (and if you buy in bulk online, you can get up to 8% off depending on how many you order). But if you just grab the basic "Skippy or Jif, whatever's on sale," I can see how that might be tough to swallow. Personally, I'm really happy to use the NuttZo I have (especially in smoothies – I could see this going great with bananas and coconut milk!), but there would need to be a sale bringing it under $10/jar for me to purchase it myself.
What do you think? Are you a premium nut butter connoisseur, a "whatever's on sale" type, or do you hate nut butter altogether?
Note: NuttZo sent me a jar of the Crunchy Chocolate flavor to try via my affiliation with FitFluential, but I received no other compensation for this review, nor was I pressured to write a positive review. All opinions expressed in this review are my own.