This weekend, I stuck around Dallas – but brought one of my best friends from New York to join in the fun. After a stressful day of meetings on Friday, I was thrilled to welcome Theodora to Texas with some margaritas and Mexican 🙂 Along with Blake, her husband JP, and our friend Kaycee, we decided to really show her all around Uptown. We started with a happy hour at the Place at Perry's, moved onto Gloria's for Latin dinner (why yes I will have all the tortillas and black bean dip), and obviously couldn't let her skip mambo taxis at Mi Cocina (claim to fame: the bartenders will not serve you more than two in a night) before we ended the night at The Loon. Carb loading on alcohol for the win!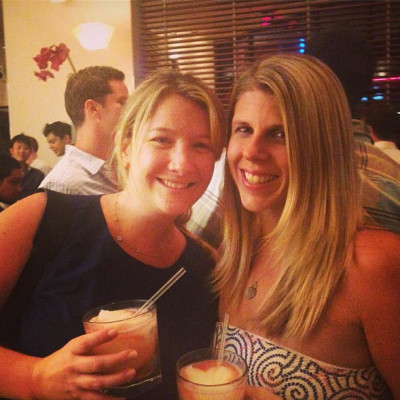 Saturday was quite a bit different – much more low-key and also a heck of a lot healthier! Theodora and I were staying at the W Dallas, and I was thrilled to finally get to try Brit's free PiYo class that she teaches every Saturday morning on the pool deck. We both assumed it was going to be a fairly relaxing way to start our weekend, but were pleasantly surprised to find that we were sweating in seconds. I should have known that Brit would never go easy on us! I used to love taking her Turbokick classes in New York, and now usually just rely on the awesome Pinterest workouts she posts on her blog a few times a week. But those workouts are killer, and I don't know what I was thinking to assume that PiYo wouldn't be the same way! If you are in the Dallas area, I'd highly recommend you swing by for the class – it's BYO mat, but otherwise totally free. And check out the awesome rooftop view!
After PiYo, we took a quick shower, then headed to one of my new favorite brunch places (which I discovered through Clare's blog), Company Cafe. It's right on the Katy Trail, which is a really nice paved running trail in Dallas, and I knew it would have not only great food but also good people watching – and a classic Dallas patio scene. The perfect thing to convince Theodora to move to Dallas? Well, actually, yes – she fell completely in love with the Deep Bowl that I recommended from my last visit.
Post-brunch, we headed to the mall, where I finally upgraded my ugly black purse that had fallen apart to a shiny new Longchamps bag. At $125, it's the most expensive handbag I've ever bought – which my friends find hilarious 🙂 Sorry, but even after fashion month, I am just not a shoe/purse kind of girl. How about I take that extra money and spend it on travel or wine? I finally agreed to the Longchamps (in black) because it's big enough for a book (necessity!), my friends agreed to let me carry it anywhere (aside from a black tie event), and I like the idea of having one bag I can use for absolutely everything. That is worth $125 to not ever have to ponder a silly question like whether my handbag goes with my outfit!
In the afternoon, the original plan was to hit the pool for some sun – but my stupid back started acting up so Theodora ended up hanging out at the pool while I lamely stayed in the room hooked up to my TENS unit (plugged into the wall for extra longevity). After our afternoon quiet time, I ended up leaving the TENS electrodes still hooked up as we then bopped around town with Blake and JP to a greengrocer and Jimmy's Food Store. Saturday night dinner was going to be home-cooked Casa Blake and JP, and I was psyched!
We started with some Trader Joe's herb baguette that I brushed with truffle oil and sprinkled with parmesan before toasting in the oven (oooh, fancy). Next up was a salad with one of the most delicious dressings I've ever tried – Blake mixed dijon mustard, aged balsamic vinegar, truffle oil, and regular olive oil to create a vinaigrette that was to-die-for. But the main course was the piece de resistance: Blake's homemade spaghetti with JP's homemade tomato sauce. I think I ate three plates' worth and had to stop myself from having more! We were also joined for dinner by Jenna and her boyfriend Aaron, and while the food was fabulous, the company made it twice as good 🙂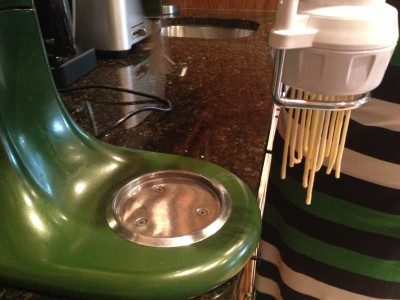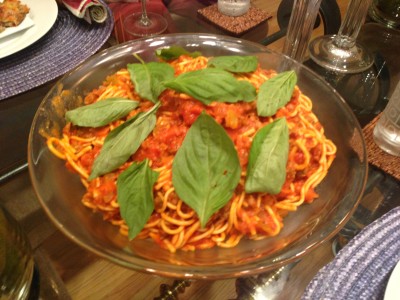 Stuffed with carbs, since we were all running the race the next morning, we called it a night around 10pm. What would the heat bring us in the morning? I didn't care – this race was going to be just for fun, and getting to carb load and run it with friends was a lot more important to me than whatever time might show on the clock at the finish.