I first signed up for the Puerto Rico Marathon because I saw a Groupon that brought the entry fee down to $30. For that price, I figured it'd be worth it to save my spot and decide later if I wanted to go to San Juan! But when Election Day came last November and Puerto Ricans voted to begin taking steps toward statehood, I decided I was definitely going to do it. If there were going to be 51 states, I wanted to make sure I had run a marathon in each of them!
I had already been to San Juan in February for Theodora's birthday, but we stayed in an entirely different part of town (the Condado area). This time, I stayed in the heart of Old San Juan, and I knew it would be a completely different experience. Sometimes it makes me sad to realize that with so many places to visit in the world, it's likely that I'll only get to even the nicest ones once – because every visit to a place can be totally different! That was definitely the case here. I had taken Friday off work, but instead of spending it lying on the sand (like I had done on my last visit), I was confined to a small rooftop pool. (I know, poor baby!) But I got to check out a neat local restaurant with Amanda and her husband David for dinner on Friday, and I was very happy to be able to walk there instead of being stuck on a resort with few options around. That extra money could go instead to one of their all-natural no-syrup ginger margaritas!
I went to the (small) expo to pick up my packet on Friday afternoon, so that meant on Saturday I had no obligations at all. Glorious! I slept in till 9am (a rarity for me), and headed for breakfast to a cute little cafe that had been recommended to Amanda, David, and I by another traveling couple we met in the town square – Caficultura. I chose the vegetable egg wrap, which was not very traditional Puerto Rican, but it came with a delicious side of crispy diced tomatoes that I dosed with the signature local hot sauce. Even better was the amazingly rich cappuccino, complete with a foam design to match the small cookie on the side. I wished I had discovered this sooner so I could have gone there for breakfast on Friday as well!
I spent the rest of the day lounging poolside, carbing up, and taking care of some blog stuff (get ready for a redesign coming this week). I needed to wake up at 3:45am in order to get to the race in time for the 5am start, so it was definitely an early night for me! Generally, though, it was so nice to finally have the time to catch up on sleep and do whatever I wanted. I've been getting super stressed out with various responsibilities lately, and this kind of no-obligation day was exactly what I needed.
Race day dawned bright pitch-black and early, and I got ready quickly before catching a cab to the convention center area where the race began. I looked for Amanda and David in the corrals, but didn't see them earlier. Instead, right before the race start, I saw a guy wearing a New York Flyers shirt, so I called "Yeah, New York!" over to him. When I did, a girl turned around and was like "Oh, hi!" I thought it was an acquaintance from New York, but I later found out it was AMANDA, and I just hadn't recognized her in the dark conditions! I laughed for a while over that one 🙂
But the dark start turned out to have more downside than just not recognizing a friend. Less than a minute into the race, I tripped in a pothole, but managed to catch myself. I started trying to watch the ground even more carefully, but the dark made it very hard to see. A few seconds later, I tripped again (seemingly on nothing) – and this time I went down, hard. I tried to use my hands to catch myself, but my knees took the brunt of the fall – and they were cut up really badly. I got up quickly and headed to the curb where I could assess my injuries and be out of the way of the other runners. Amanda popped out of the crowd of runners, having seen the whole thing, and asked if I was okay, and I said "yes, yes, I'm fine." While my legs were literally covered in blood (it's amazing how much knees can bleed), I could also tell that it was just scrapes and I'd be okay. And then I burst into tears, sobbing hysterically.
In retrospect, I'm really embarrassed. I don't know why I was crying and being such a baby about it – I knew I was going to be okay, and I also knew that I was going to keep running as soon as I got cleaned up. I was very frustrated when it took more than fifteen minutes to find a volunteer, get them to find someone with medical supplies, and apply the betadine and bandages (which of course fell off five minutes later due to the heat/my sweat). But honestly, that wasn't the race organization's fault – who would have thought that medical would be needed just 100 yards from the start? Finally, I was patched up (for the most part), and sent on my way.
Losing 15 minutes in the middle of the race wouldn't have been a big deal – the field typically spreads out by then. But losing 15 minutes at the beginning honestly really sucked. The slowest person in the race was already way ahead (I didn't catch up to him until 1.5 miles in), and there was no one to follow to know where to go. Since it was still pretty dark, every time I came to an intersection, I had to either look to the police manning the corner to figure out where to go ("Left! Vamo vamo vamo!"), or take a blind guess (for the intersections that were unmanned). I was starting to wonder if I'd even be able to find the course and complete the race, when I finally saw a police motorcycle pass me and zoom forward (on the closed race course). I must be on the right track! I picked up the pace to follow the taillights and was rewarded with the sight of the 1 mile mark. I was going to do it! (Because obviously, reaching the first mile marker is the hardest part of a marathon.)
But half a mile later, I caught up to the current last person in the race – and I felt a heck of a lot better. From here on out, I'd be passing people until I caught back up to those at my pace. I tried to do the math to figure out when I'd stop passing people, and figured it would be somewhere around mile 13. Yikes – that was far away! For now, I focused on just running my comfortable pace (around 9:30) and trying to ignore the throbbing in my right knee. Although both knees had gotten pretty scraped up, it was my right knee that seemed to have taken more of the impact.
We circled through Old San Juan briefly and then turned out to a road right next to the ocean. The view of the ocean at sunrise (my fall had squandered some of the dark time so the sun was now coming up) was stunning – all pink and purple and pretty. While running here, I also came to the first aid station, which I was pleasantly surprised to find both fully stocked and with tons of volunteers. I've definitely seen some early morning races have a hard time getting volunteers, but that didn't seem to be an issue here! Despite being at the back of the pack, there was plenty of already-poured hydration, as well as a speaker blasting music and plenty of people cheering us on. Woo hoo!
We headed down a quick downhill and soon came to the bridge to the Condado area. There was a big crowd cheering at the edge of the bridge (likely because it was walking distance from the start and finish), and I spotted one of the spectators who had helped me in the crowd. "See, Laura? You go!" she yelled, referencing my dumb tears and worries that I wouldn't be able to finish the race. Buoyed by that, I picked up the pace a bit as we crossed the bridge.
I couldn't believe it was already almost fully daylight, but the light afforded me the ability to see the Condado area up close. This was where we had spent most of our time when we visited in February, and it cheered me up to think of my friends and the wonderful time we had spent together on that trip. It was also neat to see the island from another perspective – we had only made it to a few places on our last trip, and I was surprised to see just how many neat little bars and restaurants there were in the Condado area that we had missed the first time around. I started eyeing the restaurants and bars as I ran, thinking "oh, we could have gone to that bar! It looks so fun!" or "Mm, that restaurant looks yummy." But I then realized that I was actually now more than a mile or two past the Renaissance Hotel where we had stayed, rather than the walking distance I had assumed it to be. Time flies when you're running!
Just before mile 5, the half marathoners split right while full marathoners headed straight ahead. I was pleasantly surprised to find that at least where I was in the pack, it was about 50/50 going each way. Normally, the half marathon field is so much bigger than the full marathon field that the split makes me feel lonely! I wasn't talking to anyone, but it still felt nice to have a few people around me going the full distance. We hit another water station and then took two quick turns that brought us out to a short stint on a beachfront road. Ah, I love running by the water! And the breeze felt amazing besides.
But before long, we turned from the pretty ocean into a neighborhood that was more residential (or perhaps seasonal vacation homes?), but there were still a few small bars along the way that looked like they catered more to locals than the tourist crowd. At some, patrons stood on the patio, longnecks in hand as they watched the runners go by. It was now around 6am – had they been out all night, or were they getting an early start to Cinco de Mayo festivities? I couldn't tell!
The neighborhood views lasted for about a mile before we took another turn – this time bringing us to a long highway that seemed to be a major artery. I was impressed with the organizers for managing to close off an entire side to traffic, but this part of the race was not the prettiest. Furthermore, there was zero shade, and the sun was now out in full force. All I could see was the sun shimmering off the pavement far into the distance, and a steady stream of faster runners coming toward me, on the return leg of this out-and-back. We hit the 9 mile mark, and a few steps later, my Garmin died. Oh, did I mention that I had accidentally left my charger at home and was just hoping my watch still had some charge remaining from Nashville? This clearly was not my day!
But one thing I did with me from Nashville was the realization that you alone control your attitude. My roommate in Nashville, Zenaida, had a miserable race – and I realized that I could have let the rain get me down there too. Running in rain is never fun, but for whatever reason, I had an amazing time in that race. I tried to channel that optimism and positivity for this race – reminding myself that just because it was hot and sticky didn't mean I couldn't still have fun. I had completely destroyed my expensive cell phone in Nashville; surely I wasn't going to let some silly scraped knees get me down here? The philosophy wasn't that easy for me to stick with, but it did help somewhat, as did plastering a smile on my face and thanking all the volunteers I saw. Fake it till you make it!
Right now, though, I realized what I needed to make was a break for the porta potty. One symptom of heat poisoning can be GI issues, and that seemed to be the case here. I hadn't eaten anything unusual, but my tummy was definitely giving me some trouble. Fortunately, the race organizers had really planned ahead in this respect – every single aid station (they were about every 2 miles) had not just one but two portapotties next to it! I thought this was really fantastic. So many races put the portapotties unpredictably throughout the course, or only at certain aid stations, and it was definitely a relief to know that when I saw an aid station ahead, there was sure to be a portapotty there. Furthermore, if you wanted to stop but both were occupied, you knew exactly how far it was to the next one. Kudos, race organizers – in this respect, you totally nailed it!
After my bathroom break, I only had to run another 1/4 mile to the turnaround and then it was back to aid station. This time, I decided to do something different with the cup of ice that was one of the offerings. Around mile 4, I experimented with carrying the cup of ice in my hand – recent studies have shown that cooling your hands during exercise can drop your body temperature and increase performance levels. But at mile 10, I decided why focus on the extremities when I could apply the ice right to my core – and poured the entire cup into my sports bra! At first my "ice bra" was super cold, but then it started to feel absolutey fantastic, and definitely helped me stay a little cooler. I contemplated applying to same principle to other parts of my body – "ice sneakers" would feel amazing, but it wouldn't be possible to stuff ice into my shoes. I also considered "ice shorts" briefly, but decided I looked weird enough pouring the ice into my sports bra – I really didn't need a race photographer catching me pouring things down my skirt! (Besides, as the ice melted from my sports bra, it trickled down my body and cooled that off a little bit too.)
The next few miles were long and somewhat torturous – it seemed like forever before we made it to the 13.1 halfway mark! This came after we had turned off the original highway and onto another highway, and it seemed like there was no end to the hot, sunny roads. Fortunately, we were soon rewarded with a pretty (and long) bridge that spanned some sort of bay (race map says it was the Laguna San Jose). The bridge was lined with alternating US and Puerto Rican flags, and I loved how triumphantly they waved – both because it was a pretty sight (oops, should have taken a pic) and because the breeze also helped to cool me off a bit. Although I had been really anticipating an aid station when I first started running onto the bridge, I enjoyed the view so much that I was able to keep running with no walk breaks all the way to the end (1.5 miles).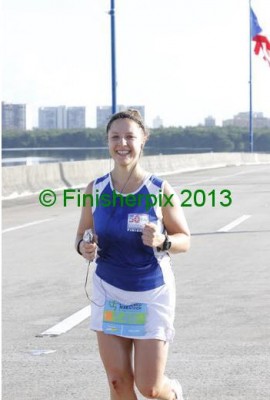 We went through a set of tollbooths on the other side of the bridge, and I started really feeling the heat at this point. I knew I really needed ice and hydration, and hoped the water station would come soon! Fortunately, after a brief short uphill, there it was. I took my time at this one, restocking my "ice bra" and drinking a bunch too. But then it was back to the highway – and now I didn't feel so great.
Every step I took seemed to be slightly jarring to my brain – making me disoriented for the tiniest fraction of a second. However, when I would regain my balance again, my other foot would strike and repeat the effect, making me feel like I was running with vertigo. I knew this wasn't good, and was probably some form of heatstroke, but I had just had water/ice, so I just slowed to a walk instead of stopping. Walking didn't seem to cause the same level of disorientation, and within a few minutes, I felt good enough to run again. Just in case, I tried phoning a friend to make sure I wasn't delirious or anything – and I seemed to be okay.
Meanwhile, Amanda texted me around mile 16 to check on my progress, and offered to hang out at the finish for me. I warned her that was I still quite some time away and estimating around a 5 hour finish, but she still said she'd be there. So sweet! With that time now out there, I tried to keep the pace up so I'd at least come close.
We headed up the highway exit ramp and back into the city streets, and I regained my stride. Shortly after, I saw another water station ahead, and hoped that would cure me once and for all of these heat issues. However, I found it was exactly the opposite – it seemed that every time I had a drink or got ice, the dizziness returned. But I needed to drink in this heat, and I was being careful to consume enough electrolytes so that hyponatremia wouldn't be a problem. I didn't understand what was going on with my body today, so I just kept going. The good news was, the course was totally flat at this point, and the buildings helped to provide a bit of shade. The bad news was, it was still pretty hot!
I kept slowing to a walk and being mad at myself for not pushing harder, but every time I'd have water/ice and get a little dizzy, I felt I had no choice. I assumed temps were in the 80s, which meant there was really no excuse for such laziness. However, I later found out that it was actually in the mid 90s and very humid – it poured rain just a few hours after the race! In retrospect, no wonder I was proceeding so slowly – that is much hotter than I thought.
As we approached mile 19, we came upon an unofficial water station by a neighborhood group, and I gratefully sucked down some more Gatorade. (Yup, more dizziness… I was over it by now.) We then turned a corner and hit a downhill – and there was the official aid station! Bummer that they were so close together, though I was of course grateful for the support. However, at this station, there was a bunch of unique stuff going on.
First, one of the aid station volunteers was handing out plastic bags of ice instead of just cups. Brilliant. I gratefully accepted the big bag, and immediately applied it as a cold compress to my forehead/neck. This was a lot easier than just rubbing ice on my face and having it melt all over me! But before I could really enjoy the ice, I saw/heard something bad: a runner who the volunteers had helped into a chair, and were taking his sneakers off. As they attempted to do so, he started screaming at the top of his lungs, like I have never heard anyone scream before. I mean, all-out wailing like he was being tortured! I couldn't imagine what happened to cause that kind of pain, and I hoped he was okay!
As I continued down the road, I passed mile marker 20, and shortly after that, mile marker 7. No, this wasn't a repeat of the messed up mile markers at Big D Texas Marathon; we had just finally rejoined the half marathon course and were now headed toward the finish. Yippee! With 6 miles and change left in the race, I decided to aim for an 11 minute average pace – which meant running about a 9:30 pace but then also walking for about a minute and a half per mile. Doable in the heat!
Mile 21 took us right back to the start of the race, so I now had some idea of where on the island we were. We did some loops back and forth around the convention center parking lots, and plenty of volunteers and spectators were in this area to cheer us on – and offer more Gatorade. YUM, I was definitely grateful! My tummy was not having the heat one bit, and I was once again grateful for the predictable porta potties at each aid station.
By the time I hit mile 22, though, things were looking up. I was back on the same highway where I had been running totally solo at the beginning, and it was nice to feel accomplishment at this point instead of the dread/worry I had felt at the beginning, wondering if I'd be able to figure out where to go and stay on the course. Look how far I had come with totally banged up knees! The same ice/water that was cooling me down was also making blood run down my legs, so I looked like quite a sight and was still getting plenty of concerned looks from spectators and volunteers. But I was pushing through anyway!
As I approached mile 23, I decided to put on some music to bring myself home. Thinking of how great I had felt running at mile 23 in Rehoboth Beach with Steph and Ericka, I chose "Some Nights" by Fun – and instantly felt invigorated. It was so wonderful to think of my friends back home while I was running thousands of miles away, and I knew that they were cheering me on. Some, in fact, quite literally: Ashley was tweeting me all kinds of encouragement that made me feel strong and good about myself! I spent the entire mile thinking about how lucky I was to have such wonderful friends 🙂
The end of the mile, though, was not quite so great. The excitement of my power song had worn off, and now I faced a bit of an uphill climb. So close, but also, so far! And just when I was about to reach the mile 24 marker, I saw something that meant decision time: a frozen yogurt shop right on the corner of the course. And it was one I hadn't yet tried! I considered how delicious some nice smooth froyo would taste, and considered stopping to pick some up "to go" (there's a fun finish picture: me with a cone in each hand!), but ultimately decided that I really ought to just head to the finish. Amanda was there waiting for me, and ironically enough, her blog is called Run To The Finish! (Plus, I felt like it might be a little bit disrespectful to the race / other runners if I finished so casually.)
Instead, I took a quick walk break till I actually reached the 24 mile mark, and then I took off. No more walking from here on out, not even at the aid stations that remained! I reminded myself that two miles was nothing, and focused on challenging my legs like I hadn't really been doing for the first 24 miles of this race. I was then rewarded for my efforts with a long, glorious downhill – and I took advantage of that to fly down and regain some confidence in myself by feeling strong.
With less than a mile to go, I was getting so very excited for the finish – wherever that might be. Plenty of spectators were still out cheering, and I used their energy to boost my own, picking up the pace until I was doing about an 8.5 minute mile. I knew I looked strong, and however I might feel about my finish time, I was proud of that.
Finally I saw the stadium ahead of me, and I knew I was on the home stretch. I picked up the pace just a little bit more (despite the slight incline – yuck!), but after two quick turns, I was looping back and could just about see the finish ahead of me. I didn't see a 26 mile mark, but I knew where I needed to be! I picked up the pace even more to come through the finish chute, and spotted Amanda and David on the side cheering me on. Amanda had her camera and snapped a great shot of me sprinting it in. When she showed it to me after, I was so thrilled! I think this is the best running pic of me I've ever had.
I crossed the finish line with my arms in a big V for Victory…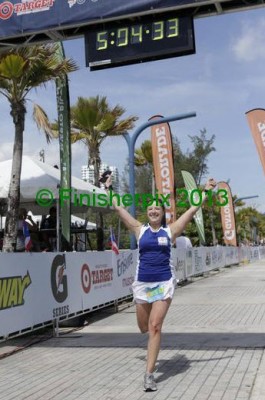 …but once I had crossed, I immediately asked a volunteer to help me find the medical tent. I needed to get these cuts cleaned out for good! The staff was amazingly friendly, thorough, and eager to express their concern/sympathy for my injury – I was really impressed with how helpful they were. Amanda met me in the finish tent, and we hung out for a bit before I headed back to my hotel to clean up before we reconvened for a Mexican brunch feast. Happy Cinco de Mayo!
When I reflected on my race, I obviously wasn't thrilled with my performance. Out of the 89 marathons I've run, this was in my top ten slowest races! It hadn't had an auspicious start, and the heat and the stomach issues had kept it from really being terribly enjoyable during. But at the same time, I was glad that I had managed to keep at least a somewhat positive attitude. I hadn't had a miserable experience; it just wasn't my favorite. But the race had allowed me to spend a weekend in a great destination, relaxing outside of the 5 hours I ran, and given me another excuse to travel back and see very different parts of San Juan than I had explored the first time. I think running a marathon can be such a wonderful way to see a destination, and this race was no exception! I think that's something to smile about, bandages and all.
Race stats:
Distance: 26.2 miles
Time: 5:04:24
Pace: 11:37/mile
Overall place: 150/300
Gender place: 34/96
Age group place: 5/9