The short version: yesterday was my second slowest marathon ever… and I am so glad!
When I went through the lobby to head to the race, I was pleasantly surprised to see how well they were taking care of runners. The Sheraton Nashville Downtown wasn't even the host hotel, but they had two tubs of bananas and an oranges and a gigantic tub of ice cold bottled water, all totally complimentary for runners before the race. I've never been to a hotel that treated runners that well before, and that includes all the times I've stayed at the host hotel! The concierge advised me that I could take the shuttle that the marathon organizers had scheduled a block away, but it would cost $15. He suggested that if I didn't mind about a 10 minute walk, I could head over to the finish line parking lots where there were free shuttles to the start. Awesome!
I got to the finish line, boarded a bus, and immediately found another Maniac to sit with for the short ride to the start. Arriving at the starting area at 4:45 AM, I got my packet extremely quickly – leaving me with more than 2 hours to the start. I was yawning like crazy, and I was definitely regretting that I had heeded their advice to get there so early – I could have very easily gotten more sleep and come at 6 AM and been totally fine.
Like the hotel, the starting area had tents with fresh fruit, water, Cytomax, Larabars, and regular cookies. I was kind of surprised to see the cookies for consumption before the race (do they WANT runners to be crapping all over the course?), but I stocked up on Larabars for during the race, and enjoyed some water to hydrate for what I knew would be a hot day. Just past the food tents, I saw two Maniacs talking, so I headed over to compare notes on races we had done or were planning. Before I knew it, the area had become an impromptu mecca for Maniacs, with about 10 people finding us and joining the discussion. Around 6 AM, I excused myself to hit the porta potty line, and between that and the bag drop line, I got to my start corral with only about 15 minutes to kill.
The start was a little disappointing – while there was a great a cappella group doing a rendition of the Star Spangled Banner, the start was done in waves, and there wasn't much fanfare as each wave went. I was in wave 7, which was people who had around a 3:50 goal pace (remember that I signed up for this 6 months ago, so I thought 3:50 might be what I was up to by now – I didn't take into account my unexpected break for layoffs). With all the obstacles I had before the race, I kind of wanted to see if I could push hard and get a PR, so I was happy to stay in my corral and not move back. I kind of wanted to move back in hopes of finding Dane and Blaine from The Biggest Loser, as I figured they'd be with the 6 hour or so corral, but I figured it would be impossible to find them in the crowd, and hoped that maybe I'd see them on one of the out-and-backs or at the finish line if I stuck around. Little did I know…
When the gun went off for my wave, I was right at the front of the line, and while I wasn't trying to sprint start or anything, I ended up being the absolute frontrunner for a few hundred feet – what a feeling! I've never done that before 🙂 I settled into what felt like a comfortable pace, and after the first mile, found that I had done about 8:43 on rolling hills with no sweat. Great! In the second mile, I was around 9:00 – still ahead of the 9:09 average that would reflect a 4:00 PR. However, the sun was already coming down, and I knew that combined with my inability to do negative splits (in fact, I'm almost always positive) would mean that I probably wouldn't make a PR unless I was comfortably doing around an 8:00 pace at the start.
Shortly after realizing this, I found myself behind a big, tall guy wearing a black t-shirt. Looking left to pass, I saw a guy running with a small handheld video camera. My suspicions aroused, I pulled up next to the guy, and found that it was, in fact, Dane from The Biggest Loser! I got super excited, and hastened to introduce myself and tell him how excited I was to see him. I told him how I usually watch the show while I'm at the gym, and that it's such an inspiration, because if they can work out hardcore for 4-6 hours a day, surely I can manage cardio for the 2 hours the show is on. I tactfully old him how I had heard about the Arizona Desert Classic and was disappointed that it didn't quite work out for him, but that I was really excited he was doing another marathon, and especially that it was one where I might get to see and meet him. In short, I babbled away excitedly for a few minutes without letting him get much of a word in beyond the perfunctory "oh, thank you, that's nice of you" responses. I finished my little monologue, and saw that the camera guy had been filming me talking to Dane – and he now asked me to say and spell my name and hometown, and to look for the footage on the finale in three weeks! HOW COOL IS THAT?!
I then noticed the Maniac running with Dane, and I introduced myself to him. He told me that he had been asked to run with Dane and Blaine and help them get to the finish successfully (and without incident). He introduced me to Blaine, who was really warm and welcoming, and when I tentatively asked what their goals were for the race, Blaine said that they were just looking to finish, have a good time, and basically be a moving party that I was welcome to join. I was so totally psyched – with the heat, I knew I wouldn't PR, and this was a great excuse to take my time but still make the race incredibly special. I excitedly told him that I would love to join the party… at that point I don't quite think they knew what they were in for with that offer 🙂
A bit further up the road, we made a portapotty stop, and I got to talking more with Arnat, the Maniac who was pacing the guys. He explained that his friend Kirk (the guy with the camera) was a local runner who had been asked to stay with Dane and Blaine, film them, and be alert for any kind of shenanigans. Not that they were expecting anything… but NBC wanted to make absolutely sure that this race was beyond reproach. Kirk had recruited Arnat to join the team, and there was also a biker, Keith, whose job it was to ride alongside with all kinds of Gus, drinks, and medical supplies.
Dane and his wife didn't really need the portapotty stop, so they headed on with Kirk, while Arnat and I waited for Blaine, who felt confident he could catch up. Sure enough, Blaine turned out to be in awesome shape – we made a lot of stops along the way, and he would easily pull pretty fast paces (like, 9:20 at mile 20) for the quarter mile or so it would take to catch back up. Because Dane had his wife there, and therefore had someone already to talk to and encourage him, I made it into my job to stick with Blaine and entertain him (his wife was unfortunately not able to make it for the race). A few days ago, I got the idea that I might like to become a pacer for marathons (fun to motivate people, and big savings on entry fees!). While Blaine and I didn't talk the whole way, as I would need to do as a pacer, it was still good practice in case I ever do decide to pace.
As we ran, I got to ask him my burning questions about The Biggest Loser:
-Who do you think is going to win?
-Is Tara not necessarily working that hard but just naturally good at challenges? Is that why people don't like her?
-What are the people in the house really like?
-We see a lot of treadmill workouts… is that a large component of the workouts at the ranch? Do you go for distance/time or speed or what?
Blaine was totally awesome about answering my questions (which I'm not posting because I don't think it's really my thing my tell, and I don't want to misquote or get him in trouble). He also seems to have a bit of the Maniac spirit in him, which got me really excited: he did a half marathon last weekend, was doing the full this weekend, and is doing a half-Ironman next weekend! His goal is to do a full Ironman in the fall (he got invited to do Kona – how cool is that?!), and I wished him tons of luck. I told him about a lot of the marathons I had done, and while he applauded my successes and goals so far, he encouraged me to try a triathlon… maybe once I finish my 50 states. One goal at a time, we laughed 🙂
At mile 11, the half-marathoners split off, and about 2/3 of the runners left, leaving the course very open. The corrals were well-organized so that it was never too crowded and there wasn't any bobbing and weaving, but it was still much more relaxing to have more space. We passed the halfway point at about 2:30, which meant that we could be on pace for the 5 hour finish the guys were kind of hoping for… but we knew that wasn't too likely with the sun getting hotter and our bodies getting more tired. Also, around this time, Blaine's knee started bothering him. He has a condition that I hadn't heard of before (and can't remember the name of), but that he explained as something where the cartilage is rough and needs to be smoothed out with some kind of scope – but he was waiting until after the show was over to do so. I offered him aspirin and Biofreeze to get through it, and he told me that Biofreeze was the muscle rub of choice at the ranch too – don't I feel trendy and on top of things 🙂 Unfortunately, my supply ran out before his pain did, so for the last 8 miles or so of the course, I was continually stopping by the medical tents to see if they had any muscle rub I could snag for Blaine… with no dice. Every tent was well-equipped with Vaseline and bandaids, but I was a little surprised to find that they had no muscle rub or Tylenol.
At each mile marker, Arnat would run ahead a bit so he could snap a quick picture of all of us running next to the mile markers; he also took a lot of other pics throughout the race, which I'm really excited to see.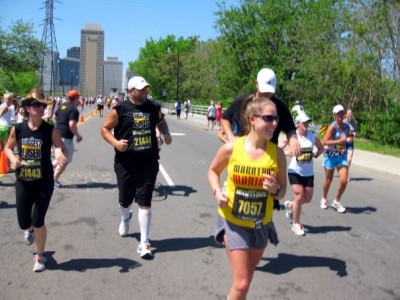 Keith was also doing a lot of live video footage from the bike, which is going to go to NBC, so I'm hopeful I'll show up in some of that. We all ran together until the 26 mile mark, and then I took off sprinting for the final 0.2 to the finish – not because I wanted to show them up at all, but because I didn't want to intrude on their family moment crossing the finish line. Because I had gone at such a relaxed pace for me the whole race (and also because everyone around me in the final stretch was naturally a bit slower than I was), my finish kick was epic – truly a sprint where I passed about 20 runners to finish. After crossing the line, I then got to watch Dane, Blaine, and Carly cross it a few seconds later – and it was so cool. There were pictures, interviews, and just a real moment of pride for the whole family. Arnat and Keith made a point of pulling me into a few of the pictures, because they said that I had been just as much a part of the pace team as they were, and that just felt so cool to me. Arnat and Kirk promised to send all the pictures… I'll certainly post when they do 🙂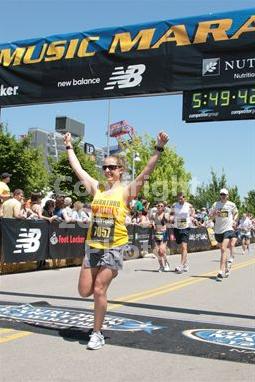 It may have been one of my slowest races, but it was definitely one of my most memorable – how often do you get to do 26.2 with semi-celebrities that you watch on TV every week? I was really grateful that my training allowed me to run comfortably at their pace with no worries, and also that they had given me someone to run with when Boyfriend wasn't able to make it down (he was going to do the half). I was so happy that I already had Lincoln scheduled next week too, because it meant that it was probably a good thing for me to take it easy this week anyway, and then next week in Lincoln I can go all-out and see what I'm capable of doing. Hopefully with a little less pre-race stress, a little more sleep, and a little less sun! The only downside of today is that I am currently burnt like a lobster.
Race stats:
Distance: 26.2 miles
Time: 5:41:42
Pace: 13:02
Overall place: 3299/3961
Gender place: 1306/1692
Age group place: 238/276