My weekend kicked off a little bit early – my date and I headed to Minturn on Thursday night, stopping at Outer Range Brewing for fried chicken sandwiches on the way up, and then worked from there on Friday. I had a really light day of meetings, and it was nice to get a change of scenery while digging into some deep work!
My original plan on Friday morning was to do an early morning run of Meadow Mountain before work, but I ended up lounging around and really not getting in a workout at all, outside of a quick 10 minute Peloton core class. Part of the reason for that was my date and I talked about going for a run to / from Vail Brewing Company for happy hour (6.5 miles roundtrip)… but we ended up skipping that, and instead going to a happy hour at The Rose in Edwards. I texted my friends Heather and Kirk while I was there, and although they were literally just driving back into town after a few days down in the Front Range, they met us there for some outdoor drinks on the patio.
I started with an old fashioned from the $6 happy hour menu, but we soon turned our attention to the Rose's famous creative cocktails. And I absolutely fell in love with their new summer cocktail, the Depeche Mode: cognac, peach liqueur, yellow chartreuse, and a candy peach O garnish. I really want to learn how to recreate this! And I may need to go back to the Rose again soon… for research 😉
After a few cocktails, we ended up needing to get some food to go alongside  – and as usual, the Rose's avocado fries did not disappoint. They are always excellent! But for more food, we decided not to stick around The Rose (delicious as it is), and instead, walked down to the market to pick up cheese and crackers, and then headed up the road to Heather and Kirk's for a bit. Although they had originally invited us for dinner, we ended up staying for just a glass of wine and the cheese and crackers, and then went back to Minturn, where I initiated my date into the delicious and dangerous world of Backcountry Wings. The wings and fries we got were delicious, but I definitely didn't need all that fried food, nor did I need the additional beer I got there. It was a big day of eating and drinking, and not much exercise, and I slept very poorly as a result… oops! Not every day is a healthy one 🙂
The next morning, though, had a lot more activity. Although the morning started out a bit slow, we hit the trails by 8:30am to hike up to Vail. Sadie was unfortunately pretty obnoxious the whole hike, continually refusing to stay on the trail and trying to wander off into the brush. I have her on a leash when we hike, not off-leash, so this resulted in a lot of pulling for me and a lot of frustration.
Finally, we made it to the top – but before we could really relax and enjoy the views from Eagle's Nest, we realized that storm clouds were rolling in earlier than expected.
After a few minutes of sitting there, we realized we shouldn't stay. We considered heading down the mountain on the Eagle Bahn gondola, but I checked with a staffer before doing so, and was told that dogs were allowed to go down but not come back up. With the storms looking like they were moving around / past us, we decided to risk it and try to just hike down quickly. That meant no stopping at the overlook for pictures, though I was able to get some pictures on the trail on the way down.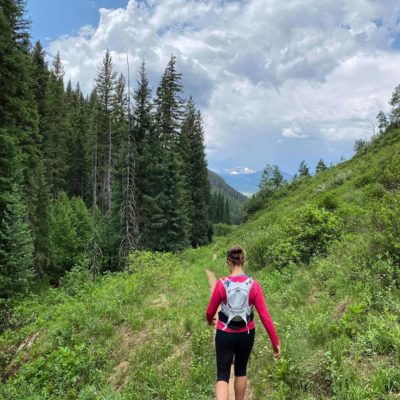 About a third of the way down, I saw a Fi collar hanging on a tree, and remarked on how it was just like Sadie's. And then I realized… it was Sadie's! My crazy girl must have somehow ripped it off while she was crashing through the brush, even though it's a pretty solid buckle. I couldn't believe she had lost it, and was again really annoyed that she had been so wild going off trail to do so. But, I was really happy I had found it to get it back! My lack of observational powers continued, though, as it was only the next day that I realized that her dog tag was missing from it. Fortunately, a good Samaritan found it two days later and texted me ("I found your dog tag but I really hope you have your dog?!"), and I was able to get it back. Clearly, it's going to need a more secure attachment going forward
The rest of the hike down was fairly uneventful – no more missing items, but more importantly, no thunderstorms. I was glad we had made it down safely and made the right call! We headed home to shower, and then drove over to Vail Village for lunch and to walk around.
I was really craving a good sandwich after my hike, but I also didn't want to pay $28 for a sandwich at one of the fancier sit down restaurants. (If I were getting a real meal, sure, but I wasn't going to pay that for a sandwich.) While at first I thought a sub-$20 sandwich in Vail Village was going to be impossible, Yelp finally pointed me to Joe's Famous Deli and Homemade Ice Cream. Sold, with that latter part! It turned out to be a little hole in the wall in a basement location right in the midst of Vail Village, and the sandwiches were fantastic. For only $13, I will definitely be back here for lunch during ski season!
However, although the ice cream part had roped me in, I ended up being not super excited about their flavors. Instead, we strolled through the village and stopped at Sundae, where I got a waffle cone with both caramelized banana ice cream and watermelon sorbet. Hershey's watermelon sorbet was my favorite ice cream as a kid (especially since I could only find it at Mr. Inciti's ice cream in Endwell, NY, when my mom took me to visit her parents and siblings), but I didn't think Sundae's watermelon sorbet was anything to write home about. However, the caramelized banana ice cream was phenomenal, and I was so glad I had taken a chance on that! I would definitely go get this flavor again. I ate my ice cream on a bench outside the Colorado Snowsports Museum, where we were a little bit protected from the rain that was starting to fall. But don't worry, I ate it quickly 😉
And then… onto the museum! I always love learning about the history of Vail and the 10th Mountain Division; this little museum never gets boring, and I always learn something new. Admission is pay-what-you-will, and if you are ever in the Vail area, I can't recommend enough stopping in to visit! I'm really excited to take my parents here when they come visit in a few weeks.
We stopped at the grocery store on the way home to pick up popcorn for the drive-in movie we were going to that night, and then went home to nap for a little while. I'm not normally much of a napper, but I ended up falling asleep for over an hour – I guess I needed it! I was still pretty groggy when I woke up, but didn't want to sleep any longer or I knew I would never fall asleep later that night.
We picked up pizza at Magusto's for dinner, which we had originally planned to take with us to the movie, but ended up just eating at home instead, since we had extra time. I think that was for the best – pizza at a drive-in movie might have been fun, but we brought the dogs with us to chill and sleep in the backseat, and in spite of the awesome dog taco I got that keeps them in their place, they would definitely have been hanging on all over us. But what we did bring to the movie was homemade air popped popcorn, like my mom and I used to make for movie nights when I was a kid! I used white cheddar powder as the topping, and experimented with olive oil to make it stick rather than butter, and I loved it – the olive oil added a great depth of flavor that really took it over the top. Big kudos to my date for suggesting that!
When we headed to the movie, we were later than planned, but it was also light pretty late, and so the movie started a bit later than expected – we had to wait for it to get dark. I wish we had known that in advance so we could have gotten there a bit later! But we lucked out with a front row parking spot, which I was delighted about. And believe it or not, I'd never seen Back to the Future before; I really enjoyed it! (Even though I predicted one of the key plot twists, just as I did with Sixth Sense many years ago… apparently I have a knack for this and ought to be a Hollywood writer, haha. The movie didn't end till 11pm, and by then I was so ready for bed (but so glad we had gone to see this).
On Sunday morning, I woke up much earlier than I expected, but after lounging in bed reading for a while, I finally got my date up so we could go hiking. We were soon on our way over to Meadow Mountain, where I took us up the Grouse Lake trail. It was only five miles up to the lake, but I didn't remember that since I had last done this trail a year ago; meanwhile, Alltrails and other sources said it was only four miles up.
It felt really long, and I'm not sure if this was because I was in a grumpy mood, or if I just haven't done enough hiking this summer and even short trails feel long. I think, more generally, I'm not used to hiking with someone else; I can relax and zone out much more when I'm hiking solo.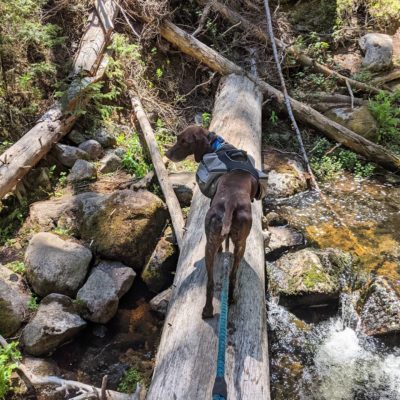 But at the lake, my mood improved. We ran into two other hikers up there and chatted with them for a bit; I was really proud to be able to tell them about a few trail offshoots and other places they could check out. I am still trying to wrap my head around the idea that I am outdoorsy and knowledgeable about hiking, so it always feels good when I can help other people!
When we made it home, we showered and then hit the road immediately to try to hit traffic… but totally got stuck in it. I had skipped breakfast, thinking I'd really indulge post hike, but it was now going on 2pm and I still hadn't eaten a thing. And now that I had waited that long, I wanted to wait for something good! We tried to stop at Cabin Creek Brewing in Georgetown, but were turned away by a thirty minute wait and the declaration that their kitchen was closed for the night because they were short-staffed. My date and I ended up coming all the way back to Superior, dropping Sadie off at home, and then heading over to Louisville for dinner. Our intention was to go to Lulu's BBQ, but they, too, were short-staffed, and had a long wait to get in even though they had many open tables. This seems to be the case at every restaurant lately; I will be so glad when the extra unemployment benefits go away and people are incentivized to go back to work!
But on the bright side, we ended up at Empire Lounge – one of my favorite restaurants, and we made it just in time for happy hour. I immediately got an order of the fried brussel sprouts plus the mini mac & cheese. While the mac and cheese used to be my favorite dish (and one of the best mac and cheeses I've ever had), I was glad to have only gotten the mini mac, as this wasn't quite as good as it used to be. The sauce was good, but thin, and they seem to have changed the noodles from cavatappi to elbow macaroni, which made it seem a lot less decadent. As for entrees, my date and I split the grilled trout and the spicy Thai shrimp spaghetti. While I had initially wanted the spicy Thai shrimp spaghetti more (and would have gotten only it until we agreed to share), I ended up preferring the trout; the spaghetti was a little bit too spicy for my taste. Although I would have preferred something a little healthier for dinner, especially after a full weekend of eating out with no cooking, I was just happy to get some food in me!
I headed home pretty much ready for bed by 7pm… but then ended up knocking out some work online as well as some chores around the house, and not going to bed until 9:30pm. The sleep would have been nice, but it did feel good to end the weekend with a burst of productivity like that! Hopefully it would be a good week of work ahead.