This post was sponsored by Teneral Cellars as part of an Influencer Activation for Influence Central and all opinions expressed in my post are my own.
You may remember that a few months ago, I did a review of Teneral Cellars RBG wine collection. Since that post, I ended up ordering a case of the Dissent zinfandel – both to drink myself on special occasions, and to give as gifts. I have been following Teneral Cellars closely since discovering them, and I was thrilled when their new Pride Collection came out to be invited to try this seasonal release as well!
As a refresher – Teneral Cellars is a woman-owned winery, founded on the belief that the diversity of the wine industry needs to reflect its customers. As founder Jill Osur says, "Let's create the wine industry we want to see as women." Teneral has made every effort to have their suppliers, from their label printers to their influencer agencies, be women-owned as well. I love this so much!
Unlike traditional wine companies who will not comment on issues and instead cite outdated company policies of "no comment," Teneral Cellars is willing to have a voice and stand for equality, equity, and humanity. The winery is built on a foundation of social beliefs that are reinforced by the organization's support of women's empowerment causes with a donation of 10% of profits on all orders.
Additionally, Teneral has special release wines each quarter that focus on different themes, and each theme is associated with a nonprofit / charitable cause. For their current "Love is Love" pride collection, not just 10% but $10 from every 3-pack sold will be donated to the Stonewall Inn Gives Back Initiative. And next quarter, they are going to be focusing on mental health initiatives and supporting our first responders. I love that Teneral Cellars wine is delicious and it introduces me to charitable causes in line with my beliefs, that I can support through my purchase!
While I mentioned loving the RBG collection's Dissent Zinfandel so much that I bought a case myself, I was curious to see how this new Pride collection would stack up. After all, if a wine isn't delicious, I'm not going to drink it, no matter what cause it supports. Fortunately, Teneral Cellars is a quality wine producer that uses sustainable winegrowing and production methods – and they do a fantastic job making their wine into rich flavorful blends that are mouthwatering. This limited edition Love is Love release was no exception!
The first wine I tried from the Love is Love release was the Uprising Chenin Blanc. This had flavors of lemon, apple, cantaloupe, and Asian pear – and while I'm usually not a huge chenin blanc fan, this one was so complex and versatile that I really loved it. Teneral founder Jill Osur said Chenin Blanc is one of her favorite flavors because it's so food-friendly: pair it with brie, goat cheese, blue cheese, or a summer salad. I loved the grape-y honey nose to the Uprising Chenin Blanc; it was refreshing without being too light.
Next, I tried the Loud and Proud Merlot. The nose had blueberry, blackberry, raspberry… and a little bit of bourbon? I asked Jill if it was aged in bourbon barrels, but it was actually aged in 75% new French oak and 25% neutral oak. Jill said that a hint of licorice and black cherry may be what contributed to my scent memory of a whiskey barrel. On that topic, I was reminded that 94% of our taste comes from smell – this is why you swirl a wine glass before you smell and taste the wine, to help volatize the esters. Jill pointed out that people have very strong scent memories, so smelling the wine can evoke strong emotions and help you enjoy the wine more.
Finally, we tasted the Overflowing with Pride Barbera. Once again, Barbera is not usually my favorite varietal… but this one was excellent, and I would buy it again. It was a rich blend of blackberries, licorice, vanilla, baking spice, and even leather, giving it an earthiness that helped balance the dark fruit. The Overflowing with Pride Barbera was aged 18 months in 25% new French oak, 25% new American oak, and a 50% neutral barrel – so it was definitely oaked, but not overly so.
If I had to pick a favorite from the Love is Love collection, it would probably be the Merlot. I always love a jammy red wine, and the Loud and Proud Merlot paired perfectly with the homemade veggie pizza I made to fortify myself for the tasting. I used this dough recipe from the New York Times, sprinkled my pizza peel with cornmeal, rolled out the dough directly onto the pizza peel to painstakingly assemble with rainbow veggies (in honor of Pride month), then baked it on a preheated pizza stone at 500F for about 15 minutes. It was absolutely delicious – the best pizza I have ever made. And it paired so perfectly with the Loud and Proud Merlot!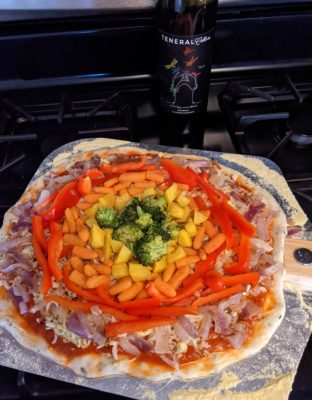 In the weeks since the Pride Collection tasting, I've worked with Teneral to organize two virtual tastings for my colleagues at work – one with the Pride Collection wines, and another with the 2017 Chardonnay and Untamed Red Blend. Both were absolutely phenomenal – I could not stop drinking either bottle (even though I really didn't need that much wine on a Wednesday!). The Chardonnay was noted to pair wonderfully with camembert and brie, so I ended up making a special dinner to go along with it, which was absolute perfection.
The Chardonnay and Untamed Red are two of the three in Teneral's "core wine" collection that they carry year round – so if you miss the Pride Collection, you can still scoop these up. To be honest, I wasn't expecting the core wines to be as good as the special releases, but they were actually fantastic – maybe even better?! "Core" definitely does not mean boring, and it's nice to know that these two favorites will always be around, even as I continue to get each new special collection as it comes out – both to try out the new blends, and also to support the new charitable causes.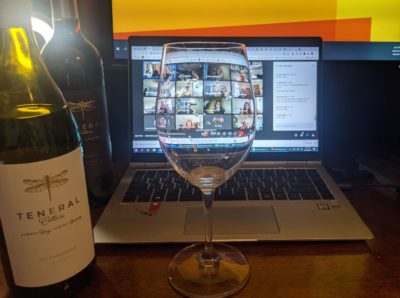 So speaking of discounts… I'm thrilled to offer you 15% off any wine purchase from Teneral Cellars, with promo code 50by25. Or, if you sign up for The Swarm wine club, you get 20-25% off all your purchases, and either three or six bottles of their special quarterly releases automatically delivered for one year. Joining The Swarm also gives you access to special events and experiences, like cooking classes with top chefs, virtual wine tastings with master sommeliers, and even "Chill with Jill" discussions between Teneral founder Jill Osur and other starring women in business. Having been fortunate enough to start getting to know Jill over the last few months with these influencer tastings as well as organizing the events for my company, I can say that the latter events alone are worth it!
Stay tuned for more to come on Teneral Cellars – this is a company I am incredibly excited to support, and am so proud to introduce to more people in my network 🙂
Teneral Cellars provided me with six bottles of wine in exchange for this review, but all opinions expressed are my own and I was not pressured for a positive review.