My weekend kicked off in a pretty typical way – after my last meeting of the day, I knocked out a bunch more work and cleaned out my inbox a bit to try to destress, then made pizza with Mom… and also snuck in a quick Peloton chest and back class while it baked. In the evening, we watched two episodes of Smash before I was exhausted and called it a night. We are working our way through this series!
The next morning, I woke up and tried to head out for my long run almost immediately. I've finally learned that if I don't run right away, I often procrastinate so much that it doesn't happen! I made it out by 7:15am, and ended up doing a 14.4 mile run through the neighborhood! We ran by every single house in south Rock Creek, which was kind of cool.
Around mile 7, I bumped into my friends Chris and Rachel about to take their dog for a walk. Dude is no ordinary dog; he's an Irish Wolfhound, and is as big as a horse! Sadie was a little scared of him, but this was the second time they've met outside, so she's starting to get used to him.
But almost as soon as we turned the corner, I tripped on something invisible and fell… which hurt a lot. I thought there was no damage other than ripping my cheap gloves, but when I got home, I realized my knee was bleeding and there was a hole in my new green ombre tights! I was so bummed, but I was also thankful for the tights – it would have been so much worse with something thinner.
When I got home, I made blackberry-almond wheat scones for breakfast.
They came out delicious, and I did a 15 minute glutes & legs class while they were baking. It's nice to be able to fit in a quick Peloton class while I'm baking things!
Since my breakfast was so late thanks to my long run, I had a grilled chicken salad for something lighter for lunch. I forgot how much I love salads – I have not been eating a lot of them lately, and perhaps that's why I've been gaining weight? Or, you know, all the baking Mom and I have been doing, and my complete lack of willpower when there are yummy things around… 🤦‍♀️
I puttered around a lot in the afternoon, but finally got it together for a trip to the store – I needed a few groceries, and had also been asked to pick up ice for my friend Chris' surprise birthday party. Originally I thought I would just join the Zoom option, but the organizer had made it sound like a COVID-safe get together, so I thought I'd give it a shot to go in person. Unfortunately, I was really dismayed to discover that while the party wasn't even yet in full swing and more people kept arriving, there were already more than a dozen people hanging out in the kitchen with no masks on, and gathering around finger food like chips and dip and a buffet taco station. Yikes!
I stayed for about 10 minutes to be polite, but stayed in the other room "helping with setup", then excused myself and went home. I knew I had made the right call, and definitely didn't regret it. But it also brought up some old feelings from the last year of wondering if I was crazy / paranoid, since everyone else seemed fine with the setup. I will be so thankful when COVID is behind us; I hate feeling like I'm judging others for not being what I consider COVID-safe, and I also hate worrying that they think I'm being paranoid.
Fortunately, the Zoom birthday singalong was an option – so I headed home for that, and threw a sweet potato black bean quinoa casserole in the oven to make up for the yummy-looking Mexican food I had missed out on. And then I had a totally COVID-safe activity lined up for the night: a Zoom game night with my friends Heather, Elizabeth, and Cindy! We tried something new and played Cards Against Humanity, and while I didn't love the cards in the online version, it was still fun. After the game, Mom and I vegged out on the couch with the Mexican casserole and an episode of Smash before bed.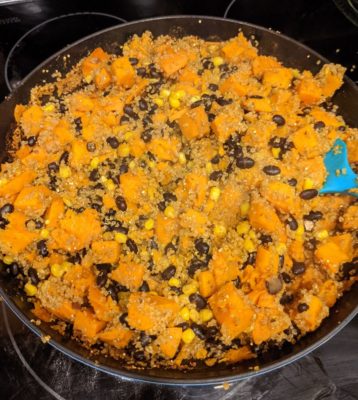 The next morning, I woke up earlier than expected, which gave me plenty of time to hit the gym before I needed to hit the road for another cross-country skiing adventure up in Leadville. I did a 15 minute core class with Matty, a 20 min low impact ride with Leanne, and a 5 min arms toning class with Hannah F, then a 30 min power yoga class with Anna as my main "workout" (at least as much as yoga is a workout). The low impact ride was honestly tough – I ended up below Leanne's callouts almost the whole time, which made me realize how tired my legs were from the day before. I didn't love the yoga class, either, which somehow didn't stretch me out in the right places. Bummer!
But while I was working out, I got the idea to bring Sadie cross-country skiing with me for the day – and I ended up being so glad I did! She was kind of annoying in the car, and wouldn't stop crying most of the way, but then she was so happy when we got to Leadville and I took her skiing. I wasn't expecting her to be overly energetic, given that she had just run more than 14 miles the day before, but she took off so excitedly as soon as I strapped my skis on – it was really adorable how thrilled she was to just run!
It took a few falls (hooray for soft snow), but within about 20 minutes, Sadie figured out how to run close to the cross-country ski tracks without pulling me over. I ended up taking her off leash after a few miles, and she was really good – it was adorable to see her go off trail and just plunge into the soft snow! It also helped me feel safe that she wouldn't go too far, as I'm always nervous about that when she's off-leash.
At mile 6, there was a sign that said dogs needed to be on leash, so I dutifully put Sadie back on. But every other dog we saw was off leash, and it was much more problematic to have her on leash when other dogs were running up to her – she's a bit skittish, and typically tried to run away / hide when other dogs were coming. Fortunately, we were almost done, which was especially good since I was starting to get cold. My heated gloves weren't working (guess who forgot to charge them?), and they were wet to boot, from when Sadie had tipped me over into the snow. 🤦‍♀️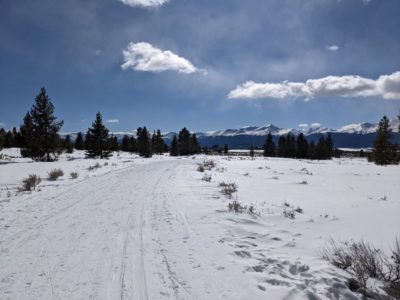 When we got back to the car, I felt kind of sick to my stomach and lightheaded as my fingers warmed up, which was pretty scary. But that soon passed, and I was thrilled to once again head to Silver Llama in Leadville for lunch. This place is amazing! I got savory French toast and it was every bit as good as the sandwich I had gotten the last time.
Rather than have to drive all the way back to the Front Range in the same day, I headed to my mountain house for the night. It's about forty minutes away from Leadville, and a really pretty drive. I figured it would be a lot nicer to settle in there then make the drive home early the next morning… and I was right! After a nice hot shower, my date and I settled in with a pizza from Magusto's down the street.
Although I missed my mom, I was glad that Sadie was with me in the mountains. I have been avoiding taking her up here all winter, since I didn't want to bring her up only to leave her at the house while I go skiing. I want Sadie to enjoy going up to the mountains, and I know that bringing her up to trail run this summer will make her fall in love with it, so I was trying to wait till then. But taking her cross-country skiing ended up being a perfect way to introduce her to it now, and teach her that long drives aren't a bad thing 🙂