Friday was a busy day at work, culminating in a call with one of the partners who's been trying to convince me to move over to a new leadership role within the firm. It's a super intriguing role, but it's also scary to move from the practice I've literally worked in for the last ten years! However, my friend Mike recently left the firm and then came back and joined that practice, so I've had a bit of a view of what it's like "on the inside" – and it seems like an awesome fit and a good career move. Lots to think about, but I am pretty close to pulling the trigger…
Speaking of Mike! He is an avid Peloton rider, and three of us have started doing "healthy happy hours" on Friday to close out the work week, where we all join the same Peloton ride at the same time. I was really exhausted by afternoon (I really prefer morning workouts), but didn't want to let Mike and Lauren down – and I ended up having a lot of fun in the process! Afterward, I did a 20 minute chest and back strength class followed by 30 minute yoga, knocking out all my fitness goals for the day. For February, I'm sticking with my goal of doing at least 10 minutes a day of core, cardio, and strength, but I'm shifting my yoga goal over to be 80 minutes a week – or just over 10 minutes a day. I really prefer the longer classes over the 10 minute classes, but when I have to do it every day, I end up just doing the 10 minute classes to get it over with. I'm hoping that setting a weekly goal will encourage me to do longer classes a few times a week rather than shorter classes every day. After all, what gets measured is what you manage to!
In the evening, Mom and I had a bit of a theme movie night – we watched Crazy Rich Asians and ate Trader Joe's Mandarin Orange Chicken. I have become a bit of a Trader Joe's fanatic in the last few months, reading the Trader Joe's Reddit and listening to the Trader Joe's podcast. The Mandarin Orange Chicken has often been cited as a customer favorite, regularly winning awards as the best product, but we… weren't fans? We cooked it in the air fryer, and the breading was crunchy, but I was disappointed to find there wasn't actually much chicken in any of the pieces. I thought perhaps we had gotten a particularly meager bag, but after reading more on the Reddit, I learned that this is actually just how the product is – lots of breading, not much meat. Although the sauce was good, I wouldn't buy this one again.
The next morning, my day started out awesome. I woke up early enough to take Sadie for a run before a Peloton Saturday 60 bootcamp (my friend Heather's 100th bootcamp!), and we managed to do 4.1 miles before we had to get home. I was two minutes late to bootcamp, but I was fine with that since I was all warmed up! The bootcamp had amazing music but didn't actually seem too crazy hard – I really loved the final EMOM section of the floor. And afterward, I stayed on the treadmill for a couple minutes to make it an even 8 miles of running for the morning. I was so proud of myself!
After a core class and another 30 minute yoga class to round out my workout, I had a call to discuss some town government matters, and then I showered and got ready to meet up with Heather for a walk around the neighborhood. It was lovely to catch up with Heather – she's one of those friends where it's always kind of like therapy for both of us when we see each other 🙂
In the afternoon, I didn't get quite as much done as I wanted – oops! But in the late afternoon, my neighborhood BFF knocked on my front door (hooray for me adding a storm door last year, so she knows when I'm home rather than just being faced with the big heavy wooden door. She and her husband were out for a walk, and Sadie and I joined them for a short walk around the block before they continued onward. It was Sadie's lucky day getting in both a run and a walk 🙂
For dinner, I tried another Trader Joe's product: the limone alfredo sauce. I put it on top of spaghetti squash, to lighten it up a bit, and I was a bit undecided on the flavor. I did love the lemon-y-ness of it, but it also felt like it was just missing a little something to make it pop. I ended up grinding a few turns of my TJ's lemon pepper shaker, and that did the trick – it just needed a bit of a kick for the lemon flavor to shine! Yum.
On Sunday, I woke up eager to go on a long hike. I was thinking I'd start at South Mesa trailhead and take Sadie up to Bear Peak, then come down Shadow Canyon for a loop comparable to last weekend. I knew that I needed to get out right away, or I'd risk my usual procrastinating nonsense when I delay my workout. But the forecast unfortunately had a 50-60% chance of rain for the next three hours, and I didn't want to be out with Sadie in that. So I hit the Peloton for a 30 minute intervals and arms ride, hoping that would keep me motivated, and then settled in with coffee and breakfast at my computer until the precipitation was past.
And then… oh man did I lose all steam 🙁 I really didn't want to go hiking anymore, and instead, I was just super hungry – and ended up binge eating a box of crackers. (What a bizarre binge!) Even after that, I was still feeling pretty lazy, but finally, my mom took pity on me and said I shouldn't go hiking and she'd go for a walk with me instead. Well, that was motivation – she hadn't been able to walk in so long!
We got bundled up, and ended up going for what I'd guess was about a two mile walk around the neighborhood with Sadie, culminating in a stop at my friend Chris and Rachel's house so Sadie could meet their dog Dude. Now, Dude is no ordinary dog – he's a massive Irish Wolfhound that is about the size of a horse – and Sadie was pretty scared of him! He's super friendly and not aggressive, but I think there will need to be a few meet & greets before Sadie really wants to be friends with him 😉
The afternoon went by fast, as I mostly spent it studying for my ski instructor certification that I'll be taking this week. In between studying, I put together white chicken chili in the crockpot, did some chores / errands, and before I knew it, it was Superbowl time!
Most of you know I'm not exactly a big football fan, but I have really been missing being able to throw themes parties like I once used to, and now that my mom is living with me, the Superbowl seemed like as good an excuse as any to plan a themed meal! We settled in on the couch with big bowls of the chili, plus tortilla chips and dill dip that we made with a mix my sister-in-law sent me for Christmas.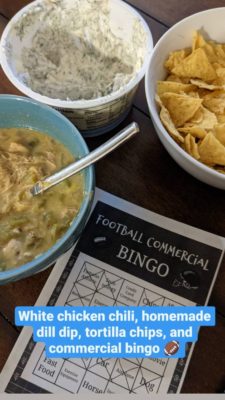 I did not, though, have any beer or other alcoholic drinks while watching – a big change from how I've watched the big game in years past! But I made up for that calorie savings by accidentally diving into a bunch of chocolate after the game… oops! I went to bed feeling kind of gross as a result, but all in all, still deemed the weekend a success.