Once again, I started my Friday with a hike – this time up Rattlesnake Gulch to the Continental Divide Overlook, a shorter hike so I could be home in time for my 8am call. Although there were a few icy sections, Sadie and I managed to finish the entire roundtrip in just 75 minutes. I am looking forward to setting some hiking PRs when the snow melts and we can go fast!
After a full day of work, I headed to Safeway to pick up a frozen pizza (their Safeway Select brand is my favorite frozen pizza), and my mom and I settled in with that to watch Rose Island on Netflix. It was a really interesting movie, especially since it's based on a true story – definitely recommend it!
The next morning, I woke up planning to go for a long run like I had done the week before. It was freezing cold though, so I decided I'd have breakfast, run some errands, and then take Sadie out around 10am, when it would be warmer.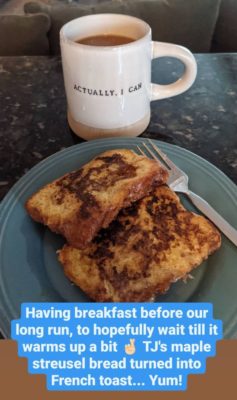 Unfortunately, that initial procrastination was contagious, and I ended up lazing around until noon. Oops! I finally told myself I should just get out for a quick three mile run before lunch, and then do my long run on Sunday instead. But when I actually got outside, I realized it was much nicer out than it looked – and Sadie and I ended up running twelve miles through the neighborhood! That was her longest run yet, and I was so proud of her.
I got home just in time for a work call I had scheduled at 2pm, which was really productive, and I felt fantastic after finishing both that and the long run. I snagged some leftover pizza to eat while I was on my call, and then met up with my friend Amanda to round out my neighborhood exercise time with a little walk around the neighborhood. This was definitely a lot of steps in my day, but I was glad for all of them 🙂
We had a lot of ground turkey in the fridge, so in the evening, I turned that into a bolognese sauce, and put it atop some spaghetti squash. Yum!
We took our bowls and cozied up on the couch to watch Sweet Magnolias on Netflix. Has anyone else been watching this series? It's been getting better and better as the season progressed, and the season finale ended on a really big cliffhanger… now Mom and I are really eager for the next season, but it sounds like it won't be out for a year or so. Hopefully I don't forget it by then!
On Sunday morning, Sadie woke me up at 5:45am, which was earlier than I would have liked given that I wanted a solid night's sleep to recover. However, this meant I had time to get in some Peloton classes before the live Wicked yoga class with Kristin at 7am. At first, I thought I'd do each of the Wicked bike and strength classes, but I didn't get started until after 6am. So instead, I ended up doing a 10 min (non-Wicked) core, the 30 min Wicked cycling class with Leanne, and then another 10 min (non-Wicked) core. After taking the 30 minute Wicked yoga flow live with Kristin, I forced myself to jump on the treadmill right after for Jess King's 20 minute Wicked run. Although I normally hate Jess King and avoid her classes, I thought this class was pretty good, and she even had a good little joke in the middle that cracked me up 🙂 I was ready to be done with my workout after that, but forced myself into Matty's 30 min Wicked strength – and was glad I did! His energy /creativity was so awesome that it really kept me going. I put a ton of energy into the burpees, in particular, and felt so strong when I finished. This was by far the best class of the series – don't miss this one!
I treated myself to a big waffle breakfast after all that working out, and then showered and took care of some chores. And then for lunch, I made a creamy broccoli cheddar soup that came out really yummy. I feel like I have really fallen off the bandwagon with cooking and trying new recipes – maybe I'll take that up again as one of my goals for the month of February?
After warming up with that soup, it was time to hustle out the door for a walk with my friend Chris. Sadie had been whining like crazy all morning to go for a run, but I was trying to let her rest after our long run the day before, so going for a walk around the neighborhood was a good compromise. Walking outside (while masked) is the only way I see friends these days, and it was great to catch up with Chris.
When I got back, Mom and I decided to capitalize on her craving for cookies and bake a batch. We settled on these almond butter snickerdoodles, which came out absolutely delicious! I didn't have regular almond butter, but was instead substituting with pumpkin spice almond butter, and I actually think the pumpkin spice gave it a nice complexity of flavor that mixed surprisingly well with the lemon zest. Give them a try!
We closed out the evening with another night of TV – the first episode of All Creatures Great and Small, which my dad had highly recommended. Unfortunately, while my parents both loved this, I wasn't a huge fan – I found it kind of depressing, particularly with how mean the older doctor was to the younger one! So we swapped for Schitt's Creek after that, which ended the night on a much more cheerful note 🙂