This weekend was absolutely perfect… to the point that I kept asking, is this real life?
On Friday, as soon as I wrapped up my calls, I headed over to J's house for dinner. He prepared an amazing carne asada for dinner, which we enjoyed on his patio with a  bottle of red wine. The air was slightly crisp, but it was just warm enough where we were comfortable eating outside and not cold. And the twinkling lights overhead just made it feel magical!
The next morning, we had a bit of a lazy morning around the house, followed by a late brunch of French toast and berries, which was absolutely delicious. And then we got on the road to head out to the mountains for the rest of the weekend.
On the way, we stopped in Frisco for a late lunch – and went to Outer Range Brewery. This was a lovely surprise! We were able to get a great outdoor patio table overlooking the mountains, and they had the inside set up kind of like a food hall. There was one bar area, one area for coffee, and one for Bird-Craft "Thai-ish fried chicken". We got an order of fried chicken to share (which was crispy and amazing), plus an order of the "ahi poke tots". These were not actual tater tots, but white rice that had been formed into tot shape and fried, and they were topped with fresh ahi tuna, smashed avocado, black lime mayo, scallions and sesame seeds.
Originally I had thought we might get in with time to do an afternoon hike, but our Outer Range stop (which I do not even a little bit regret) slowed us down, so we ended up just hitting the grocery and settling in at the house. My roommate Michell had give us a heads up that she was going to have people over that night, so we picked up ingredients for Buffalo blue cheese dip and s'mores pie. However, it turned out that Michell meant she was going to have people over when she finished work, which wasn't until after midnight… and we were long since in bed after that! So J and I enjoyed the buffalo dip and tortilla chips as our dinner, and saved baking the s'mores pie for the next night.
We watched The Great British Bake Off as our evening entertainment, which I had never seen before and absolutely loved. We watched the first episode of the latest season, where they made battenberg cake, but we were both surprised to discover there were no episodes after that on Netflix. I'll admit, I don't watch a lot of Netflix, but my understanding was that Netflix usually drops an entire series at a time rather than week by week? (Update: I've since learned they are dropping episodes of this show one week at a time.) I'm eager for more episodes now though… I really liked one of the contestants, Peter, and I'm hoping he does well! I really liked how genuine this show seemed to be. So many reality shows seem like they're produced to be all about the drama, and they're prompting the competitors to be nasty to one another, but this felt really earnest and wholesome.
The next morning, the plan was to go for a hike, but we ended up wandering around town for a while in the morning, getting a cup of coffee here and a taco there. The town of Minturn isn't very big, but it's really quaint and fun to walk around, and it was fun to show it to J!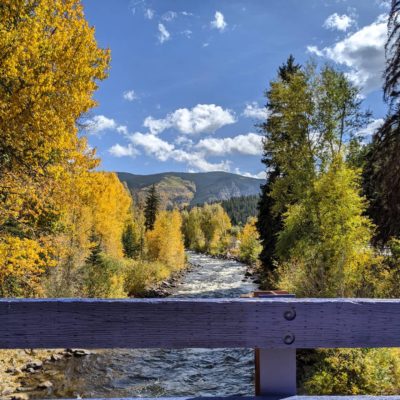 After getting a few Rocky Mountain Tacos for lunch, we finally got our hiking clothes on to hit the trails. I planned to take J up to Lionshead Rock, but when we started hiking and came to the split of Cougar Ridge and Game Creek, we saw that Cougar Ridge was closed for trail work. Boo! So we headed up Game Creek instead, though we knew we wouldn't have time to make it all the way to Vail at the top. It was still absolutely beautiful – the fall foliage was at its peak!
After the hike, we headed back to my house to clean up, and then went to Vail Village for a special treat. I had made us a patio reservation at Leonora at The Sebastian, and was really eager to introduce J to Chef Tyson's fried chicken. Yup, two fried chicken dinners in one weekend! Let's just call it a taste taste 😉 And Chef Tyson happens to be my other roommate in Minturn! His food is absolutely out of this world, and in my opinion, the fried chicken and biscuits are one of the best things on the Leonora menu (which is no easy feat, given how outstanding all the food is).
While Vail Village is usually pretty expensive, Leonora's Sunday fried chicken special is actually really reasonable: $9 gets you three pieces of boneless fried chicken, plus a to-die-for poblano bacon biscuit. (The fried chicken is always on the menu at Leonora, but the Sunday special is a fantastic deal.)
We enjoyed our meal along with a really fancy and delicious old fashioned (bourbon, aperol, montenegro amaro, and lemon), then finished our dinner up with the incredible banana cream trifle for dessert.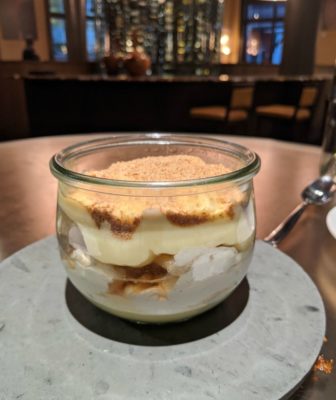 It was such a treat to get to introduce J to this experience, and I have no doubt we'll do it again on a future Sunday 🙂
But that wasn't the end of our night! We had a fairly early dinner at 6pm, and so were home by 8pm, at which point we joined Michell and Tyson in the living room for a fun night of drinks, dessert (yes, another dessert) and video games. We started out with Mario Kart, then switched over to Mario Party, and ended the night with my s'mores pie.
The next morning, J and I worked from my mountain house until lunch time, then drove home from there while taking a few calls from the road. I also managed to sneak out for a quick run right before we left, and was so glad I did.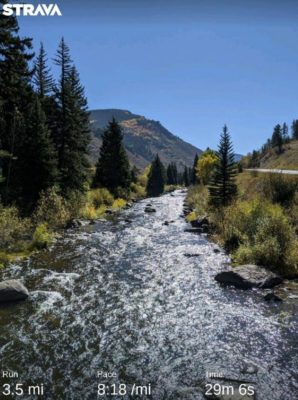 In all, the question I kept asking myself (and J) all weekend was, "is this real life?!" And the answer is, yes, it's Colorado life ❤️