My weekend kicked off with a fun (but safe) social event – my best friend Heather's birthday! We had been discussing for weeks what to do to celebrate, since Heather is equally cautious about COVID, and she ultimately decided she wanted to invite a small group of people to meet for beers on the patio at Four Noses, her favorite brewery. It was wonderful! We had to wait a while (literally 1.5 hours) for a table to open up, but we were able to hang out in the parking lot talking away from everyone else in the meantime, and it just made the beer taste that much better when we got it 🙂
The downside of waiting that long for a table? The food truck at the brewery literally ran out of food, and I was unable to get anything to eat. Instead, I ordered food from the bar down the street, then took 10 minutes to drive and get it. Fortunately, it was close by so I didn't miss too much! And when I got back, I also stuck a candle into the deliciously fudgy peanut butter brownies I had baked for Heather (she requested that rather than a cake) and we sang happy birthday.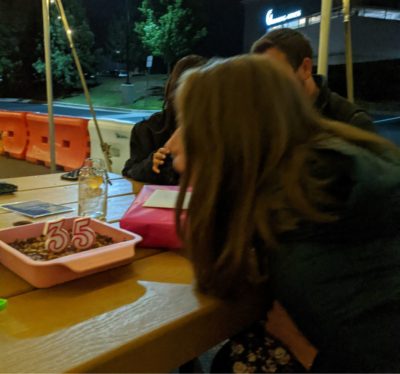 The next morning, I wanted to get out and run, but I had slept too late to do that first. Instead, I headed down to hit the Peloton for my first "Big 4 ride" – staff from each of the Big 4 accounting / consulting firms were competing against each other on the leaderboard! We did an 80s ride with Ben, who isn't an instructor I take often, but I got pretty into the music choices and went hard. It was really fun to have so many people in a recorded ride, and even more fun to see so many #TeamPwC hashtags on the leaderboard! I have really enjoyed limiting the leaderboard to a smaller subset, so it doesn't jump around so much, and then getting competitive with the people closest to me. It feels good to move up one or two places when I'm in a small group like this, and I pushed hard to make it happen! What I didn't realize until the next day was that I actually set a PR on this ride – so I guess I went even harder than I thought 🙂
After the ride, though, I still needed to get and run… but I procrastinated for a little while. After running 48 miles of trails over Labor Day weekend, I was thinking of signing up for an ultramarathon the following weekend – the Sangre de Cristo 50 mile. After discussing it with my friends Friday night, I decided it was worth a try; therefore, that meant my prep this weekend ought to be two medium distance runs of 10-15 miles each. But I was feeling tired after that ride, and plus, I was annoyed with myself for not going out first thing in the morning before the ride; I hate running in the heat of the day!
Of course, that was only made worse by my procrastination, so it was definitely both sunny and (relatively) crowded by the time I finally hit the trail around 11am. As a result, I was not feeling it at all, and my pace was slow as anything. Oddly enough, even before I left home, I noticed that my feet were kind of sore (from what, I don't know); once I hit the trails, that only got worse, and my legs were sluggish and tired too. I bargained with myself that maybe I would just do the short little 3.6 mile Flatirons Vista loop and call it a day, then run 20 miles on Sunday.
But as usual, once I had been out there for a little while, I started feeling better about it. I decided I'd tack on just the 1 mile downhill to Doudy Draw (even though it would become a 1 mile uphill on the way back), and then once I made it to the Draw, I decided I'd go up and around Spring Brook loop. When I got to the intersection with Goshawk Ridge, I turned around, and ended up tallying 10.4 miles by the time I got all the way back to my car. It wasn't a fast pace (and in fact was one of my slowest runs in months), but I was proud that I had stuck with it!
However, that then made me really question whether I had any business signing up for the 50 miler the next weekend. If I had been this sluggish on a super flat 10 mile trail run, how was I going to do on a 50 mile in the mountains with tons of elevation?! While I had anticipated coming home from the run pumped and ready to register, I instead sat on the decision a bit longer. Meanwhile, all I wanted to do was take a nap, so that became my afternoon plan…
…until I got a frustrated email from a client, and my nap time needed to turn into time trying to get partners on the phone to resolve the problem. Trying to organize a work call on a weekend is never fun – no one has their availability in their calendar (to be clear, rightfully so), and everyone is responding asynchronously because it's a Saturday, so it was a huge pain to try to figure out when would be a good time to meet. I finally looked at the time zones of the attendees, and tried to set it up for late afternoon – ideally before family dinnertime, but after whatever daytime activities people had been up to. I felt terrible making people join a call on a weekend 🙁
As far as my own Saturday night plans, my friends Chris and Mark were coming over for dinner on the deck with their kids, which I was pretty excited about. But at the last minute, we shifted from me making pizza to picking up the kids' favorite pizza from a local place. I felt super guilty that my friends were coming over to my house and bringing their own food, so I threw together dessert – this Atlantic Beach pie I had found in a recipe roundup and been wanting to try.
The saltine crust was really unique, but I didn't love it as much as I expected; however, the sweet lemon filling was delicious and I wanted to eat that all day long. So, maybe 4 of 5 stars? I'd make it again but it's not my new favorite recipe; I might just change the crust to a basic graham cracker crust next time. (Or maybe half graham cracker half saltines, so it's a little bit salty but still more traditional? May experiment.)
I had a lovely night with Chris and her family, and the bonus of having over a family with kids was we didn't go till all hours of the night because the kids needed to get to bed. I did, too – so even though I was having a blast, I was happy for the excuse to wrap things up early! I didn't get to bed quite as early as I wanted, but still got a pretty good night's sleep.
The next morning, though, I was still feeling sluggish as I went for my morning run as planned. I originally had ambitious plans to run all the way over to Rock Creek Parkway for a giant loop around town, but when I started running, I immediately scaled that back in my mind to doing the short 3 mile loop around just the south side of the neighborhood.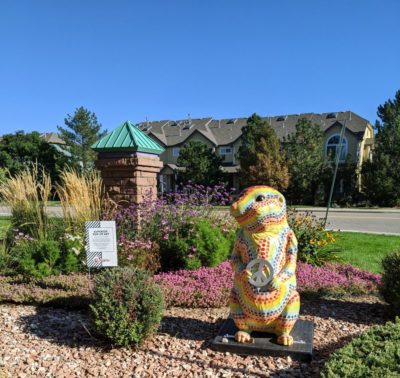 Unlike Saturday, I had started nice and early in the morning, and it was such a beautiful fall day! I was so happy to be out there that it felt easy to just keep adding a little more, and a little more. I kept tacking on one extra mile at a time, and I did end up doing a pretty looping path over to Rock Creek Parkway. On the way back, I thought I might head straight up the hill and home, but then I set a goal to go over 10 miles, and then to hit 13.1. And I actually ended up running a whole half marathon in just over 2 hours! This was how long it took me to go just 10.4 miles the day before; quite an improvement, even though I started out feeling equally tired.
During mile 10, I switched from listening to podcasts to listening to music, and when I looked at my splits after, I realized there was a definite correlation where my heart rate dropped when I switched to music, even though I was actually getting faster as I went. I've always known that I tend to zone out and ease up on the pace when I listen to podcasts, but this was really eye-opening to see the data!
After getting home, I was energized that I had achieved more than I planned. So I didn't call my workout done quite yet; instead, I headed down to the basement gym to knock out some power yoga, a glutes stretch, and some core work. And then, before I could change my mind, I pulled the trigger on signing up for the Sangre de Cristo 50 miler, just 6 days later. Taper time!
I have absolutely no idea if I am really up for this challenge. It's funny – in some ways, this is kind of like when I signed up for my first marathon. I hadn't really been training for a marathon; I was just trying to go longer and longer and see what my limits were, and then I realized I had done as much training as most people who train for marathons. Similarly, I didn't at all set out this summer to do an ultra, but I've really enjoyed testing my abilities on long hikes / trail runs in the mountains. To that end, I haven't researched ultra prep at all – and so Sunday afternoon found me googling all sorts of newbie questions like "what goes in a drop bag" and "what do you pack for an ultra".
I am trying to look at this race as just a slightly more supported form of the long trail runs I've already been doing. I don't plan to actually race it, by any means – I just want to see if I can complete 50 miles, which is 12 miles further than I've ever gone before (and 21 miles further than I've run in one day this summer). This race has what I'm told is an extremely generous time limit (20 hours), and my primary goal is to finish before time is up. Realistically, I'm hoping I can finish by 10pm (four hours before the 2am cutoff), but I am not sure how much slower I'll be on the
After finally dragging myself away from ultra research, I knocked out some work and took a few calls, then turned my attention to a more practical pursuit – replacing the light fixture on my deck. It took me forever due to a janky mounting bracket, but doesn't it look great?!
Finally, to fulfill my September goal to cook one new recipe today, I threw together a quick dinner of Thai green curry veggies, coconut rice (this instapot recipe for rice is perfection; use coconut oil for sure!), and air fried tofu. It was delicious!
So… 50 miles next weekend?! Eek. This is going to be an interesting week ahead…