This weekend was pretty quite, but it came with some big news… I brought home a new dog to foster!
Friday night, I tried a recipe from a new-to-me cooking blog, Whole and Heavenly Oven. I was reviving my cookblog club in virtual form on Sunday, and my friend Cathryn suggested this blog as our pick. While browsing for recipes to make Sunday, I found a few others I thought I'd try to make as well, and this turkey taco chili twice-baked sweet potato recipe was one of them, particularly as I had some sweet potatoes to use up. I thought the chili was pretty good, but the big win was learning that I could roast sweet potatoes in the slow cooker. Gamechanger!! I will start proactively doing this more often rather than dealing with the hassle of the oven.
TACO PIC – I will say the taco flavoring was good… made me realize I haven't cooked Mexican much lately!
The next morning, I slept a bit later than usual, and skipped my usual outdoor workout (a run or walk) in favor of heading straight to the bike for a spin class. At 9am, I was meeting a trainer from 2 Blondes All Breeds at the shelter to meet some of the dogs and potentially take one home, so I figured I'd do my walk later in the day with a pup if I picked one up! But sleeping late meant I had to hustle. I quickly threw together Budget Bytes' sweet potato casserole baked oatmeal (sans topping), then jumped on the bike for a light spin class before I had to be out the door.
For my spin class, I picked a 2000s Pop Ride with Jenn Sherman. I forgot how much I absolutely love Jenn Sherman! So straightforward but always a great challenge. I was struggling to keep up with her callouts a bit, but I really enjoyed this ride – the pushes were doable lengths and the class structure was very well done. The longest climb was supposedly two songs (though in my opinion we were climbing a bit the song before those), but it was followed by a great high-cadence low-resistance song. And there was a nice 4 minute weights segment before the final ten minutes of class, which helped break it up. Solid ride!
I headed down to Lakewood to meet Brian, the trainer, and soon he brought Sugar out to meet me. She was much quieter and calmer than Sesame (not a bad thing), but also just as sweet as her name. After offering her the back of my hand, she seemed to be reasonably comfortable with me, though not particularly warm or affectionate just yet. The three of us (plus one of Sugar's friends) went for a walk around the neighborhood, while Brian explained to me her personality and quirks. One thing he mentioned was that while she's good with other dogs, there are some people (mostly men) she flat-out doesn't like, so I need to be careful if people come up to me on walks or if I were to have people over to my house (not happening anytime soon). "Does she like me?" I asked, since she seemed fairly indifferent. "Oh no," he said, "you'll know if she doesn't like someone." Hmm, okay.
She was extremely well-behaved on the leash, not pulling at all, even when we saw other dogs and squirrels along the walk. And when it came time to get in my car, she quickly settled herself in, then sat politely looking out the window the whole ride home. We got back to my house, and after I let her explore on the leash for a while, I let her free… and Sugar settled in with her paws crossed.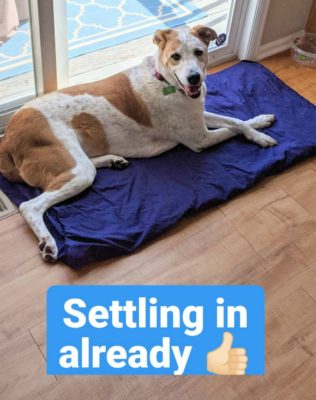 Next, we went for a walk around the neighborhood. While my first walks with Sesame were arduous and we couldn't go that far (she needed so much leash training), Sugar's leash manners were as beautiful as her house manners – the leash was almost entirely loose the entire time, even when we saw people or other dogs. Amazing! We did a 3.2 mile loop around the neighborhood, and she was such an angel that I knew we'd be able to try running together the next day. Exciting!
We got back in time for what's become my new Saturday night routine – a virtual game night with several of my best friends in the Denver area. This week, though, we mixed it up from our usual Scattergories and instead tried Codenames. It's one of my favorite board games offline, and I'm pleased to report that it works really well online as well!
I closed out my Saturday night with some cooking and reading, as usual – throwing together a Thai red curry soup, and pairing it with a fresh baked chunk of baguette. In the last few months, I've hit on buying the par-baked baguettes in the bakery section at the grocery, cutting them into individual portions, and freezing them; then, I can just pop it in the microwave for a minute and finish it in the toaster oven, and I can easily have a side of fresh baked baguette with any meal!
Sugar seemed perfectly content to go to sleep in her crate, and didn't make a peep when I put her to bed, or in the morning. What a change from Sesame, who took a week to learn to stop crying when I put her to bed, and woke me every morning at 6am to cry when she woke up! After a quick trip to the backyard for Sugar to use the bathroom, the two of us jumped into the car and headed for Flatirons Vista trailhead. This was where I had wanted to go on my COVID Vacances, but it was closed for mud; today, I was thrilled to see it was open!
Although it was open, we were the only car in the parking lot. It was 6:30am on a Sunday after all – but still, a nice treat to have the trails to ourselves! After going through the parking lot gate, I noticed that the city of Boulder had posted a sign asking people to go in one direction on the trails if they had the ability… but the direction was the opposite way I normally go. And so I did something very selfish and very stupid, that I'm now pretty ashamed of… I went the other way.
In my defense, I thought from the parking lot that I was the one there, and I figured I wouldn't see anyone else. In the last six weeks of going out every morning, I've only seen maybe four people total on the Coyote Ridge trail by my house. But I totally underestimated how much more popular this trail is – and how many other people were hitting the trails early, too. I ended up seeing about half a dozen people over the course of our four mile run, all of whom gave me dirty looks for going the wrong way and running without a mask. My therapist pointed out that I may have imagined the dirty looks, but imagine them I did… I felt soooooo guilty, and am honestly really ashamed to admit this! It was definitely not what I should have done.
By the time I started seeing people, it was on the final mile stretch – a wide, dirt road – so it didn't really make sense to turn around, especially when there was plenty of room for me to move way over and pass from at least a ten foot distance. But, lesson learned – from now on, I'm wearing my mask on all runs (no matter where / how early it is), and I will absolutely follow the appropriate direction to go, when I'm in Boulder where they've implemented unidirectional trails. My apologies to the people I passed and the general public; I will not make that mistake again.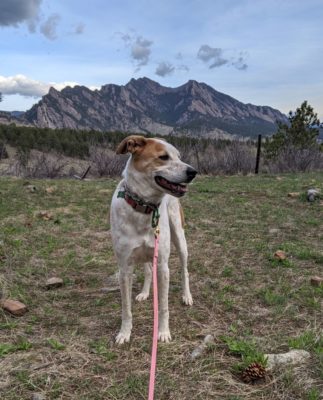 On the bright side, it was a beautiful morning for a run, and Sugar turned out to be just as much of a champ running on the leash as she was walking. Since she's already really adept at the basic commands like come, heel, and sit, I've decided to start teaching her some trail running specific commands…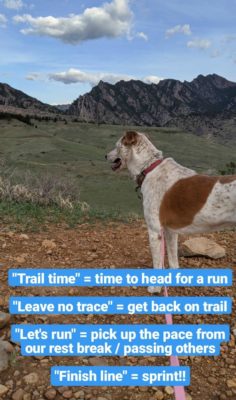 We headed home after the run, and while Sugar napped in the sun, I did a sixty minute Peloton bootcamp with Jess Sims. I chose her 2000s bootcamp from 3/14, which turned out to be a bodyweight bootcamp (though it wasn't listed as such), and was extremely core focused. Not what I would have picked had I known, but probably good for me since I accidentally skipped core on Saturday! It was a good solid workout, and it ended with a lovely inspirational message from Jess that was really heartfelt. She quoted: "Even the smallest act of caring for a person is like a drop of water: it makes ripples throughout the pond", and told us that she feels lucky to get to come into our homes, and that we should reach out to her anytime. Loved it! Peloton always makes me smile.
I had to hustle after bootcamp to hop in the shower and then get down to the kitchen. It was time for virtual cookblog club! To turn this virtual, we all chose recipes from the same blogger, and met on a Zoom at 12:00pm to "cook together", with the plan being to sit and eat at 12:30pm. (So if you had a recipe that would take more than 30 minutes you could just start earlier.) It worked out pretty well! It probably would have been more fun to all cook the same thing, but I organized this on short notice, and thought it would too challenging to figure out a recipe with ingredients we all hand on hand. If you planned in advance, though, everyone could get the required ingredients on their weekly grocery run and then you could all truly cook together.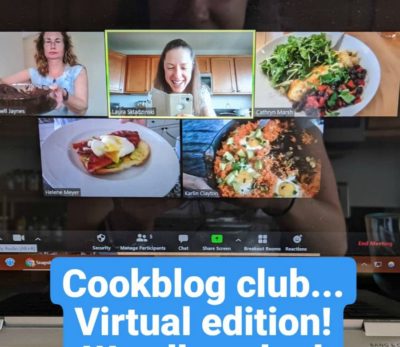 As I mentioned before, we were all cooking from Whole and Heavenly Oven, and my recipe was a honey garlic grilled chicken salad with cilantro dressing. I wasn't very impressed by how my recipe came out, but I did like the taco chili sweet potatoes I made Friday night. The one thing I (and the rest of my friends) were confused by was how this purports to be a healthy blog, but most of the dishes didn't seem lightened up at all? At least we had a blast all getting together, and it was fun to catch up 🙂
I spent the afternoon alternating between lazing around, reading, and finally forcing myself to get a few chores done. For dinner, I was in the mood for comfort food, and ended up going back to my tried-and-true cooking blog: Budget Bytes for her cheesy vegetarian chili mac. This was a good way to use up some half cans of beans and tomatoes I had in the fridge! I lightened it up with half noodles and half zucchini, and substituted a half cup of cottage cheese for the cheddar, to keep it creamy but protein-packed and slightly lower in fat. And I could not believe how well it turned out!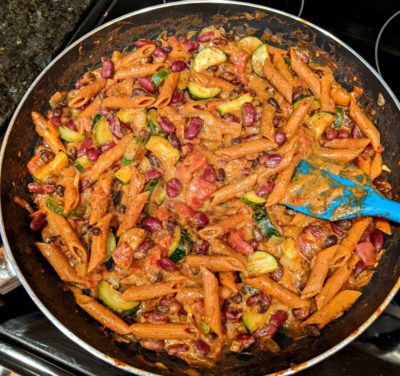 All in all, not a weekend where I did a whole lot… but totally worth it to get Sugar acclimated and into a routine. More to come on our adventures!