Weekend of November 2-3
I got back from a business trip to Atlanta on Wednesday night, and then Thursday was Halloween. As I wrote about last week, I went to my brother's Halloween party as a 60s gogo dancer… and I reused the same costume to hand out candy at home in Superior. But before that, I had a PT appointment… and Emily finally gave me the go-ahead to start running again!
I'm not allowed to do much, but Friday morning, I was thrilled to wake up with no soreness in my calf. Unexpected, since we had done a lot of exercises and some really intense dry needling the day before… but it was a really pleasant surprise, as it meant that I could run!
I started with a quick 15 minute Peloton spin class, then moved over to the mat to do a live strength class. This week was the first time I had tried doing the Peloton strength classes, and I like them a lot! When I just have exercises written down on a piece of paper, I don't necessarily go fast enough between sets to make them a challenge; with an instructor in front of me (either at Orangetheory or live on the Peloton app), I go hard and get sweaty… and I like that 🙂
But what I really liked was after the strength workout – when I got to head to the treadmill! I was allowed to do intervals of one minute of running (8:30 pace), followed by one minute of walking (15:00 pace), for 15 minutes total. The whole time, I was very focused on my foot cadence, trying to get it as high as possible, since faster cadence usually means a lighter step / less pounding. From using various Spotify playlists that had music of certain beats per minute, I found that my natural cadence is about 170bpm, or maybe just a touch faster; however, I found 180bpm (the optimum) to be somewhat difficult to hit. I will keep working on it!
I was very pleasantly surprised, though, to find that 8:30 pace didn't feel hard at all. While that used to be a really easy pace for me (slower than my 7:30 "base pace" at Orangetheory), I was afraid that six weeks off would mean I'd lost all speed and would find 8:30 to be a struggle. Instead, it felt easy and comfortable – and when I was talking out loud to myself calling out my cadence ("1, 2, 1, 2, 1, 2"), I realized that 8:30 for me still definitely passes the "talk test" of a pace at which I'm totally fine holding a conversation. Yay!! This makes me much more optimistic about the fitness I've lost and how much I'll have to work to come back from this injury.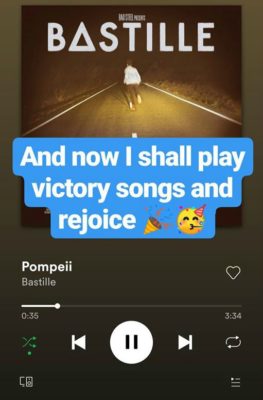 From that wonderful workout, I showered and headed to First Friday, then settled in for a totally packed day of work. I was supposed to go to a team building event at 6pm, but ended up working until 7pm and then was just too exhausted to go downtown for the rest of the event. Instead, I called it an early night, cooked dinner, and curled up in bed with a book. (I'm reading Fredrik Bachman's Us Against You right now, and it's excellent.)
The next morning, I woke up so happy I had gotten over my FOMO and stayed in – I felt so much better after a good night's sleep! I headed to the pool for a swim workout, and did five intervals of 200m with 30 seconds rest in between sets, followed by one set of 1000m straight, and finishing with a final 5x200m. My form felt kind of off throughout – my legs felt like they kept falling and dragging me down -but my times were improved from the last time I've done 200s. So, yay! I was proud to get a full 3000m in under an hour.
From there, I dashed home to shower. I have figured out how to keep my hair from tangling while I swim (braid it and put it in a bun), but no matter what I try, the chlorine always seems to wreak havoc on my skin. It seemed especially bad this week, since I hadn't been swimming in about ten days. I've tried showering beforehand to get my skin / hair wet before it hits the chlorine, and I always shower as soon as I leave the pool (rinse off at the gym, full shower at home), plus put moisturizer (this stuff) on my face right after the gym shower. But man, Saturday especially, my face was scaly! Would love to hear tips on how I can fix this.
Once I had slathered a ton more moisturizer on, I wolfed down a quick protein bar, then headed out. I was meeting my friend Tommy in Westminster, then driving with some other friends up to Fort Collins for the day. Their mutual friend was playing in a band that was headlining the tailgate concert at CSU, and I was excited to head up and check it out on a beautiful day!

Although Fort Collins is only about an hour away, I've only been up there a few times – and never for a football game. On Saturday, we didn't attend the game, but we still got to see the pre-game excitement, and I had a great time. It was a perfect fall day – somewhat cool and crisp, but warm enough that I could leave my jacket open and not be at all cold. The band, Instant Empire, was great, and I had a lot of fun dancing along and sipping a spiked seltzer in the Colorado sunshine.
After the concert, we joined the (Instant Empire) band for lunch, and then finally headed back down to the Front Range. I had to jet pretty quickly – after a quick stop at home for about ten minutes, I was off to another concert.
Our Mayor has been in touch with an organizer about hosting a jazz festival in Superior; to introduce the rest of the Board and our Cultural Arts and Public Spaces committee to the idea, he hosted a house concert with a live jazz band. I'll be honest – I didn't pay too much attention to the band, and am kind of embarrassed to admit that for me it was mostly background music! But it was a wonderful party catching up with tons of friends – I would love it if we can get more live music in Superior.
The next morning, I was up bright and early. While I may be a Colorado girl now, the New York City Marathon is still an event I put on my calendar every year. This year, I headed to Chuze, where I planned to watch the entire race from the cardio machines.
As usual, the coverage was fairly abysmal, with ESPN constantly cutting away from the actual race to show human interest stories. (I'm interested in the race. While the other stories are interesting, I much prefer them in the pre-race or post-race coverage, not making it impossible for me to watch the actual event.) But I thoroughly enjoyed getting to watch the whole thing from the AMT (alternative motion trainer)… and then also getting to move over to the treadmill for another twenty minute run-walk!
I switched to the treadmill right before the men's race started, so when the gun went off and Frank Sinatra started singing "New York, New York", I took off as well. It was so fun to get to run "along" with the elites! Since my headphones were tuned to the race coverage, I couldn't listen to any BPM playlists; instead, I tried to match my foot cadence to Des Linden's 😉 But that time flew by, and soon I was back to the AMT for the rest of the race.
Both the men's and the women's races got pretty exciting in the last few miles; unfortunately, I missed the actual moves people made, as the TV coverage cut away for the good parts and would only return to show the lone runner so far out in front that there was no way they'd get overtaken. So frustrating! I wanted to see the moves getting made. I have never understood why ESPN can't offer a "lead pack livestream" or something as a one-time subscription event (like they do for UFC fights and such); I would pony up every single year to get to see the actual race rather than all the stories they *think* we want to see.
After Jepkosgei took first place in the women's race, I was nearing two hours of cardio time – so I wrapped it up, and headed to the hydromassage to watch the men's final miles from there. And then, it was back home for a quick bite (oops, I should have thought to bring breakfast with me to eat at the gym) and change of gym clothes before I headed out for my next adventure – a hike in Boulder with some friends.
Thanks to the storm earlier in the week, Chautauqua was snowy – but much more so than I anticipated!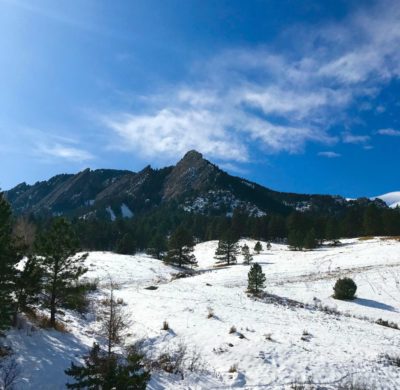 I had plans with my friends Sara, Torrey, and Tommy to head up to the top of Green Mountain, but we ended up needing to turn back at Saddle Rock because it was just too icy to go any further without microspikes and poles (which none of us had brought). Good call – on the way down, I slipped on a rock and am sure to have a nasty bruise 🙁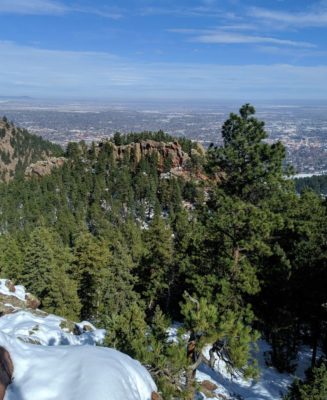 In spite of the snow, the four of us had a great time… and we continued to have fun when we hit Southern Sun Brewery for some post-hike food. Even though we hadn't gone that far, I got a grilled buffalo chicken sandwich and fries, both of which perfectly hit the spot! Oh, yes, and a nice pint of beer too… for the electrolytes, of course 😉
The rest of my Sunday was pretty low-key… just catching up on work and chores, then packing up and trying to get to bed early for my flight to New York the next day. Things are about to get busy for me travel-wise, so time for me to gear up and get it done!