Weekend of August 17-18
My Friday kicked off with a reverse commute, as I drove from Vail to Superior. I had gone up to the mountains on Wednesday, so I could hike in a new location Thursday before work and then meet my boss in Vail for dinner while he was passing through. Both were amazing! I hiked up to Pitkin Lake, a 10 mile round trip, and found the trail to be moderately undulating – which meant I got to hike some of it and run some of it.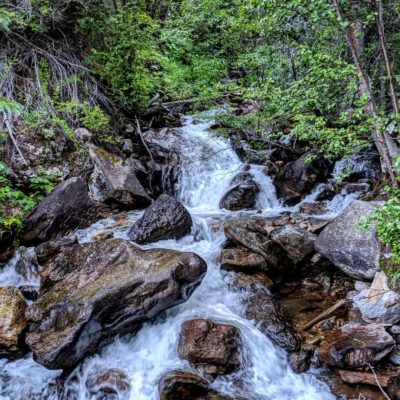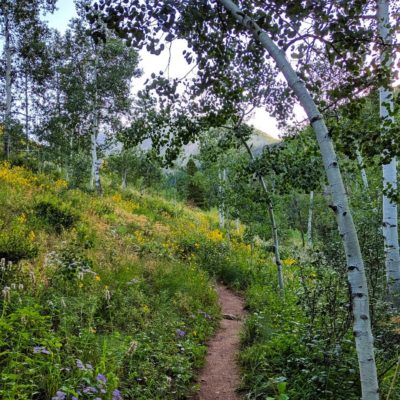 The wildflowers were absolutely stunning!
I ended up finishing the entire hike in just over 3 hours, which was much faster than expected. I had been worried about the avalanche debris field and snow bridge about halfway up (as reported on AllTrails), but the snow had melted more since the last people reported, and it turned out to be just fine for me. This is now definitely up there as one of my favorite hikes, and I can't wait to try it again… and maybe improve my time!
After a full day of work Thursday, I headed to Edwards to meet my boss Jonathan for dinner and drinks at The Rose – one of my favorite spots in town! It's got a really cool industrial vibe inside (though we sat out on the patio), fabulous cocktails, and delicious food. Afterward, Jonathan continue driving on to Utah where he was headed for a family vacation, and I went back to Minturn… arriving just in time to catch the end of the outdoor summer concert series. Yay!
On Friday, after back to back meetings all day, I met up with my friend Sara and her boyfriend for happy hour downtown. It's been a long time since I've done happy hour in downtown Denver! We posted up at the Milk Market, and had a great night sipping drinks and catching up. Sara is a coworker who I've known over the phone for several years, but we just met two months ago when she moved to Denver, and I'm really excited by how much we have in common and how good a friend she's become in a very short time.
Saturday morning started with some relaxed reading and chores, and then I headed off to the airport for the first time in over a month. Gosh, can you believe it's that long since I've had to fly somewhere?! But this weekend, I wasn't flying on a plane… I was pulling a plane across a runway. The Special Olympics of Colorado organizes a plane pull every year to fundraise, and all the Orangetheory locations in Colorado had rallied to raise money and put together teams to participate. Although I bounce around a lot and don't really claim allegiance to one specific studio in Colorado, I had signed up with Orangetheory Boulder, and I was excited to give this plane pull a try.
I ended up having kind of mixed feelings about the event. It was quite a trek to get out to the airport, and then we had to park in an off-site lot and catch a shuttle to the hangar where the event was taking place. After waiting in a long line to get checked in, we entered the hangar and then waited a while for it to be our team's turn to pull. The teams were allowed to have up to 25 people, but we only had 12 people registered on our team, so I was intrigued to see whether we would be able to move the 160,000 pound plane. We did it though!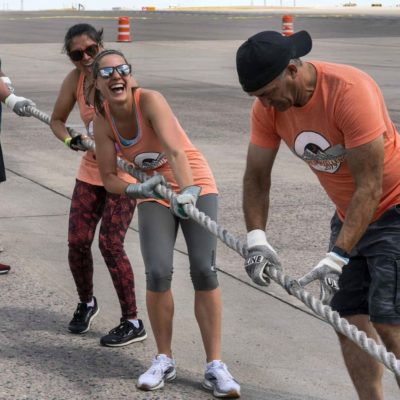 However, the whole thing took only about 10 seconds… and that's where I think the event was a bit of a let down for me. That was a lot of driving and waiting for a 10 second effort! I'm still glad I did it once though – I'm proud of how our team did, and think it's kind of cool to now be able to say that I have pulled a plane 🙂
I headed home, had a quick bite, and then was off to my next athletic endeavor for the day: a spin class at Cyclebar, which just opened down the street in Louisville. Our neighborhood magazine organized a free class for residents, and it was fun to get back on a spin bike for the first time in several months. I had forgotten what a good workout spinning is; I got pretty sweaty! And, of course, it was fun to catch up with friends and neighbors at the event.
I couldn't stick around very long afterward to chat, though – I hustled home for a quick shower, then was back over to Louisville, this time to meet up with my friend Heather for dinner at 12 Degrees, my favorite brewery, for their anniversary celebration. They had tons of special edition small batches for the occasion, and in the three-ish hours we were there, they put out at least a dozen new taps. I wanted to try them all, but alas, could only get to a couple. Heather and I both absolutely loved the Pineapple Express IPA – I don't usually love hops, but it was really refreshing and the flavor was unique and delicious (and not too sweet). Paired with a peach and mozzarella flatbread pizza for dinner, it was perfect!
Between the pizza and the beer, I was really well carbed up for Sunday morning… so I headed out early for a nice long hike. I headed up the Mesa Trail and Shadow Canyon, a little undecided whether I was going for Bear Peak or South Boulder Peak. But with nothing else on the agenda for Sunday, I decided to do both! I would really like to do the Skyline Traverse (summiting Bear and South Boulder Peaks plus Green Mountain, Flagstaff Mountain, and Mount Sanitas, all in one trek) this year, so doing two was good prep.
The morning was really cloudy and overcast when I set out (around 7am), but according to the forecast, it was supposed to clear up around 9am, which was when I anticipated summiting.
However, the clouds didn't end up lifting; instead, I found myself hiking up over the top of them! That was really special.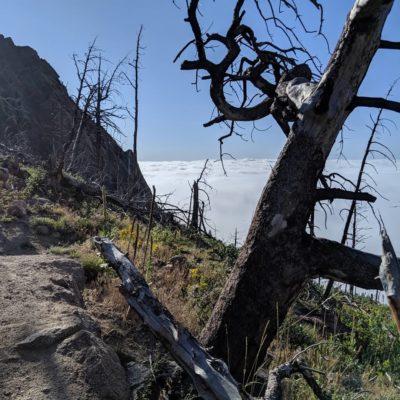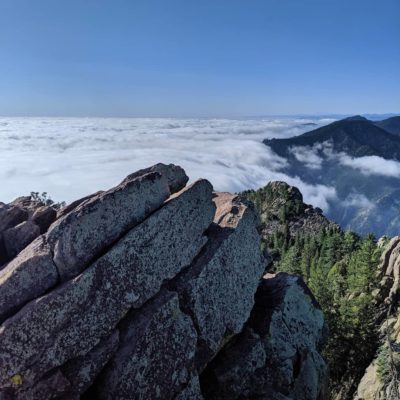 I had South Boulder Peak all to myself, but there were a bunch of people on Bear Peak, which was kind of a bummer for getting good pictures. But I still got at least one careful pic between people.
I kind of wanted to keep going and do the Skyline Traverse that day, but I knew I hadn't packed adequate supplies of food and water for the 20+ mile trek. Instead, I headed down and home, and got my energy out taking care of a bunch of chores around the house. I would be leaving the next morning for two weeks (work trip to Chicago + my annual week of volunteering at Experience Camps), so I had a lot of loose ends to tie up and packing to do. The packing, in particular was a huge pain. I haven't been traveling for a month, so I'm a little out of practice; now I had to figure out how to squish two weeks of clothes (for two very different circumstances, so no real chance of overlap) into a carry on?
Fortunately, I was saved by my friend Chris – who invited me over for dinner with her husband and kids. YES! We had a great time catching up, and I was able to procrastinate on packing until after that. It ended up taking me even longer than I expected to sort out what I needed and get it all into my suitcase, but I was still so glad I had gone over to Chris' for dinner! Years ago, when I lived in New York, I used to have standing Sunday night dinner plans with my friend Mat, and this reminded me how nice it is to have a get together with friends to close out the weekend. I'm going to try to do this more often!