Back on track with the monthly book posts! I read 6 books in May, which isn't how many I would need to be on pace for my 100 books this year goal, but is significantly up from my average per month so far this year (3.3). I've been trying to pick up more books I'm dying to read and can't put down (which often means fiction), and that seems to be working to get me reading more. Hey, whatever works!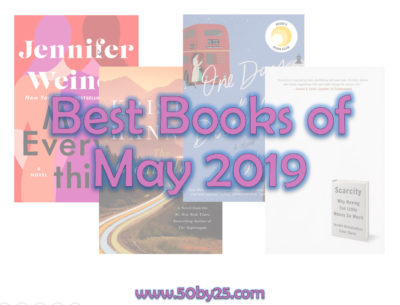 5 stars:
Mrs. Everything, by Jennifer Weiner: I loved this epic following sisters from kids to adults! It was interesting to see how Bethie and Jo swapped in and out with being the "good" sister vs the one in trouble, and I found myself agreeing with some of their choices and disagreeing with others. The book felt very realistic in that way – no one is entirely one way or the other. I also loved the historical context into which their growth was placed, which made for a kind of history of feminism that took us to the present day. This was really different than Weiner's usually light chick lit reads, but I loved it!
Scarcity: Why Having Too Little Means So Much, by Sendhil Mullainathan and Eldar Shafir: Loved this social psychology book – the style made it an easy read, and the content was fascinating. There were a lot of studies I hadn't heard of, and I learned a lot by reading.
One Day in December, by Josie Silver: I absolutely devoured this epic romance novel – no wonder it's gotten such acclaim! The story wasn't predictable but it still made sense and left me in tears. Not saying whether they were happy or sad tears, so as not to ruin anything 🙂
The Great Alone, by Kristin Hannah: This novel was fascinating – it reminded me a little bit of The Glass Castle (which I actually hated), set in the unique beauty of Alaska. I couldn't put it down and would highly recommend it.
4 stars:
Unhooked Generation: The Truth About Why We're Still Single, by Jillian Straus: This was a fascinating look at 21st century romances and the expectations people set for being in them. I found myself nodding along so many times – highly recommended!
That's What Frenemies Are For, by Sophie Littlefield and Lauren Gershell: This was a fun, light novel that gave some insight (whether true or false) into the societal pressures of SAHM life in New York. I liked seeing Tatum's evolution from struggling actress to spin goddess, and especially liked how social media was included as part of the story. I really enjoyed this and found myself eager to keep reading!
The Bookshop on the Shore, by Jenny Colgan: I loved this sweet novel that included characters I already knew! Jenny Colgan did a fantastic job making me fall in love with the remote Scottish village, and I liked how she deviated from her usual romance formula so there was a bit more grit than usual. There was still a little bit of her signature elements (remote area, main character hates it at first) but it was a nice break from the standard.
Any book recommendations for me? Follow me here on Goodreads to keep up with what I'm reading in real time.