My mom has been in town for a week and flew back yesterday – bummer! Luckily, we've had a nice, relaxing visit, and I think for once I did a good job of not overloading her with activities. (I made it a point to only plan one thing per day, which is what she prefers.) I can't wait for her to come back!
I worked for the day Friday rather than taking off, but wrapped up by 5pm in order to take her downtown to the opera. Neither of us had ever been to a full length opera before, and I was excited! We had a quick dinner at Cheesecake Factory, then walked over to the Denver Performing Arts Center. Although we've each been to several shows at the complex, we had never yet been to the Boettcher Concert Hall where the symphony was performing. It was a beautiful facility, and we had fabulous seats in the second row of the golden circle!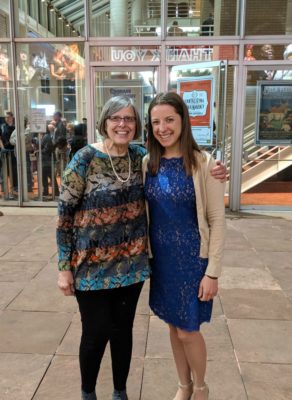 The next day, the only thing on the plan was cookblog club. But before we hit the grocery and started cooking, I brought mom to my favorite place to start the day – Chuze Fitness!
I always feel better starting the day with a workout, and thanks to Chuze's generous guest policy, having friends/family in town doesn't mean I need to skip it. With the "More" membership that I have (which in my area is only $39.99 a month), I have unlimited guest privileges. Unlike regular gyms, that doesn't mean I can bring each friend for a few trial days that they could get anyway without me; at Chuze, it literally means that I can sign my mom up as my guest and she can come as much as she wants as long as I'm there with her. I was especially impressed to discover that since I signed her up when she last visited over Christmas, she was already in the system and we literally just had to enter her phone number and click okay to get her back in, nearly as quickly as my own sign in. Chuze is the best!
Since I was resting up for Bolder Boulder on Monday, I skipped the Team Training class that my friend Heather was doing, and instead hit the lateral trainer for some easy elliptical time. Meanwhile, my mom got settled on the stationary bike, and proudly reported to me that she biked the longest she ever has in her life – 11 miles! We ended up going to the gym most days that she visited, and she left yesterday telling me she was hooked on a gym habit and going to keep it up when she went home to Albany.
After our workouts, we met up with Heather and headed across the street to Starbucks. Grabbing coffee after the gym with Heather has become something of a weekly ritual, and I loved getting to introduce my mom to it! Heather recently changed jobs and now works in consulting, like me, so we have a great time commiserating over difficult clients and work situations, plus all the usual personal / friend stuff too. I'm so grateful for this friendship!
Mom and I couldn't stick around too long, though – we needed to head to the grocery for a few ingredients we needed for our cookblog recipes. This month, we were cooking from a blog I love: Budget Bytes. And I was very excited to be making a type of recipe I've always been intrigued by but never taken the time to make – baked oatmeal.
I chose Budget Bytes' Carrot Cake Baked Oatmeal as a way to get some veggies into my breakfast, and was pleasantly surprised to find that it was a pretty healthy recipe too – carrots, oats, milk, eggs, spices, and a scant 1/3 cup of sugar for the whole 6-person recipe. When it came out of the oven, I wasn't impressed at all. It was very dried out, and the topping in particular didn't look good. However, after I popped the leftovers into a sealed container in the fridge, that added a lot of moisture back – and by the next day, I loved it. I realized that the recipe had called for a three-quart dish, and I put it into a wide shallow baking pan, while the pictures showed it in a deeper round dish – so I think mine got overbaked, which is why it was so dry. After eating it the last few days re-moistened, this is one of my new favorite breakfasts and I want to make a big batch each week!
Fortunately, the rest of the cookblog recipes this month were an instant hit. My mom made a spinach mushroom and feta crustless quiche, Karlin made parsley salad with almonds and apricots, Dani made oven roasted sweet potatoes and apples, Cathryn made apple dijon kale salad, and Elisabeth made rosemary roasted potatoes. It was a brunch feast, and I stuffed myself!
After cleaning up from the event, mom and I spent the rest of the night relaxing at home. I was thrilled to be sleepy early, as it meant that two nights before the race (the critical night for sleep), I got a whopping 9.5 hours! Hopefully that would bode well for Bolder Boulder on Monday.
But before Monday – our one event for Sunday was my friend Elizabeth's baby shower. Elizabeth is expecting her first baby at the end of July, and her family flew in from all over the country to celebrate. My mom knows Elizabeth from many previous visits, so we both attended and had a nice time catching up with friends.
From the baby shower, we headed over to Morrison to visit Amanda and catch up for a bit. I hadn't seen her in weeks (and we are long overdue for a one-on-one hangout), so it was wonderful to hang out at her house and discuss all the news in her life. Amanda is in the middle of writing a book, and I love hearing about the progress there! I also caught her up on the news in my personal life, and I left really happy that we were finally (at least somewhat) up to date.
The rest of Sunday consisted of cooking dinner and then getting me to bed early – I would need up to be up at 5:30am to get dressed and off to the start, and I wanted to be well-rested for the race!
Full race report to come, but the spoiler is that all that sleep seemed to pay off – I surprised myself and ran a PR by more than a minute, and also won an age group award! I was so thrilled 🙂
After the race, my mom and I headed to Snooze for brunch (mmm pancakes), then Fate Brewing for beers with friends, and finally home. While driving up my street, I saw someone out for a run, and it made me want to run more. How was it possible that I wasn't exhausted? Last year, I passed out on the couch after my PR, but this year I was feeling good. I got home and spent about thirty minutes doing yardwork (I am in love with my new electric dethatcher!), and when I had finished and was just about to curl up on the couch with a book, my fellow Trustee Kevin texted me to see if I wanted to come play pickleball in the park. Mom and I were in!
I had never played pickleball before, but there's a growing contingent of people in town who have been clamoring for permanent courts. For now, there are nets / paddles / balls in a locker by the basketball court, which can be set up temporarily to play. I was so glad that Kevin introduced my mom and I to pickleball – we loved it! It's basically a slightly-easier version of tennis – the court is a little bit smaller, you always serve underhand, and the ball bounces a little bit slower / lower. However, while I had heard it's a great game for "active seniors", it turns out to be a good workout! We were definitely working up a sweat, and it was nice when we took a break to sit on the benches and chat afterward.
That game of pickleball, and the lovely afternoon / evening out in the park, made me feel like it is finally (albeit belatedly) getting to be summer in Colorado. I am psyched for all the summer fun!