Want to stay in bed longer? Here's what I've been loving, laughing at, and getting intrigued by all week long. Now cozy up with your laptop/tablet and enjoy 🙂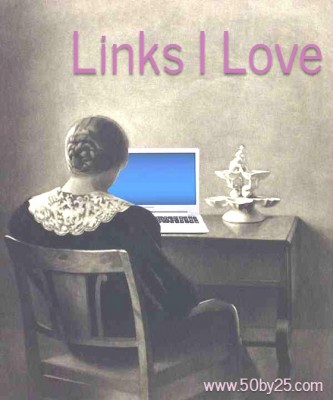 CAREER / BUSINESS
4 reasons you didn't get the job, and why you should be happy about it. (Ladders)
How to Negotiate Your Job Offer Like a Boss. (Medium)
The Office Rookies Who Ask for the World. (Wall Street Journal)
Surviving Your Annual Review. (Madame Motovino)
How to give feedback that really works, without hurting anyone more than you have to. (Quartz)
The new guidelines for touching at work. (Quartz)
Advice From A Nice Girl: How Do I Take Back Credit For My Idea?. (Refinery29)
Twitter CEO wears beanie, sweatshirt on stage and women on Twitter say, 'Really?'. (Good Morning America)
Supporting minority women in the workplace means tailoring development programs to their needs. (Quartz)
After men in Spain got paternity leave, they wanted fewer kids. (Quartz)
It's not play if you're making money': how Instagram and YouTube disrupted child labor laws. (The Guardian)
Facing up to the automotive innovation dilemma. (Strategy& Business)
How Parents Who Travel for Work Can Ease the Burden on Their Families. (New York Times)
The Australian company that banned work on Wednesdays. (BBC News)
Optimizing Your Online Presence. (Patty Azzarello)
What to Do When You're Feeling Bored at Work. (Harvard Business Journal)
I took a step down the career ladder and I've never been happier. (Fast Company)
Socialization Is a Skill, Too: 4 Ways for Working Adults to Develop It. (Under 30 CEO)
Email Like a Boss. (Instagram) Love this simple chart!
PRODUCTIVITY / SOCIAL PSYCHOLOGY
A Therapist Explains How To Really Listen To Another Human Being. (Uproxx)
Make something different out of yourself every 3 years. (Ladders)
15 Habits of Mentally Tough People. (Success Magazine)
The Zen rule for becoming happier: Change one thing. (Quartz)
Blowing Off Steam: Six Quick Stress-Release Tactics to Make You More Productive. (Laura Stack)
We Put Off Drinking Coffee Until 10 a.m. Every Morning. It's Kind of Great.. (Zapier)
7 Tips to Declutter Your Calendar—and Keep It That Way. (Daily Muse)
If the Pomodoro Technique Doesn't Work for You, Try Flowtime. (Zapier)
The most unforgettable people share these 7 personality traits. (Well & Good NYC)
Is the Immediate Playback of Events Changing Children's Memories?. (New York Times) This is fascinating.
How do you ignore all the people who think that joy is frivolous?. (Aesthetics of Joy)
Do you ever feel like you're not enough?. (TED Talks)
The People Who Eat the Same Meal Every Day. (The Atlantic)
HEALTH / FITNESS
Should You Be Eating Eggs?. (New York Times)
After Two Years of Muscle Pain, I Tried Dry Needle Therapy — Here's What Happened. (Greatist)
Doctor, We Need You in the Writer's Room, Stat. (New York Times)
Skipping Breakfast May Increase Stroke and Heart Risks. (New York Times)
Putting Down Your Phone May Help You Live Longer. (New York Times)
After a Knee Injury, Be Wary When Returning to Sports. (New York Times)
Why do my eyes get red and itchy in swimming pools? (Hint: It's not the chlorine). (Well & Good NYC)
How to Add a Long Run to Your Running Routine. (Lifehacker)
TRAVEL
Airstream's New Mini-Models May Be Driving a Bump in Sales. (Bloomberg)
This German Startup Aims to Have a Fleet of Jet-Powered Flying Taxis by 2025. (Bloomberg)
American CEO Doug Parker Is Cautiously Optimistic About the Boeing Max. (Skift)
In Support of JetBlue's European Decision. (Cranky Flier)
United Airlines Unveils New Paint Scheme. (Skift)
The Story Behind the Color Choices of Luxury Hotel Logos. (Skift)
Best Practices for Improving Hotel Revenue in Peak Season. (Hotel News Now)
Hotel Technology: It Is Not As Difficult As You Think. (Hotel News Now)
New Jersey Bans Smoking at All Its Public Beaches. (Skift)
MISCELLANY
5 things millionaires are doing that millennials should know if they want to build wealth, according to experts. (Business Insider)
What 'Good' Dads Get Away With. (New York Times)
How to Start a Neighborhood Pack for Your Kids. (Lifehacker) This is such a cool idea!
I'm Author Daniel Pink, and This Is How I Parent. (Lifehacker)
Create a 'Noticing Wall' for Your Kid. (Lifehacker)
How to spend time alone. (NBC News)
And finally, for a laugh: Fashion Coward. (YouTube)
---
Like this post? Want more fun articles in real time? Follow me on Twitter or become a Facebook fan to get similar stories all week long.