My weekend started off with a little trip – up to Albany, New York to visit my family! I've been working on a project in New York City recently, which made it feasible to pop up to Albany for two days before flying home.
While it's not part of the "weekend", my mom came down to New York on Tuesday, and we were able to get discounted tickets on Tuesday night to see Kelli O'Hara in Kiss Me Kate. Then on Wednesday, I won the Kinky Boots lottery and we got to see that from fabulous seats in one of the side boxes!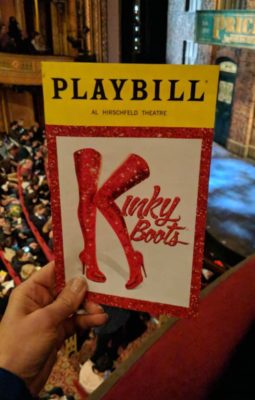 In the month I've been working in New York, I've been able to see four Broadway shows – those two plus The Lion King (I won the lottery for that as well!) and Hadestown (through TDF). It's been fabulous to get to see so many Broadway musicals while I'm in New York – and ironic that I rarely saw things on Broadway when I actually lived in New York. Making up for lost time now!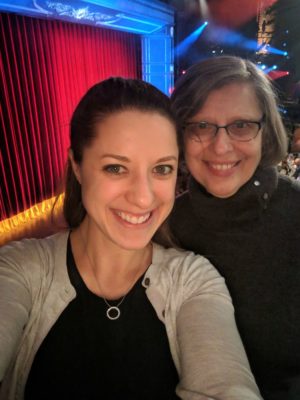 Thursday after I finished work, my mom drove me from Manhattan up to Saratoga, where I got to join my brother, sister-in-law, and nephews for playtime and dinner. I really love getting to visit my family in Saratoga – this visit was way too short, but I was glad I was able to get up there at all!
Friday was a work-filled day, but I was able to wrap things up early in order to hang out with my nephews for a bit longer when they got home from school. I closed out my visit with them in my favorite way – with ice cream cones at Stewart's! My nephews insisted on wearing their ski goggles, which was hysterical and adorable, though they found they had to push them back onto their heads to eat 😉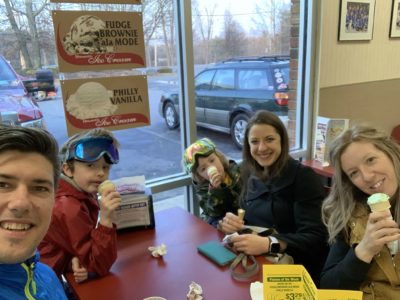 After ice cream, I drove down to Albany, where I stopped in at my mom's house for a few minutes and then headed downtown. One of my high school classmates tragically had a fire a few weeks ago that burned his house to the ground (luckily, he and his family escaped unscathed). A few other classmates organized a fundraising event at a bar downtown, with one classmate doing stand up comedy and then three others performing in a band. Hartley's Encore was excellent, and it was fun to catch up with some old friends I hadn't seen in more than a decade.
I called it a night and headed back to my mom's house around 11pm, so I could try for a decent night's sleep before my 7am flight out. Since I had to connect in Chicago anyway, I had booked a flight to take me straight into Vail rather than to Denver – that meant I could skip the drive to the mountains and be ready to hit the slopes with my friends on Saturday. As it turns out, Eagle-Vail Airport is actually pretty far out of town (about 45 minutes from Vail), which I hadn't realized when I booked, so it only saved me about an hour of driving. But it was still beautiful flying right into the valley!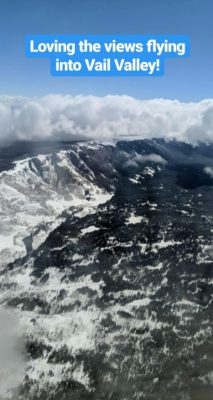 I stopped at my house to drop off my things and grab my ski gear, then headed out to Vail. While putting on my ski boots, I realized I hadn't done a great job "changing into ski gear". I had worn leggings, a running tank, and a fleece on the flight (which is also the base of my ski gear), and in thinking I was already pretty well dressed, I had forgotten to change my low-cut running socks for knee high ski socks! But with it being pretty warm out, and because I knew I'd only be skiing a little while anyway, I just went with it. My feet got a little bit numb at the very end of the day (not from cold, but from circulation somehow being cut off), but it worked fine for the few hours I had to ski.
At Vail, the conditions were a little bit variable – no exposed rocks / dirt, but areas of ice some places and powder in others. It made me really sad that the season is now almost over, but I'm doing my best to get in as much as I can before it officially ends!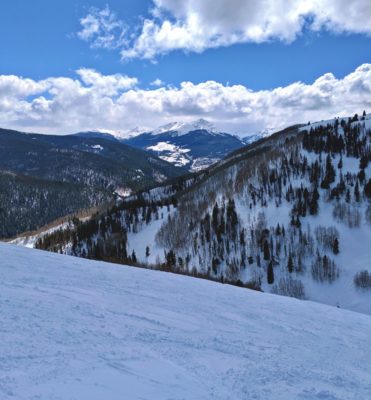 After skiing, I made a quick run to the grocery store and then stopped home to cook this buffalo dip (always a crowd pleaser!) and shower, then it was off to Edwards for a game night at a friend's house. I had a fabulous time playing fishbowl and Cards Against Humanity, and getting to know a bunch of people I hadn't met before. After all, what better way to get to know someone than seeing their raunchy / inappropriate choices in Cards Against Humanity? 😉 Wine of course helped the cause, though also meant I had to leave my car there and Uber home.
Sunday morning was pretty low-key. Although my car was still in Edwards, my house's fabulous location on Main Street meant I didn't need a car to walk to one of of my favorite brunch spots, the Turntable. Unfortunately, while there, our waiter informed me that the Turntable was closing, and today was their last day! I was super bummed to hear this 🙁 I'll really miss their savory quinoa bowl and the awesome Taos Benedict (pulled pork over corn cakes, topped with green chili). On the bright side, I just looked them up on Yelp, and Yelp says temporarily closed till December 1, 2019… so maybe they'll be back?! I hope so!
After brunch, my friend gave me a ride back to grab my car, and then we went back to my house to wait out the sun a bit longer. Spring skiing is tricky – it's icy in the morning, but you don't want to get out too late in the day once it's turned to slush. I am still trying to learn how to time it! On Sunday, we got tied up in a game of Upwords (like Scrabble but your letters can also stack up vertically) and didn't get to BC until after 1pm, which was probably a little later than would have been ideal. Still, I really enjoyed the runs down Grouse Mountain – I hope I can get back there a few more times before the season ends! The Talons Challenge made me really love that part of BC.
Although it's late enough in the season that there usually isn't a ton of traffic, a quick look at Google Maps told me there was an accident near the tunnel, so I headed back to my mountain house after skiing to have dinner there before driving back. That plan worked perfectly – I was able to relax for two hours, but got back to my house on the front range only 45 minutes after I would have if I had left immediately! And once I got back, since I already had dinner, I could just pack for the week and head straight to bed before my flight back to New York. Not much time in Superior this weekend, but I feel like I have to soak up the skiing while I still can.