Want to stay in bed longer? Here's what I've been loving, laughing at, and getting intrigued by all week long. Now cozy up with your laptop/tablet and enjoy 🙂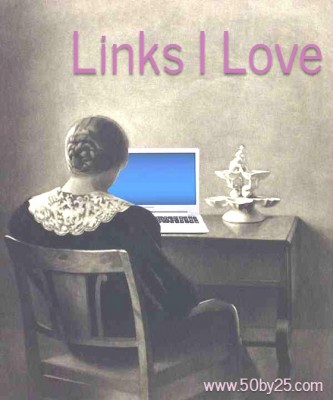 CAREER / BUSINESS
PwC Launches New Tool to Help Organisations Assess Their Workforce Strategy. (Hotel News Now)
How to Deal With Work Stress. (Lifehacker)
If you're a pretty woman in business, you risk this negative effect. (The Ladders)
Why Women Volunteer for Tasks That Don't Lead to Promotions. (Harvard Business Journal)
Pay Gap Between Men and Women Might Be Worse Than Previously Calculated. (Lifehacker)
LinkedIn finds women are less likely to apply for jobs, and more likely to get them. (Quartz)
World's first all-female spacewalk canceled due to lack of spacesuits for women. (Fast Company)
How to (Happily) Return to Work After Your Maternity Leave. (Lifehacker)
How I Sold This Website for $9 Million. (Mr. Money Mustache)
Why Self-Checkout Is and Has Always Been the Worst. (Gizmodo)
PRODUCTIVITY / SOCIAL PSYCHOLOGY
I'm halfway through Yale's class on happiness and these 4 tricks are already working. (The Ladders)
How to Apply The Principles of Long-Term Investing to Everything. (Medium)
The Truth About Changing For Someone (+ Why It Probably Won't Work). (Yes and Yes)
From moms to medical doctors, burnout is everywhere these days. (Washington Post)
The Science of Sleep and Productivity. (Zapier)
What you can actually expect from a therapy session, straight from a no-nonsense therapists. (Well & Good NYC)
HEALTH / FITNESS
What to know about ultra-marathons and what it takes to finish one. (Well & Good NYC)
Reduce Runner's Bloat. (Furthermore from Equinox)
4 ways to stretch your neck when it's feeling seriously tight. (Well & Good NYC) Ugh, my neck is chronically tight – I carry all my tension in my neck / traps / upper back.
Do You Need to Work to Recover From an Injury?. (New York Times)
How to Work Out Like a Superhero, According to Brie Larson's Trainer. (Lifehacker)
This commonly overlooked body part is the key to full-body strength. (Well & Good NYC)
What it really means if your muscles aren't sore after a workout. (Well & Good NYC)
How to Stay Sharp in Old Age. (Lifehacker)
How Pain Tolerance and Anxiety Seem to Be Connected. (New York Times)
The Two Most Powerful Ways to Create a Healthy Eating Pattern. (Zen Habits)
The March Healthy Eating Challenge. (Zen Habits)
Same Food, Better Taste. (Furthermore from Equinox)
TRAVEL
New York's Plan to Make Manhattan Drivers Pay Extra Is a Big Deal for People and the Planet. (Lifehacker)
Tampa Airport to trial biometric e-gates to streamline the passenger experience. (Future Travel Experience)
Former United CFO Looks to Start Budget Airline Serving Secondary Airports. (Bloomberg)
With Designs on London, JetBlue Continues to Hammer at Heathrow Access. (Cranky Flier)
Why American Airlines' DFW fortress hub isn't so scary anymore. (Dallas Morning News)
JetBlue Continues to Dangle a Possible European Expansion. (Bloomberg)
The Curious Case of Japan's New Low-Cost, Long-Haul Carrier. (Skift)
Europe's Airline CEOs Fess Up to Which Rivals They Admire Most. (Bloomberg)
Family of honeymooner who died after begging American Airlines to land wants her case to change aviation law. (Dallas Morning News)
Boeing Needs More Time to Complete Max Software Upgrade. (Bloomberg)
Airlines Want Flyers to Feel at Home With New Cabin Comforts. (Bloomberg)
New Airline Distribution Tech Will Allow Agencies to Improve Customer Experience. (Skift)
United Wins First Round in Expedia Dispute Over Fares. (Skift)
American Airlines and Hyatt Hotels to Share Elite Loyalty Benefits. (Skift)
New York City Finally Has a Batch of Innovative New Hotels. (Bloomberg)
Who's Really Winning the Direct Booking Wars Between Hotels and Online Travel Agencies?. (Skift)
Hotels Tap New Tech to Clamp Down on Rogue Rates. (Skift)
Breaking Down the Different Types of Hotel Rates. (Room Key)
Airbnb Is Buying HotelTonight: Here's What That Means. (Skift)
These Are the Most Lucrative Vacation Rental Markets in the U.S.. (Bloomberg)
No, Your Instagram 'Influence' Is Not as Good as Cash, Club Owner Says. (New York Times)
How To Connect With Generation Z?. (Hotel News Now)
How Packing Cubes Can Change Your Life. (Lifehacker)
MISCELLANY
Life Lessons From Maximum Security Prison. (Friday Forward) I was so thrilled to see this included in the Friday Forward; Bob's experience mirrors my own in prison.
Teach Your Kids the Difference Between Danger and Risk. (Lifehacker)
They Thought It Was Their Uber. But the Driver Was a Predator.. (New York Times)
Digital Minimalism for Parents. (Cal Newport)
A Guide to Handling Your Toddler's Evening Meltdown. (Lifehacker)
Teach Your Kid How to Dial 911 From Your Cell Phone. (Lifehacker)
How Parents Are Robbing Their Children of Adulthood. (New York Times)
The Banana Trick and Other Acts of Self-Checkout Thievery. (The Ladders)
Five (Potential) Misplaced Financial Priorities. (The Simple Dollar)
Why Does It Feel Like Everyone Has More Money Than You?. (Harper's Bazaar)
Do Ugly Produce Boxes Really Reduce Food Waste?. (Lifehacker)
No More "You Never Knows" For Single Women. (Refinery29)
How to Take a Flattering Pic of Someone When They Hand You Their Phone. (Lifehacker)
---
Like this post? Want more fun articles in real time? Follow me on Twitter or become a Facebook fan to get similar stories all week long.