Want to stay in bed longer? Here's what I've been loving, laughing at, and getting intrigued by all week long. Now cozy up with your laptop/tablet and enjoy 🙂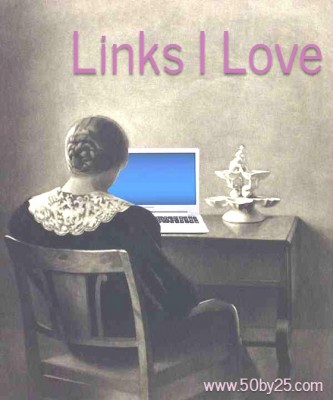 CAREER / BUSINESS
Vacation time and being off work are no longer the same, so avoiding burnout is trickier than ever. (Well & Good NYC)
Don't Want to Be a Manager? You Can Still Grow in Your Career. (Daily Muse)
When the Bully Is the Boss. (New York Times)
5 successful women give advice they wish they would have taken in their 20s. (Fast Company)
The Right Way to Ask, 'Can I Pick Your Brain?'. (New York Times)
How to Instantly Be More Strategic. (Patty Azzarello)
Embarrassed Comcast CEO Just Tells People He Does Digital Media Stuff. (The Onion) Hilarious!
PRODUCTIVITY / SOCIAL PSYCHOLOGY
Repeatedly Saying "I'll Be Happy When…" Could Be Holding You Back in Life. (Oprah)
Why We're Bad at Estimating Time (and What to Do About It). (Zapier)
Productivity Blockers: Seven Things to Stop Doing. (Laura Stack)
When To Start A New Habit (and when to keep plugging away at the old ones). (Yes and Yes)
The Modern Trap of Feeling Obligated to Turn Hobbies Into Hustles. (Man Repeller)
How to Decide When It's Worth Staying Up Late. (Lifehacker)
The People Who Eat the Same Meal Every Day. (The Atlantic)
HEALTH / FITNESS
A snooze habit may not be the healthiest, but it's one we should be allowed to make. (Well & Good NYC)
Two words to blow your workout wide open: HIIT weightlifting. (Well & Good NYC)
This is the best time of day to drink water, according to experts. (Well & Good NYC)
Instant coffee is better for cooking and baking than drinking. (Lifehacker)
Speaking of coffee: Nothing to Lose, Fire Away. (Victoria Fedden) This pseudo-review of bulletproof coffee is hilarious!
No, darker sunglasses doesn't mean better sun protection—here's why. (Well & Go
Why You Should Add a Little Yogurt to Your Butter. (Lifehacker) Love this idea!od NYC)
Marijuana Edibles May Pose Special Risks. (New York Times)
TRAVEL
Making Meetings and Events Healthier Goes Beyond Tight Budgets. (Skift)
Boeing Intends to Share Plans for 737 Max Fixes With Airlines, Regulators This Week.
Why Hasn't Boeing Apologized For 737 Max Problems?. (Skift)
Did an Airbus A330 Have the Same Problem as the 737 MAX? (Ask Cranky). (Cranky Flier)
Southwest Airlines forced to make emergency landing while moving 737 Max to California. (Dallas Morning News)(Bloomberg)
Airplane Crashes, Boeing and the Age of Permanxiety. (Skift)
Meet the route planners mapping United's future. (Crains)
United Airlines Accuses Rogue Flight Attendants of Fraud. (Skift)
Canadian Seaplane Service Wants to Fly All-Electric Planes Within Three Years. (Skift)
WOW Air Hopes for a Miracle. (Cranky Flier)
The Best Time to Buy Flights in 2019, Based on 917 Million Airfares. (Lifehacker)
Related: How to Find Out If Your Google Flight is a Good Deal. (Lifehacker)
Why Vienna Is the Next Great Bargain European Airport. (Bloomberg)
New biometric trial to help change the way people travel?. (Airport World)
Valet parking by robot could be the future at Gatwick. (Airport World)
Travel Tech Execs Take Shine Off Cloud Computing by Highlighting Hidden Perils. (Skift)
Why Was Room Key Created?. (Room Key)
IHG Confirms Plans to Add Dynamic Pricing to Hotel Award Bookings. (Skift)
How to Stay Fresh on Long Trips. (New York Times)
17 Hotel Hacks You Really Need To Know Before Your Next Trip. (BuzzFeed)
How Tokyo Hacks Its Streets and Subways. (Lifehacker)
MISCELLANY
True Blue. (True Blue)
Using Your True Hourly Discretionary Income to Make Smarter Purchases. (The Simple Dollar)
Doing Versus Consuming. (The Simple Dollar)
Under Broadway, the Subway Hums Bernstein. (New York Times) I have noticed this for years and always love it 🙂
How Do Self-Driving Safety Features Affect Your Car Insurance?. (Lifehacker)
The 50 Essential Trader Joe's Foods. (Thrillist)
Related: This Couple Made $30,000 Selling Trader Joe's Items Last Year. (The Kitchn)
How to Give Someone Really, Really Bad News. (Lifehacker)
Have you mispronounced someone's name? Here's what to do next. (TED Talks)
How to Say No to Meeting Up With an Acquaintance. (Lifehacker)
Are a Woman's 30s Truly Her Best Years? An Investigation. (Man Repeller)
For an Asian-American Family, the Cost of Education. (New York Times)
Why Kids Stop Reading for Fun by Age 9 (and What to Do About It). (Lifehacker)
Repurpose a Generic Colonial Costume for All Your Kid's School Projects. (Lifehacker)
How to Help Your Kid Improve at Board Games, According to a Game Designer. (Lifehacker)
3 Simple Rituals That Will Make You A Fantastic Parent. (Barking Up the Wrong Tree)
And finally, for a laugh: List: Top Dinner Suggestions According to a Three-Year-Old's Eating Habits. (McSweeneys)
---
Like this post? Want more fun articles in real time? Follow me on Twitter or become a Facebook fan to get similar stories all week long.