We're already one week into the New Year – how are your resolutions going? I made a few, though am still adding more. (And I will hopefully do a post on these soon.) I always love New Year's because it means a fresh start and a time when I'm reminded to reflect on what I may want to change in my life. But I also know that January 1 is just an arbitrary day, so this year, I'm lightening up on saying all my resolutions had to be figured out at midnight last week; they are a work in progress.
I don't know about you, but I did a lot of eating and drinking over the holidays (see my recap here). Normally I don't feel like the holiday season is all that different from my regular life (eating healthy five or so days a week, then going to events and letting loose one or two nights a week), but this year I literally had at least one party, and sometimes multiple, every single day for ten days straight leading up to Christmas, and then almost every night through New Year's! I didn't really worry too much about what I was eating when I was at events, but I made it a priority to work out each morning so I could feel at least somewhat good about myself.
Since I wasn't traveling at all for the last few weeks, I took advantage of being local to try a regional gym chain that opened by me last year: Chuze Fitness. Chuze is a chain of gyms that's concentrated in the southwest part of the country, and they have a few locations in Denver. My friend Heather has been going to Chuze for a year and raving about it – in particular, she goes to a class called "Team Training" that she told me is very similar to Orangetheory. So when Chuze reached out to me to see if I'd be interested in trying it and partnering on a promotion, I jumped at the opportunity to check it out!
Chuze prides itself on being welcoming to all, affordable (basic memberships are $9.99/month; the most expensive membership is $39.99/month), and high quality. The affordability was what I had heard about before joining, so I assumed Chuze would be a bare bones gym, kind of like a Planet Fitness. Not so!
When I went in for my first tour, I was surprised by how nice everything was. They had all the latest equipment on the gym floor, including lateral trainers that I've been using to whip my legs into ski shape. All of it was sparkling clean and in great working order – it definitely doesn't feel like you're at an bargain facility. And it's pretty roomy too – the Broomfield location has over 40,000 square feet of space, with more than 120 cardio machines. Even when I've gone at peak times, I've never felt crowded.
Chuze also has a ton of amenities that make it really stand out. They have a cinema room, with a big screen movie playing in a dark room and tons of cardio equipment for you to use while you watch. (And they publish the movie on a calendar so you can plan ahead to go watch with your workout buddies when it's a movie you really want to see.) They have a turf training area, with tires to flip and water rowers and battle ropes and basically everything you need for a Crossfit-style workout.
Chuze also offers my favorite amenity, the hydromassage room – with these awesome chairs that pulse jets of warm water at your body and make you feel incredible post-workout. The hydromassage is a great way for me to cool down after a workout (let's pretend I stretch and hydromassage, shall we?), but has also helped me identify some spots I didn't realize were tight. I often notice how tight my calves are on the hydromassage (which is something that physical therapists have always told me), but otherwise I would never notice the tightness and probably wouldn't be good about stretching them. Hello, shin splints! But not anymore.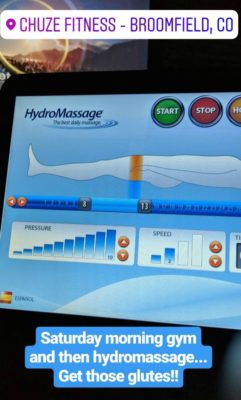 And as for the classes? I've taken a few – Body Pump, Tone & Sculpt, Pound Fitness (my favorite!!), and of course, several sessions of the Team Training class that Heather raved about. Team Training is indeed very similar to Orangetheory – you have treadmills, rowers, and a weight room, and heart monitors to see how you're moving between the various zones.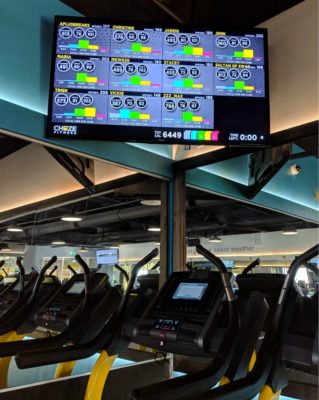 On the treadmills in Team Training, the coaches have you shift between your "cruise", "more", and "max" paces, plus add / remove incline on strength days. I really like that Chuze publishes a calendar outside the studio door showing the focus of workouts for the week (strength, endurance, power, etc) – it allows me to better plan my workouts when I know what's coming.
Not that I always know what's coming! I took one strength class at Team Training in December, and it surprised me by being much more intense on the inclines than any class I've taken at Orangetheory. The Chuze treadmills go all the way up to 30% (!), and our coach certainly made use of that. This workout was really tough, but I switched to powerwalking once our inclines got above 10%, and I really liked the different challenge that presented.
I am definitely planning to do that workout on my own again at Chuze, which is why I wrote it down as soon as I left – it's a great leg day challenge! I also found a few treadmill workouts here on the Chuze blog, if you'd like more to add to your own DIY workout repertoire.
At Chuze, I love the variety of options for classes – it's nice to be able to take a barre class or a Team Training class, rather than only have a membership to Orangetheory and either do that or nothing. In Colorado, a basic membership is $9.99/month (gets you full access to one gym facility, but no classes, hydromassage, infrared sauna, steam room, or pool); the premium membership is $21.99/month (access to all Chuze facilities and adds all of those features except Team Training); and the more membership is $39.99 (unlimited Team Training, unlimited guests, monthly body composition analysis, and free childcare). Unlimited classes at Orangetheory are about $150/month, so this is a huge bargain in comparison! Plus, even if the prices were reversed with Chuze being pricier, I like that I can plan to go to Chuze every day and mix in some different workouts; I would never be able to do high intensity intervals like Orangetheory/Team Training daily.
Finally, the atmosphere at Chuze is really friendly and fun. The front desk staff have clearly been instructed to say hello and goodbye to every single person who comes in the door – but rather than feeling forced, it actually feels really welcoming and nice. Outside of my friend Heather, I haven't met many people at the gym yet (I tend to get in, do my workout, and get out), but the staff's welcome makes me still feel like I'm part of a community even though I don't know anyone.
I think the rules on the wall do a great job of setting the culture / tone for the gym. They are pretty lighthearted, but also serious about the important stuff:
And on that lighter note, the Chuze Instagram has a lot of hilarious posts and Stories that I like to look at on my phone when I'm relaxing in the hydromassage chair: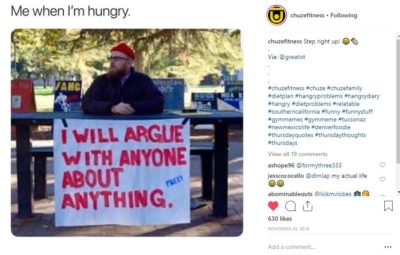 My only question / complaint… how do I get a Chuze in Superior?! (Right now the closest locations to me are Broomfield and Westminster, which are each about a 15 minute drive. Not bad, but I want one in my town!) I'm hoping as a Trustee I may be able to get these talks going. In the meantime, I'll keep heading over to Chuze and loving it as long as I'm home.
Finally, I'll end with a confession. When Chuze first reached out to work with me, I told them I didn't want to commit to a long-term partnership until I saw if I liked it. But I'm now kicking myself because I love it so much… and I don't want to have to wait to visit again while we figure out what a long-term partnership looks like! Good thing the memberships are so affordable – I can definitely spring for this one on my own.
Disclosure: Chuze provided me with a free one-month membership and compensation for a review. However, all thoughts and opinions expressed in this post are my own, and I hope it's clear how much I love it enough to become a member on my own!